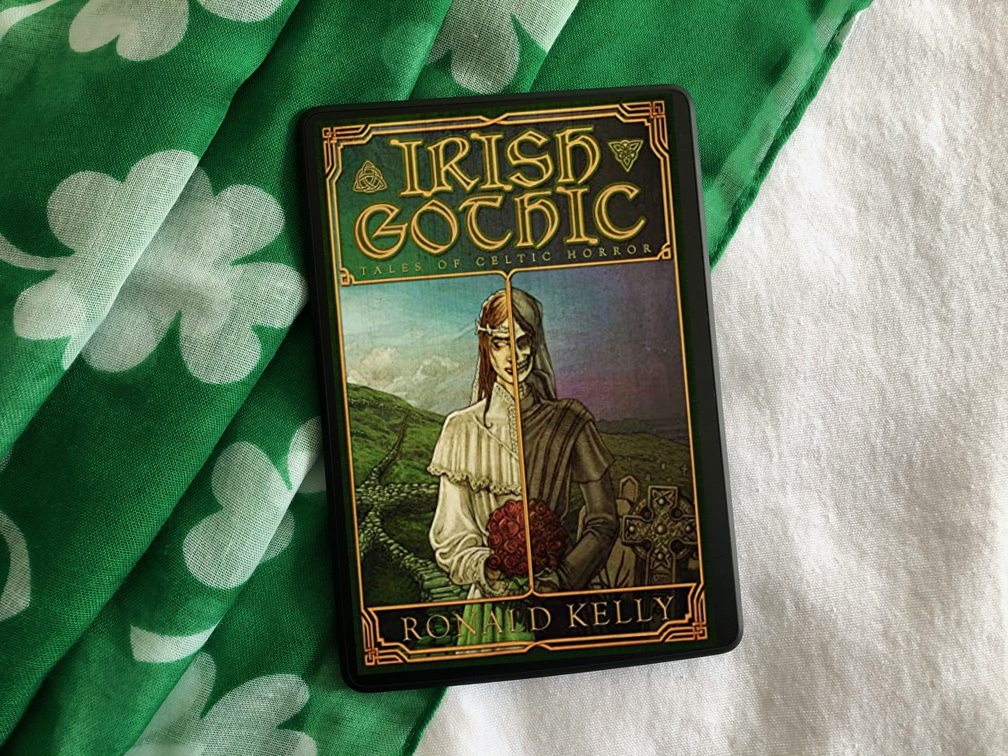 Irish Gothic: Tales of Celtic Horror by Ronald Kelly is a haunting collection of short stories, each with a different creature of lore included. From the spooky, to tales that make you giggle, there was such a great range here!
Full disclosure: I was given a free copy of this book from the author in exchange for an honest review. This did not affect my rating in any way.
Let's dive in!
My Thoughts on Irish Gothic: Tales of Celtic Horror by Ronald Kelly
I gotta admit, I went into this collection pretty dark. I heard the call for reviewers and then I saw the cover, and I couldn't wait to get my hands on a copy! I mean… Isn't that cover by Zach McCain AMAZING?!
Each story was so different, and yet they all had a little something that tied them together. Some were heartbreaking, some were uplifting, and most were quite spooky! I loved each of these stories!
One story specifically really hit me! Diabhal's Timepiece is quite something.
Per usual, here are my quick notes about each!
Flanagan's Bride – Four Stars
When a man shares that he's getting married, a burly crew of men at the pub don't believe him. But when he brings her to town after they are wed, one of the crew is determined to shake things up… What a haunting and brutal tale to kickstart this collection.
The Wee Village – Five Stars
In this village, the people are weary of the return of a being that snatches people and imprisons them….That ending! Gosh I love when stories take a turn like this. What terrifying creatures these are!
Diabhal's Timepiece – Five Stars
When a grandfather clock with intricate designs is delivered for a man that lives upstairs, the tenants downstairs are shocked with the appearance of the clock. It it's not just any grandfather clock… The thought of having something creepy delivered to my home has always spooked me. I can't imagine receiving something like this! Hats off to the main character, he took it all in stride!
O'Sheehan! – Three Stars
This man is constantly on the go, making sure that the various creatures of lord that live right among others in this town they're in behave. It was so fun seeing each new character pop in!
Postcard from Kilkenny – Five Stars
When a man receives a postcard out of the blue from his uncle that he has no relationship with, he's instantly anxious. Their curiosity gets the best of them and he and his wife head to the location that the postcard requested they meet at. Loved the mention of a Brian Keene novel in this one! This one had me super nervous to see what would happen next! I loved the ending!!
A Fine Wake for Nana Ferree – Four Stars
When Nana Ferree passes away, she had asked one woman to promise to give her a kiss on the forehead during her wake to pay her respects. But that simple gesture has some unpredictable side effects.What a spooky tale! I was very happy to see how this one ended. I was so worried!
The Spawn of Arget Bethir – Four Stars
When a man is haunted by horribly vivid dreams, he goes to his master at the abbey to ask for advice. The man is sent home only to learn that the things of his nightmares are real. Another very spooky tale, and brutal too! I loved the ending!
I loved the sections at the end that went over the creatures/cryptids included in these tales and the Gaelic/English translations! If I had read a physical copy rather than an ebook copy, I definitely would have been flipping back and forth.
My Favorite Passages from Irish Gothic: Tales of Celtic Horror
True, he loved the city life, but his heart belonged to this lovely region of rolling farmland and green hills.
Ian cast his eyes upon the fading light of the sunset, stunned to see that its soft and comforting hues had deepened into a crimson as dark and heavy as freshly-congealed blood.
My Final Thoughts Irish Gothic: Tales of Celtic Horror
I had so much fun reading this. There are a couple of tales in here that are just screaming for longer tales to be tacked on to them, so I would love to return to them in the future if the author takes that route.
If you haven't picked this one up yet, it's not too late to snag this one for your Saint Patrick's Day reading! Enjoy!
---
Snag a copy through Bookshop to help support local indie bookshops:
Related Reading: