Blood Kin by Ronald Kelly is a fast-paced, blood-boiling, and terrifying tale that tests how far individuals will go to ensure their family sticks together, for better or for worse.
Full disclosure: I was given a free copy of this book from the author in exchange for an honest review. This did not affect my rating in any way.
Let's dive in!
My Thoughts on Blood Kin by Ronald Kelly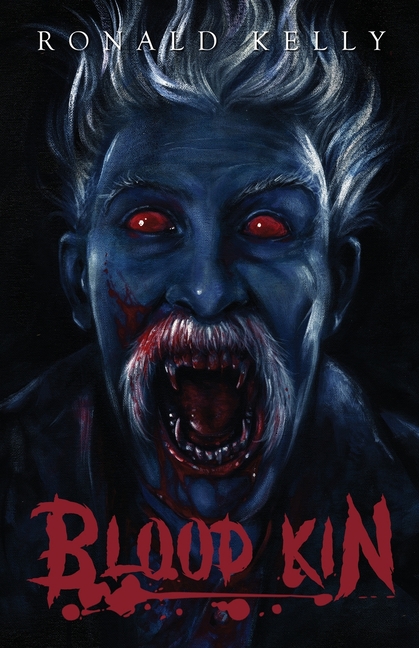 First things first, how sweet is that cover art by Alex McVey?! I'm obsessed.
When this story begins, we learn that a man named Josiah Craven has passed away. The cause is said to have been an accident as he fell and empaled himself through the heart on a bean pole. His wife seems cold at first as we learn that she doesn't want to have a service, that she wants to bury him on a mountain, in the dead of night. Even with the townsfolk gossiping, she sticks to her plan; the man is buried without any ceremony or marker, and life goes on.
Years later, while a descendant from Josiah Craven, named Dudley Craven, is tilling his property in order to plant more crops, he gets caught up on the edge of something in the ground. Thinking it could be valuables that were buried, he digs the box out. He's shocked when he sees that it's a coffin and that the bones inside have a bean pole through its ribcage. He thinks back to stories he had heard about his Grandpappy Craven, but isn't convinced. His curiosity gets the best of him and he decides to try pulling the wood out…
Anyone who has read any vampire tale will be shouting at the pages of this book trying to tell Dud to stop during this scene. But nevertheless, once the pole is removed, Josiah comes back to life and begins to track down his descendants, leaving Dud reeling and regretting his actions.
From there, the story jumps between what is happening with Dudley and Grandpappy Craven, and a family that is trying to get through a rough patch. Of course, this family has a Craven in it. But when Grandpappy Craven comes for them, he has no idea how far the husband will go to protect his own.
Phew, I got so caught up in this tale! I love vampire stories, and this one certainly checked all my boxes! The characters were wonderful people even with their flaws, or they were totally wicked beings. The pacing was quick, but not too fast as the author didn't hesitate to take a step back to really dive into the meat of the characters lives so the plot was that much more impactful. The action was brutal and wonderfully scripted. And the plot was insane! I was so nervous to see what would happen next and just wanted the best for everyone. Well… Except Blanche Craven. She could go die alone in a hole somewhere. She was the WORST.
All that being said, I really enjoyed the element of family throughout this story. And while there were perfect amounts of terror and love, there was also a lot of frustration. I wanted to reach into the book and smack some people for the things they said or did! But even this frustration really drove the plot and will leave readers thinking about it for a long time to come.
And my last note on the original story is that I just love when a story throws a curveball that I didn't see coming. If you haven't read this one yet, but are going to, I can't wait for you to try to guess which scene I am talking about here!
In the edition that I was sent, it included a short story formatted as journal entries that was called The Wanderer of Twilight Mountain. These entries cover Grandpappy Craven's disgusting private thoughts, his travels, and how he ended up a vampire in the first place.
My Favorite Passages from Blood Kin
He was beginning to wonder if the butter had slipped off Dud's biscuit.
The girl was running toward the rear door. He quickly grabbed a chair and heaved it at her. It hit her with an ugly crunch of shattering wood and bone. The force of the chair threw the girl against the jukebox, driving her head through the glass. A shower of blue sparks and smoke sprayed the air. With her air on fire, the blonde slipped from the broken dome and fell to the floor as limp as a rag doll.
She felt on the verge of tears, but for some reason, they refused to come. She suddenly realized what her husband has become and what he had come there to do that night. She had encountered the same scene dozens of times within the pages of her books, as well as horror movies she watched on the sly from time to time. But that has been in her imagination. This was for real. She had actually lived the horror this time.
Fear made people act like that… like hostile, unreasonable assholes.
"You sure you can handle that, old-timer?" Boyd asked, winking at Tammy.
"Old-timer!" bellowed Vanleer indignantly. "Why, you just watch me make tracks up this here mountain! I was climbing stone walls with my fingernails when you were pissing in your diapers, Boyd, and I ain't slowed down a lick. You'd best hitch up your britches and keep up, 'cause I don't slow down for now one, male or female."
"Well, this is it," said Boyd. "Doesn't look like much, does it?"
"Quicksand doesn't look like much, either, until you step in it," said Caleb. "Are we ready to go in?"
My Final Thoughts on Blood Kin
This southern story will sink it's teeth into you right from page one, leaving you zoned in until the very end. It's a must read for fans of vampire tales!
I had so much fun reading and can't wait to return to it again later!
---
Snag a copy through Bookshop to help support local indie bookshops:
Related reading: