How To Survive A Horror Movie by Seth Grahame-Smith is a hilarious collection of how-to's to help you survive a horror film should you find yourself in one.
Let's dive in!
My Thoughts on How To Survive A Horror Movie by Seth Grahame-Smith
From figuring out if you are even in a horror movie, to what to do if you only have seven days to live, this book covers it all!
I love horror movies of all genres, so I was super excited to give this a read. My husband gifted me a copy for Christmas last year, and I'm kicking myself for taking so long to get to it!
I absolutely loved the set up and how the author writes directly to the reader. There are so many things that made ma laugh out loud and I really enjoyed that the humor is strong throughout, especially when poking fun at horror tropes.
The overall composition of the book is neat. Set up kind of like a textbook, but much more fun, darker, and with killer illustrations!
Check out this illustration: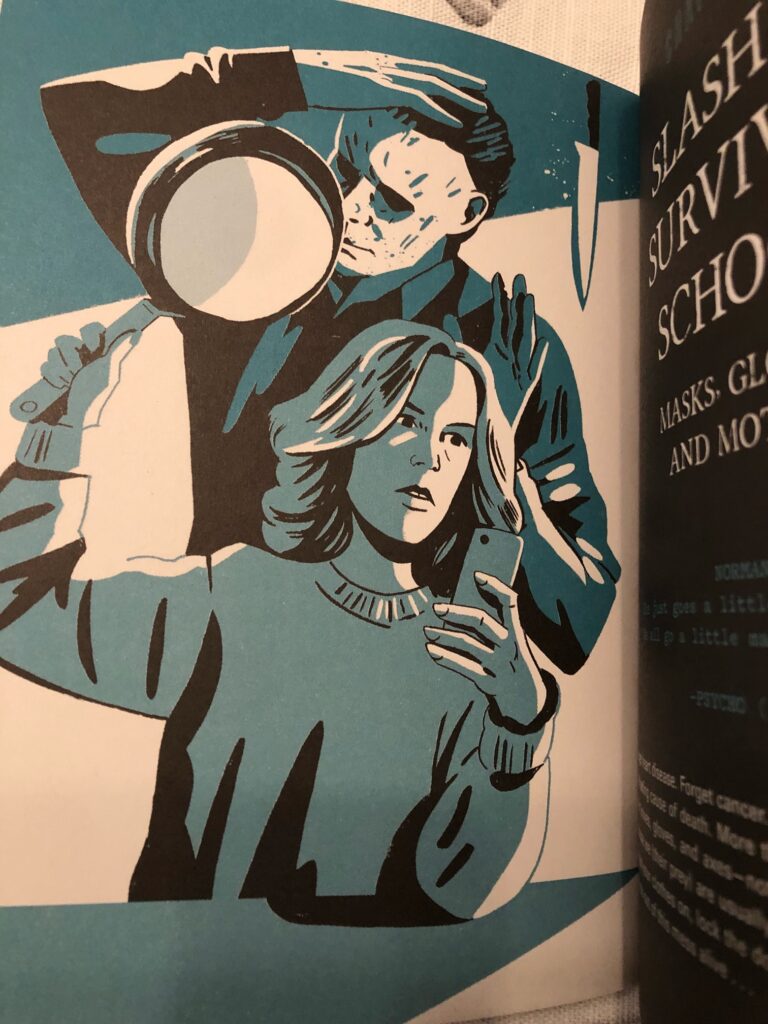 And this page that lists where NOT to go if you think you're stuck in a horror movie. Number five made me laugh out loud. It'll never get old seeing my home state mentioned like this!
Learning about the CRAVEN method was awesome! CRAVEN stands for Cover, Recon, Arsenal, Vehicle, Escape, North. All great things to keep in mind when you find yourself in danger in fictional worlds and the real world.
Bonus, at the end of the book, there's a killer list of recommended horror films.
My Favorite Passages from How To Survive A Horror Movie
Cabins are the bug zappers of the horror movie universe – a place where the more gullible of our species are weeded out in one gruesome instant. "Hey, a cabin. That looks like a nice place to spend some ON MY GOD MY INTESTINES ARE ON THE FLOOR!"
There are two things you can't change in this world: a husband who lets the dishes pile up, and a haunted house. Both lead to nothing but frustration, fear, and, eventually, a gruesome death.
My Final Thoughts on How To Survive A Horror Movie
This was a blast to read! Of course, while reading the various examples the author goes over, I wanted to put the book down and go watch a movie… but I wanted to keep reading just as badly! I ended up reading this in just one sitting because I was having so much fun.
This is a must-read if you enjoy poking fun at horror films.
---
Snag a copy through Bookshop to help support local indie bookshops: