From Ant to Eagle by Alex Lyttle is heartbreaking but incredible story about family and the special bond of two brothers.
Make sure to grab your tissues before you jump in here. And be warned, once you pick it up, you won't be able to put it down.
Thank you to NetGalley for giving me the opportunity to read this incredible story.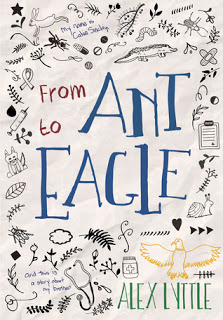 My Thoughts on From Ant to Eagle by Alex Lyttle
So first of all, I dove into this book totally blind. I simply LOVED the cover and requested it immediately from NetGalley. If you haven't already read the synopsis, I recommend doing the same and checking out this review later.
After reading the very first chapter, I said right out loud: "Holy cow!" The first chapter certainly hooked me! I thought that it set the scene very well. After that, I could not put the book down.
The last line of the first chapter is alluded to in the synopsis; "I'm the one who killed Sammy." When I read this line, my brain immediately starting thinking of all the things this could mean. Then as I read, I realized that there was a nervousness that was always looming. Every situation seemed like it could be the one where things went wrong- but I could have never seen what was coming.
I absolutely loved the narrative and how it circled right back to the beginning. Overall, it all just flowed so well and seemed so real! It followed a format where the main character was writing the story down, so as the narrator described things he occasionally got ahead of himself and then said things like, "That's not quite right" and then backed up to clarify.
I also thought that the author wonderfully captured the personas of eleven-year-old, Calvin, and six-year-old, Sammy! They both seemed so incredibly real; everything from their quick back and forth banter to the looks they would give each other to communicate silently was incredible. Having a close younger brother, I related to a lot of the things Calvin experienced or discussed.
One small element of this book that was really wonderful to me was that Sammy and Calvin shared a love of Goosebumps books. Whenever there was a scene with these books, I couldn't help but smile.
My Favorite Passages from From Ant to Eagle
To me, beautiful would have been movie theaters and fast food, not endless cornfields and dirt roads. We didn't even have a TV!
I tried to play it cool but a sheepish grin spread across my face. She closed the door without another word and I felt as light as a dust speck floating through the air as I walked back downstairs.
I'm not sure exactly what it was but there was something about Aleta that made me want to get to know her – something intriguing. Maybe it was the Goosebumps book I'd seen her reading, or maybe it was the thought of having a friend a short bike ride away, or maybe it was that she was just so pretty it was hard not to think about her. I don't know, but whatever it was it kept me glued to my seat until we heard footsteps coming down the stairs.
"Then maybe we could hang out again? We could go for a run or something – you said you liked cross-country. I'm not sure if you noticed but there happens to be a lot of country to cross out here."
The forest had looked dense from far away but twenty steps in and I was already coming out the other side. Only it wasn't like I was on the other side of that same forest, it was like I had walked out of a completely new forest. Like it was some sort of gateway to another world.
And that's how I found myself running through cornfields at a ridiculous hour. I grabbed a flashlight but it wasn't much help. It only gave me enough time to see what I was going to step in – not enough time to avoid it. Still, I ran the entire way without stopping – partly because I didn't want to miss the sunrise, partly because I was scared that if I stopped something would jump out of the corn and eat me.
"Soon," I would learn, has a very different meaning in hospitals but does elsewhere.
For the rest of the afternoon I sat reading R.L. Stine's classic Say Cheese and Die! out loud to Sammy but I didn't use my scary voice. I was done trying to scare Sammy. There were real things to worry about now.
The only thing worse than dying is living without hope.
They were fighting. They were always fighting it was like the world was made of flint – everything provided a spark.
My Final Thoughts on From Ant to Eagle
It is clear that this author is incredibly talented. I'm a bit sad that this was his first book, but only because I cannot wait to get my hands on another! I will definitely be watching closely for new releases.
This story was just so beautiful. And while I cried and got angry from time to time, these situations quickly passed into moments of hope and love. I cannot recommend this one enough. Go pick From Ant to Eagle by Alex Little up today.
Thanks for reading!