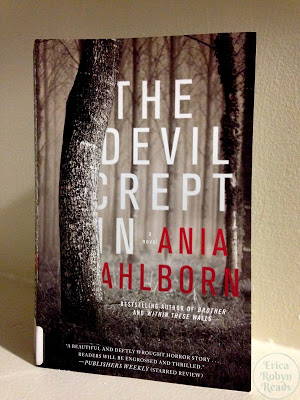 I have been in a bit of a funk for a couple of weeks now. So I was definitely in need of a creepy read like The Devil Crept In by Ania Ahlborn!
Let's dive in!
My Thoughts on The Devil Crept In by Ania Ahlborn
PHEW! What a read. I absolutely loved how creepy the tone was! It's very rare that I get spooked thinking about a story at nighttime… But thinking about this book made me take a running leap onto our bed after turning off the lamp one night.
The main character, Stevie, was so lovely. I found myself feeling very protective of him and I was rooting for him the whole time.
The pacing of the story was okay. It started with an intense and fast paced situation, but then slowed for awhile before picking up again.
The writing was very well done! I did have one small irk. But the authors style was wonderfully descriptive.
Beware, the negatives:
I only have two slight irks with this book. The first is that at times, I just found myself a bit bored with the story. Normally I don't mind when the story gets slow in order to add to the anticipation of figuring out what was going to happen. But in this case, I found myself getting annoyed with how long it was taking the story to move along.
The second is the overuse of similes. Each of them were very clever, but once I realized how often one was thrown in, they started to lose their magic.
And of course, there was this glaring error: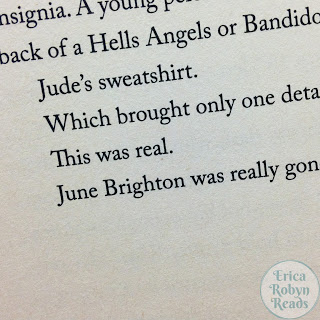 My Favorite Passages from The Devil Crept In
Hearing the sharp edges of that curse word come from a kid had left Stevie's nerves fizzing like a bag of wet Pop Rocks.
The house's paint job was just as bad as the roof; giant white strips of the stuff peeling from the clapboard siding like dirty old bandages that had lost their stick.
Mr. G. straightened his crooked back, and Stevie cringed when he heard a succession of pop-pop-pops, like someone dragging a tiny mallet across the spine of a percussion frog.
He couldn't sleep. Closing his eyes while simultaneously trying to keep his imagination in check was a form of brain gymnastics that Stevie hadn't trained for.
My Final Thoughts on The Devil Crept In
I know this was a bit short, but I really didn't want to give anything away! I would definitely recommend this book to anyone that enjoys thrillers with a splash of mystery!
---
Snag a copy through Bookshop to help support local indie bookshops:
Thanks for reading!
What is your favorite thriller?