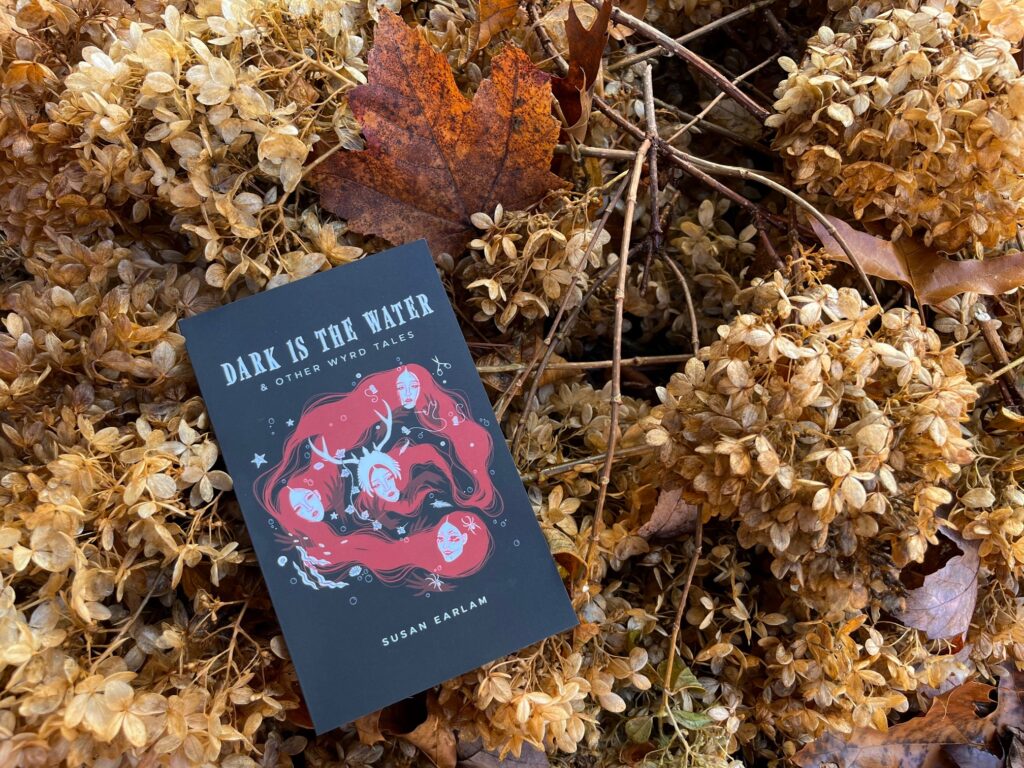 Dark Is The Water & Other Wyrd Tales by Susan Earlam is a collection of flash fiction and short stories that will leave readers deeply unsettled!
Content Warning:
The author doesn't shy away from darker elements here, so tread lightly if you have triggers specifically around blood, grief, animal death & pregnancy.
Let's dive in!
My Thoughts on Dark Is The Water & Other Wyrd Tales by Susan Earlam
In many of these stories, I love that the author gives just enough information to string us along, but leaves bits out to allow readers to fill in the gaps. This added to the initial terror in the tales beautifully. Many shorts also start out lighter and innocent before Susan throws in a slam-dunk of horror with the very last sentence!
There were many tales that had me gasp right out loud when I finished them. The author has a brilliant writing style that sucked me right in with each tale, and they all jumped off the page. Each one was also very different from the last, so I never knew what would be coming next!
As there are many tales here, I have simply added my notes on my favorites of the collection.
The Field –
Sent to participate in an event where young girls and boys are paired up to continue their bloodlines, this young woman wants nothing to do with it. She goes along with her parents wishes, hoping to find her friend Sarah at the event. But when the friend was already paired up, this girl soon finds herself in a more dire situation than she anticipated.
My goodness. There was such a horrible pit in my stomach while reading this one, and it just kept churning around in there as the story went on. 
Feathers –
This terrifying event in the school yard one day certainly confuses and scars everyone that witnessed the odd event.
The Treatment –
Sent off to a bathhouse to get cleaned up, this circus clown can't wait to be clean again. But during the massage, he's stuck with a needle…
Ah! I do want more here. I loved how strange this one became, but I also still want answers! You all know how much I love carnival horror.
Back For Seconds –
This elderly couple lives off the grid in the woods. The husband spends his days building a new house for them the live in, while the wife makes quilts to sell. Every now and then, the husband brings back cloth with bloodstains, but she doesn't mind.
My goodness the end of this one had me staring wide-eyed at the page. Was what I think was happening here actually happening?! This one is a killer example of the author letting readers fill in the gaps! 
The Carer –
Jeeze! This one seemed so innocent, until that special ingredient is mentioned. Yikes!
The Hum –
My goodness. Fan of horror with an element of something wet… this one's for you! This short and unsettling tale is quite the shocker!
Tubular –
Oh my goodness. The very last sentence of this one!
Night Revelations –
After a night of working at a bar, this woman joins her friends who have gotten friendly with a group of men. Going out to the end of the runway, the boys think they'll get lucky, but the girls have other plans.
The last two paragraphs here were wild! I loved how innocent this one was at the start.
Dark Is The Water –
Out on patrol, she can't help but touch a tide pool. But when she's bitten by something, and has to go to a doctor, she learns why they cautioned people to stay in…
My goodness the number of times I accidentally hurt myself exploring tide pools as a kid. The thought of this one was terrifying! The ending was scary, but beautiful. 
My Favorite Passage from Dark Is The Water & Other Wyrd Tales
I had many more marked here, but they were all spoilers! So here's one of my favorites:
The rolling waves are gentle on my toes. Smooth grey pebbles give my bare feet a massage I hadn't noticed they needed. The horizon glows, the sun just saying its goodbyes; the beach is empty, everyone inside because of the curfew.
My Final Thoughts on Dark Is The Water & Other Wyrd Tales
This collection has such a neat variety that includes stories of various lengths starting with a page or two of flash fiction, and going up to fifteen pages. With the variety of content topics, you'll never know what is to come next!
I highly recommend this one to horror fans that love all aspects of horror.
---
Snag a copy through Bookshop to help support local indie bookshops:
Thanks for reading!
And special shout-out to Susan Earlam for commenting on my tweet calling for authors that sell books directly! I was so excited to snag a signed copy!
---