Curse of the Sands by Martin Ferguson is the second book in this incredible series. If you enjoy action-packed adventures, you have to pick this one up!
I loved the first book, Eagle of the Empire, SO much. When Mr Ferguson offered to send me the second book in this series, I gotta admit, I was so excited I started tearing up! Then I anxiously awaited the book's arrival.
I'm so thrilled to say this book did not disappoint. It. Is. Incredible.
Full disclosure: I was given a free copy of this book by the author in exchange for an honest review. This did not affect my rating in any way.

Let's dive in!
My Thoughts on Curse of the Sands by Martin Ferguson
Like the first book, the first chapter really starts with a bang! From there, it is non-stop action! I really appreciated that as a reader we were re-introduced to the main character Adam. The way that the author introduces him gives you a great, but very brief (just two paragraphs), summary to catch you up. I noticed that we were also given bits of information from the first book that we needed throughout this book as it became necessary. I haven't seen a series do this successfully, so it was incredibly refreshing to see!
Wow, what an incredible story! This plot was so interesting to me. I also really enjoy stories about Ancient Egypt, so of course this was a hit. The pacing of the storyline was so perfect throughout; definitely a page-turner! I couldn't wait to see what would happen next!
I continued to enjoy the characters. I'm so happy to see them slowly coming more together as a team. I also enjoyed the very slight romance element. I'm definitely looking forward to seeing where that goes!
I'm also looking forward to seeing how the world reacts now that the museum's secret is out. Will they try to shut down the Museum? Will they be afraid? Or will the world look at our crew as heroes? 
Again, the writing was so wonderful; easy to read, great flow, realistic dialogue. The varying perspectives continued to be a wonderful element that gives you the full story. In the organization of these storylines, I found that I enjoyed both of the main perspectives equally, which really added to the page-turning factor.
And of course I was so happy to see the chapter headers that captured Adam's humor: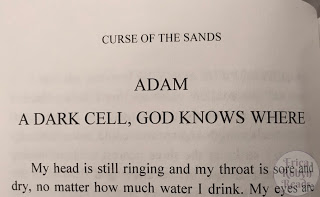 When I read the very last page which states: "THE RELIC HUNTERS WILL RETURN IN BROTHERS OF THE WAR," I let out a Whoop! I cannot wait for the next book!
My Favorite Passage from Curse of the Sands
They look to me as wolves eye deer, ready to feast on their prey. Little do they know, this prey has teeth.
My Final Thoughts on Curse of the Sands
Just like the first, I loved every second of this book. I cannot wait to get my hands on book three! Thank you Mr Ferguson for giving me the opportunity to read these books!
I highly recommend checking out this series if you haven't already.