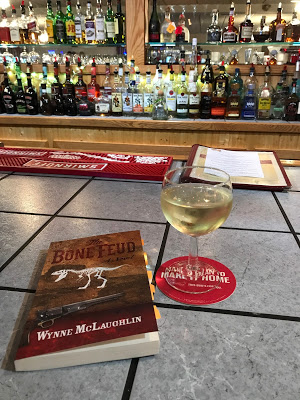 Before we dive in, I would like to thank Wynne McLaughlin again for both responding to one of my tweets about Dragon Teeth to let me know about this book, and for sending me a wonderful paperback copy! I am so thrilled to put a copy of this book on my shelves!
Click here to check out my review of Dragon Teeth by Michael Crichton if you missed it. In that review, I discuss a few of the characters that appear in The Bone Feud.
My Thoughts on The Bone Feud by Wynne McLaughlin
I knew that I was going to love this book right from this page that appears before the prologue:
I really love the set up for this book!
The very first paragraph of the prologue is written in a way that addresses the readers, as the narrator asks for us to forgive him for any inaccuracies due to the methods of how he gathered information for this story. This narrator was a reporter named William H. Ballou.
William walks into a saloon in Tin Cup, Nebraska to try to find James Garvey, a man that worked as a guide for paleontologist, Professor Edward Cope. William approaches Garvey and asks to hear his story. Garvey is thrilled to oblige. In chapter one, we dive right into the story that Garvey told to William.
As the book goes on, it is written as if we were experiencing the action first hand, but there are also random breaks where the story was interrupted. Sometimes this is because William had a question, or because something happened in the saloon that interrupted them. Other times, Garvey needed to back track or give William more information to make sure the rest of the story flows well. I thought that this format was absolutely incredible. It kept me totally engaged with the storyline, and I couldn't wait to read more!
Of course, all of the characters were lovely, even if they were quite rough around the edges.
The writing style was lovely. So easy to read because of the upbeat tone and great organization. All of the dialogue was very realistic, and many times I found myself laughing out loud at some of the passages.
My Favorite Passages from The Bone Feud


It's my belief that all of the greatest tales ever told have been told in saloons.
I think history is just an interpretation of events, intended to justify the deeds of the people in power.
Edward Drinker Cope was in his mid-thirties, tall and angular, with a pleasant, vaguely handsome face that burned with passion and excitement as he spoke.
"Good judgment comes from experience, Mr. Garvey. And most experience comes as a result of bad judgement. A smooth sea never made a skillful sailor."
"This here preacher… well, there's no doubt he was narrow-minded enough to see through a keyhole with both eyes."
Knowledge is weightless. It's a treasure you an always carry with you.
I admire your loyalty, but I think you're crazy as popcorn on a hot skillet.
Cope and Sternberg followed the riverbank through the dark woods as best they could on horseback.
Cope squinted into the shadows ahead. "I can' see a damnable thi―"
He was cut short by a low-hanging branch that cold cocked him and knocked him from his saddle. This spooked his horse, and it galloped off into the brush.
"Professor Cope!" shouted Sternberg. "Have you injured yourself, sir?"
"Only my pride, I think. But it's had so many lumps recently, I'm sure it will persevere." He began to stand, then fell back, shouting in pain. "My ankle, it would seem, has a different opinion."
"Captain Beckwith. Do you have a moment, sir?"
"Well now. That's something you can never be sure of. I try to live my life like I might not."
My Final Thoughts on The Bone Feud
I highly recommend giving this book a read! I really enjoyed it. I know I will be re-reading it again very soon and I cannot wait!