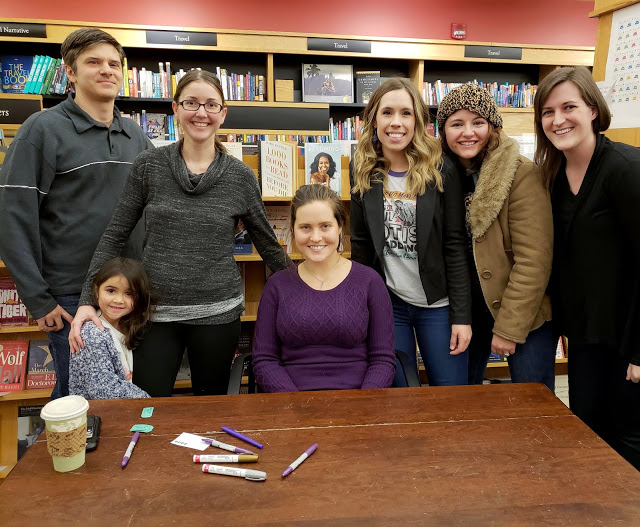 Last night, my book club and I had the wonderful opportunity to meet Katherine Arden, author of The Winternight Trilogy.
Our book club had read The Bear and the Nightingale last year and we all absolutely loved it! When we saw that she was coming to Concord, a meet up was planned immediately.
Here are some photos from the event!
Meeting Katherine Arden @ Gibson's Bookstore in Concord, NH
I met up with our book clubs organizer, Kendall, in the parking garage and we rushed over to the shop. It was wicked cold (good old January weather in New Hampshire), so we wanted to get inside as soon as possible!
When we arrived at Gibson's Bookstore, I went to the register to snag The Winter of the Witch, which had just come out on January 8th, and then headed to the area where the event would be held. Our book club member, Tiffany, had gotten there early and saved us all seats in the front row. It was such a lovely and rather intimate event, as we were all sitting pretty close.
Here's the photo of our club members that could make it to the event. From left to right, Leia, myself, Kendall, Tiffany, and Rich:
When Katherine Arden arrived, she sat down, thanked us all for coming out, and then discussed her crazy travel schedule for the book tour leading up to today. Her schedule so far was:
January 7th- San Diego, CA
January 8th- Austin, TX
January 9th- Denver, CO
January 10th- Chicago, IL
January 11th- Boston, MA
January 12th- Concord, NH
Phew! I felt tired just hearing about it! On the tour, she has one more event in Vermont today (the 13th), then two additional Vermont dates on the 21st and 24th. After that, I hope she is able to take a nice long and relaxing vacation to recover!
After that, she began talking about how the trilogy was created. It was so interesting to learn more about her life and writing process; that she didn't go to school for writing, but after college, decided that she wanted to try to write a book! I think this is such a great example for other writers! You don't need to spend thousands of dollars on traditional schooling or writing conferences to have success. Just take the time to work on your craft and believe in yourself.
I really loved how laid back the discussion was. The Q&A session was also wonderful. The crowd asked great questions! There were so many things that the author said that I wanted to quote, but I didn't want to be rude and pull out my phone. I'll have to remember to bring a little notebook next time!
And then it was time for the signing! With many of the author signings I have been to, it's a rather rushed event. But this time, the author really made time for each person, which was awesome! And as you can see from the image at the top of the post, she also let us all pose for a photo with her!
I am thrilled to add this book to my collection of signed books. I really love the purple marker!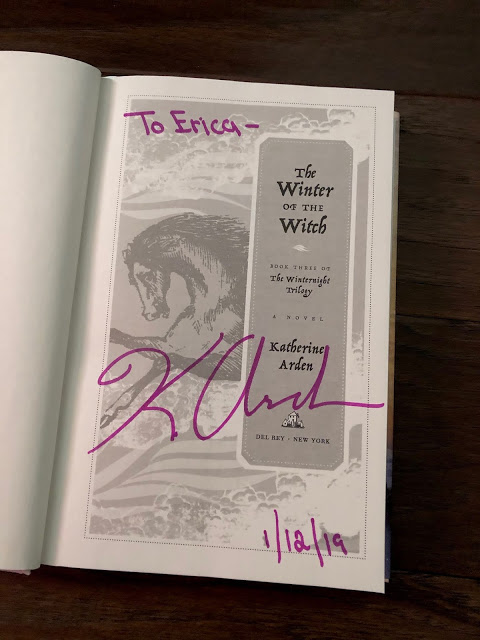 Thanks for reading!
And of course, a shout-out to Katherine Arden for taking the time to speak with all of us at this wonderful event, and a thanks to Gibson's Bookstore for hosting!