I can't believe it. In just a ten month span, I was able to meet my favorite horror author TWICE. How lucky am I?!
Alex and I got there a bit early, snagged a couple of the Pear Ciders I had discovered at book club earlier this week when we had our meet up at Bookery, and then went and snagged our places near the seating area.
Unlike the last time I got the chance to meet Joe, the weather today was very, very hot. Uncomfortably hot. So when he began, he said he would keep things short so we could leave and get ice cream and then he dove right in!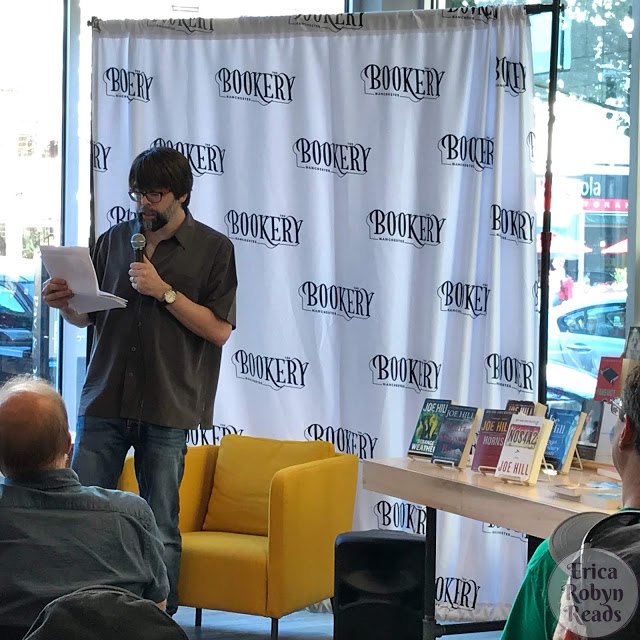 For the next forty or so minutes, Joe read a fair chunk of his story that will be in the collection. The crowd LOVED it. At one point Joe stopped reading to ask if he should continue, and of course we all said yes! I cannot wait to get my hands on the book so I can read the whole story!
After the reading, he answered a few questions and then for the sake of time, wrapped things up so he could begin the meet and greet.
There was a three book maximum per guest, so Alex and I totally could have brought more books with us. But that's okay! We didn't want to hold up the line too much anyway. We had brought my first volume of the Locke and Key series and The Fireman.
I'm still totally grinning over these:
I have to say, this event was VERY well organized! They had seating all ready in a great spot. There was a lovely backdrop that the author would sit/stand in front of that made it a perfect place for photos! And when it came time to get into the meet-and-greet line, they had it all mapped out with sticky notes on the aisles of shelves that directed you where to go.
Well done, Bookery staff!!
Thanks for reading!
What was the most recent bookish event you have been to?