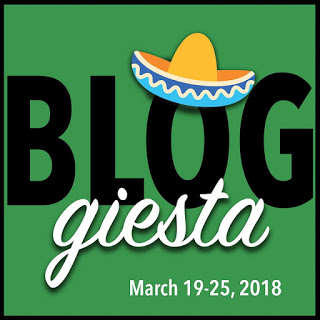 Phew! This week just flew by! I'm so happy with the time I was able to dedicate to improving my blog this week during the Spring Bloggiesta. Thank you all so much for the wonderful discussion and help! I cannot wait for the next event.
If you'd like to check out my introduction post for this event, click here.
When you're ready, let's dive in to see how I did with my goals!

My Blogging Accomplishments for the Spring Bloggiesta
Create audiobook review page.
Complete! It's very simple, but it's there! Feel free to check out my audiobook review page here!
Draft up a few meme posts from future prompts.
Complete! I scheduled out three Book Blogger Hop posts and one Top 10 Tuesday post. Bonus: I also wrote up three discussion posts!
Participate in at least one Bloggiesta Twitter Chat.
Complete! I participated in:
Clean up my blogging-related email folders.
Complete! I started by reading an awesome post from Stephanie of Cover2CoverBlog, Bloggiesta Mini Challenge: Juggling Life and Blog. From this post, I took inspiration from her inbox discussion and added a couple of folders to my platform. I now have the following:
Archived Items– miscellaneous emails that I no longer need, but would like to keep on file.
Book Blog Related– miscellaneous emails that I still need to resolve.
My Kofi Donations– just to keep track of all donations.
On Hold– reviews and other posts that are currently on hold because of the other person.
Pending Reviews– reviews that I have committed to and added to my schedule.
Review Archive– email threads about reviews that I have completed.
Add missing social media buttons.
Complete! I added a button for BookThinkers. Bonus: I also removed the button that linked to my contact page as it was just taking up unnecessary space.
Gather information about moving to WordPress?
Complete! Thank you all so much for all the information you sent my way! I had a number of really great discussions! When it all came down to it, I decided to stay on Blogger. It may be very frustrating that my follower count isn't growing as I would like it, but I do love the Blogger platform. And of course there are many other platforms where people can follow me if they choose. I haven't completed ruled a switch out. I may think about it again down the road… But for now I'm happy that I am staying put.
Change the font of my blog.
Additional task, complete!
My goodness! I had no idea how awful my font was on a PC! It looked great on a Macbook! I noticed this during the first Twitter chat because I was using my fiancés computer. My goodness. So sorry about that everyone! I updated the font now to one that looks much better across different platforms.
Thanks for reading!
If you participated, I'd love to hear how successful you were! What was your favorite task that you were able to complete?
SaveSaveSaveSave