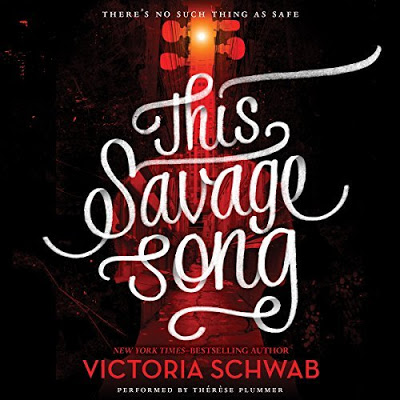 I've been itching to re-read This Savage Song for ages! When I saw a deal for the audiobook, I just had to snag it!
Before continuing on with my audiobook review, feel free to check out my book review of This Savage Song first, and then come back here 🙂
My Thoughts on This Savage Song by Victoria Schwab, narrated by Therese Plummer 
I'll admit… I'm still a just a little hesitant with audiobooks. Don't get me wrong, I do enjoy them! I just usually prefer to read the text at the same time that I listen to the narration, like I did for Aristotle and Dante Discover the Secrets of the Universe by Benjamin Alire Sáenz, narrated by Lin-Manuel Miranda.
However, because I have recently made quite the life change, I think that I am going to get more and more into listening to audiobooks. And I'm pretty excited about it!
I started with This Savage Song because I had read it before and really wanted to dive back into the world. This audiobook did not disappoint!
The narration by Therese Plummer was lovely! She really captures the tone of the book well. I really liked when she added emotion to the dialogue! And oh my goodness, her voice singing a song from a child was haunting!
One of my peeves with audiobooks or any recording is poor quality and being able to hear the speakers mouth move. This one was clearly recorded with quality in mind! I didn't have a single issue with it.
So needless to say, I would highly recommend this audiobook! I had so much fun listening to it. Now, I need to FINALLY get on to reading Our Dark Duet!
Thanks for reading!