A Blackness Absolute by Caitlin Marceau is a collection of chilling short horror tales that will have you experiencing a wide range of emotions while reading.
Let's dive in!
My Thoughts on A Blackness Absolute by Caitlin Marceau
Kicking off with a terrifying and claustrophobia-inducing tale, I knew I was in for a ride with this collection. Sure enough, I also had second-hand rage, terror, loneliness, desire, and more.
My favorites from the collection include:
A Blackness Absolute
In Obeisance Park
Gordon
Here are my notes on each tale:
A Blackness Absolute – 
Visiting an old abandoned mine that his father used to work in, this young man is so excited to try to explore. His girlfriend doesn't want to be there but doesn't tell him that. When things go sideways because in an old mine of course they do, the two get split up.
My goodness. This setting is absolutely terrifying. So claustrophobia-inducing. Just thinking about Caitlin's description of the air inside the mine has me feeling light-headed. 
Sarah –
All Sarah wants is to fit in with the other kids. But her cleft lip sets her apart, as does being the reverend's daughter. But this year, she is allowed a small birthday party. But the party only gets worse and worse.
My goodness, this poor girl. I can relate to finding out people only hung out with you because their parents made them. Oofh. But that ending was wicked!
The Broomway –
When a selfish man crosses the broomway, his past comes back for him.
A tale told in two timelines, this one steadily grew in horror. What an ending! The last two sentences. Phew.
In Obeisance Park –
Discovering a boat sunken in the muck of a pond within a park, this boy is determined to get it out. He's successful, but there's something stuck inside.
I was so expecting a jump scare here with the bug. What we got was much more unsettling.
Gordon –
After losing her husband, a woman's son surprises her with a cat named Gordon. But once the cat arrives, things start to go downhill.
This just kept getting worse and worse! This poor woman!
The Blue –
Setting out to kayak down a river into a lake, this man asks his friend not to worry and to just meet him back at that spot in three hours. But will he make it back?
Like he's stuck under a siren's call, this poor man could never have guessed what was coming.
Barmbrack – 
Determined to complete rituals to find out if a boy likes her, this girl pushes herself to her limit.
Oofh, the asthma focus had me itching for my inhaler with sympathy symptoms.
Doireann –
When a long, cold winter has everyone on the edge of starvation, this woman is determined to pay her respects to her lost friend.
The desperation here was chilling.
My Final Thoughts on A Blackness Absolute
The way that Caitlin writes really sucks you into each story, spitting you out at the end gasping for air.
This collection covered such a great range. Horror fans of all types are sure to love this.
---
Snag a copy through Bookshop.org to help support local indie bookshops:
---
Related Reading:
Femina by Caitlin Marceau is a collection of short stories about the darkness of womanhood that are sure to get under your skin.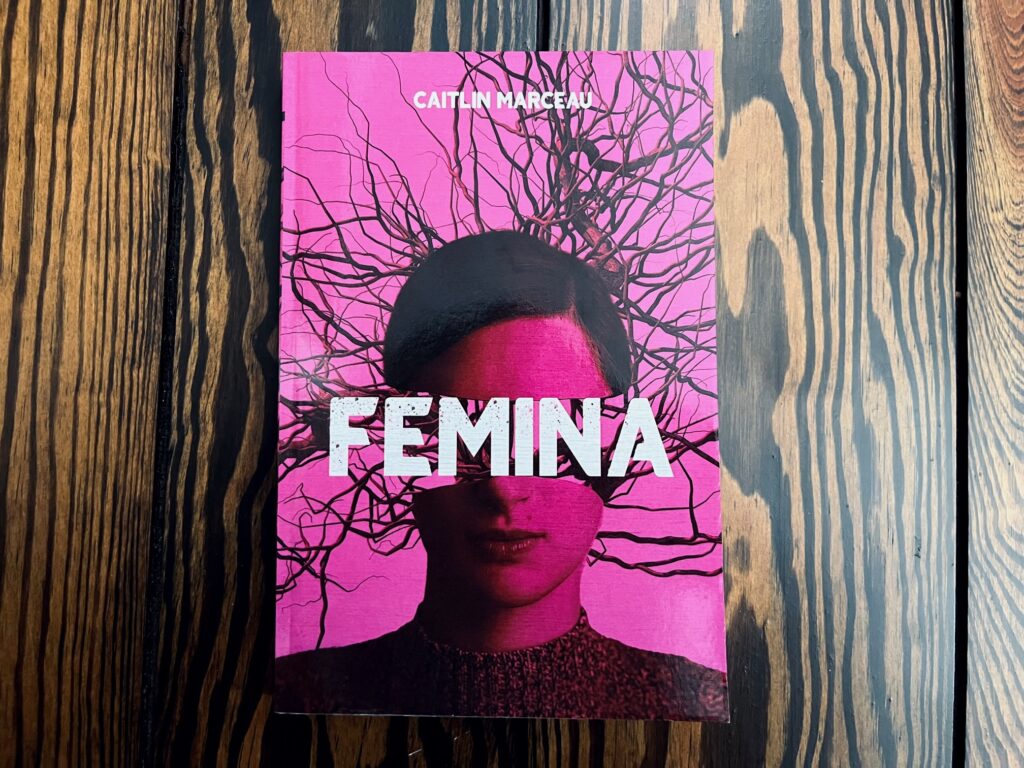 Thanks for reading!