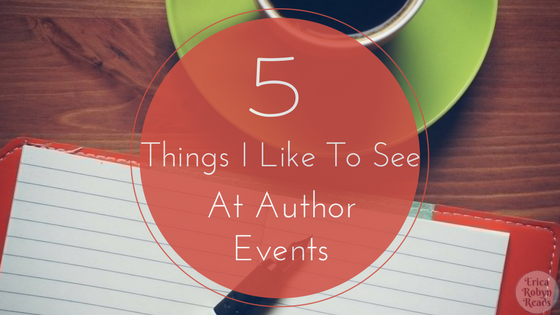 I am so thankful to have had the opportunity to go to a few author events. I'm always on the look out for other events near me. From my experience, I have seen some events that were wonderfully organized, while others were lacking, while a few were just plain awful.
When thinking about these experiences, I've realized that there are a few key things that I like to see at author events.
5 Things I Like To See At Author Events
Plenty of seating.
This is so important. I personally don't mind standing, but it's a bit of a bummer when the room is packed and all of the seats are filled.
Free bottles of water.
I usually have a drink of some sort with me, whether that's water or a tea. However, I've been to a few author events where outside drinks were not allowed, and the location didn't sell drinks or have a water fountain.
Adequate speaking and signing time for the author.
I've been to a few events that felt very rushed both with the discussion and the signing that totally ruined the experience for me. I totally understand that authors and store employees need to keep a schedule, but when I see events that are advertised as only an hour long, I probably won't attend. That's just not enough time!
The opportunity to pose for photos with the author.
Of course I totally understand that some authors may request no photos, and that in other situations there simply isn't time. But I love when authors and event hosts allow it!
The opportunity (but not a requirement) to purchase the authors latest book.
I get why some authors require you to purchase the book then and there, but for pretty obvious reasons, I prefer when that is optional. At many events, I end up bringing a book that I already own to have signed.
Goodies.
Who doesn't love walking away with a little gift?! I've seen free things offered like bookmarks, pins, artwork, and such. But I also love when things are offered for sale at the location; things like mugs, t-shirts, and other such things.
Thanks for reading!
What are some things that you like seeing at author events?