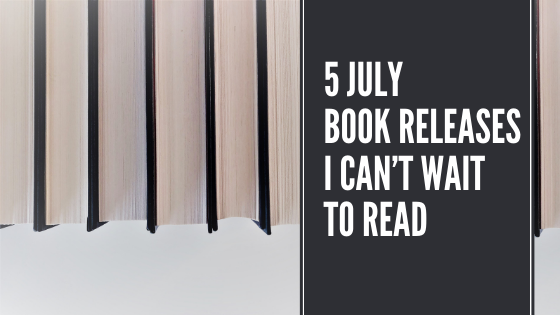 It's my birthday month!! Anyone think I can convince my husband to let me break my book buying ban in order to snag each of these books? 😉
(Don't tell him I already own one and have two preordered!)
Please note: This post contains affiliate links for bookshop.org. By clicking the links and ordering the books, you can help support a local indie bookshop! By using this link, I will get a small commission.
Let's dive in!
July 2021 Book Releases
Razorblade Tears by S.A. Cosby
Expected Publication Date: July 6th, 2021
Publisher: Flatiron Books
Genre: Horror
Synopsis:
Ike Randolph has been out of jail for fifteen years, with not so much as a speeding ticket in all that time. But a Black man with cops at the door knows to be afraid.

The last thing he expects to hear is that his son Isiah has been murdered, along with Isiah's white husband, Derek. Ike had never fully accepted his son but is devastated by his loss.

Derek's father Buddy Lee was almost as ashamed of Derek for being gay as Derek was ashamed his father was a criminal. Buddy Lee still has contacts in the underworld, though, and he wants to know who killed his boy.

Ike and Buddy Lee, two ex-cons with little else in common other than a criminal past and a love for their dead sons, band together in their desperate desire for revenge. In their quest to do better for their sons in death than they did in life, hardened men Ike and Buddy Lee will confront their own prejudices about their sons and each other, as they rain down vengeance upon those who hurt their boys.

Provocative and fast-paced, S. A. Cosby's Razorblade Tears is a story of bloody retribution, heartfelt change – and maybe even redemption.
---
The Final Girl Support Group by Grady Hendrix
Expected Publication Date: July 13th, 2021
Publisher: Berkley Books
Genre: Horror
Synopsis:
In horror movies, the final girl is the one who's left standing when the credits roll. The one who fought back, defeated the killer, and avenged her friends. The one who emerges bloodied but victorious. But after the sirens fade and the audience moves on, what happens to her?
Lynnette Tarkington is a real-life final girl who survived a massacre twenty-two years ago, and it has defined every day of her life since. And she's not alone. For more than a decade she's been meeting with five other actual final girls and their therapist in a support group for those who survived the unthinkable, putting their lives back together, piece by piece. That is until one of the women misses a meeting and Lynnette's worst fears are realized–someone knows about the group and is determined to take their lives apart again, piece by piece.
But the thing about these final girls is that they have each other now, and no matter how bad the odds, how dark the night, how sharp the knife, they will never, ever give up.
---
Immortelle by Catherine McCarthy
Expected Publication Date: July 15th, 2021
Publisher: Off Limits Press
Genre: Horror
Synopsis:
When Elinor's daughter, Rowena, is found poisoned and dead in an animal trough, Elinor is sure the local parish priest is to blame.
A ceramic artist by trade and influenced by her late grandmother's interest in supernatural magic, Elinor crafts an immortelle for Rowena's grave and attempts to capture the girl's spirit in the clay model of a starling. Soon she is inundated with requests for immortelles and the more immersed in the craft she becomes, the greater her powers grow.
As the dead share their secrets with grieving Elinor, she learns the sordid truth of what happened to her beloved daughter and plots a revenge so hideous, it must be kept a secret forever.
---
The Idiots Club by Tony Moyle
Expected Publication Date: July 16th
Publisher: Limbo Publishing
Genre: Sci-fi/Humor
Synopsis:
The last time Eric Gideon saw Sean Heschmeyer was the day of the accident. The day Eric's dare landed Sean in hospital. The day The Idiots' Club ceased to be. Now, twenty years later, Sean's back, but he's nothing like they remember him. After growing his family's business into a corporate behemoth, he's amassed a huge personal fortune. He has everything money can buy. But money can't buy everything…
When former Idiots' Club member, and serial bankruptee Callum Jollie receives a surprise invite to a Heschmeyer Industries VIP event, he tries to persuade Sean to support his failing business. Sean agrees, but his money comes with conditions. He'll invest ten million pounds but only if Callum convinces the other three members of The Idiots Club to complete five dares in seven days. Not just any old dares, either. Ones that Sean has purposely devised to ruin them. Oh, and they'll have to livestream them for good measure.
Callum already knows which one of the idiots won't need convincing. Eric has never shirked a challenge in his life because, for him, life has always been a challenge. Eric is an outsider, and, unlike Sean, he's had to fight his whole life for recognition. Determined to prove he's still unbeatable, and suspicious of Sean's motives, Eric will take on anything Sean throws at them. Even a lion.
Standing between the boys and the money are a narcoleptic ex-girlfriend, five disgruntled black-ops mercenaries, a World War Two bomb and a family of hat loving night monkeys, but none of these will be the hardest obstacles to overcome. They must face up to their own personal failings and work as a team. Which, as it turns out, is a lot harder than stealing a lion.
---
Slattery Falls by Brennan LaFaro
Expected Publication Date: July 20th 2021
Publisher: Silver Shamrock Publishing
Genre: Horror
Synopsis:
Travis, Elsie, and Josh, college kids with a ghost-hunting habit, scour New England for the most interesting haunted locales. Their journey eventually leads them to Slattery Falls, a small Massachusetts town living in the shadow of the Weeks House. The former home of the town's most sinister and feared resident sits empty. At least that's what the citizens say. It's all in good fun. But after navigating the strange home, they find the residents couldn't be more wrong. And now the roles are reversed.
The hunters have become the hunted. Something evil refuses to release its grip, forcing the trio into one last adventure.
Note: Every time I mention this book, I want to shout, THAT'S MY FRIEND! I am SO excited for Brennan's debut novel! If you don't have this one preordered yet, I highly recommend doing so.
---
Thanks for reading!
WHAT A LINE UP WE HAVE FOR JULY! My goodness. I'm so so so excited about each of these releases.
What are you looking forward to picking up this month?