Oh goodness, 2021 is already looking like an amazing year for new releases.
I just told my husband the other day that I'll be cutting back on my book buying budget this year as I went WAY overboard in 2020 and need to catch up on what I already own…
Wish me luck! 🙂
Please note: This post contains affiliate links for bookshop.org. By clicking the links and ordering the books, you can help support a local indie bookshop! By using this link, I will get a small commission.
Let's dive in!
January 2021 Book Releases
Shiver: A Chilling Horror Anthology edited by Nico Bell
Expected Publication Date: January 11, 2021
Genre: Horror
Synopsis: Grab a cozy blanket, pour some bourbon in your hot chocolate, and gather around the fireplace. It's about to get chilly! This un-brrr-lievable anthology presents 30 spooky stories exploring the depths of madness and terror unique to the cold. Whether it's a chilling twist on the final girl trope, a mysterious Japanese spirit knocking on a cabin door, or something sinister born out of urine soaked snow, this frigid collection is packed with tales that will send a shiver down your spine. Get ready. A blizzard is coming.
Note: I have this preordered! I cannot wait to dive in!
---
The Gulp by Alan Baxter
Expected Publication Date: January 12, 2021
Genre: Horror
Synopsis: Strange things happen in The Gulp. The residents have grown used to it.
The isolated Australian harbour town of Gulpepper is not like other places. Some maps don't even show it. And only outsiders use the full name. Everyone who lives there calls it The Gulp. The place has a habit of swallowing people.
A truck driver thinks the stories about The Gulp are made up to scare him. Until he gets there.
Teenage siblings try to cover up the death of their mother, but their plans go drastically awry.
A rock band invite four backpackers to a party at their house, where things get dangerously out of hand.
A young man loses a drug shipment and his boss gives him 48 hours to make good on his mistake.
Under the blinking eye of the old lighthouse, a rock fisher makes the strangest catch of his life.
Five novellas. Five descents into darkness.
Welcome to The Gulp, where nothing is as it seems.
---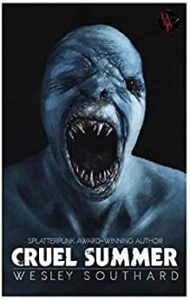 Cruel Summer by Wesley Southard
Expected Publication Date: January 15, 2021
Publisher: Death's Head Press
Genre: Horror
Synopsis: Melissa Braun is a broken woman. Only wanting what's best for her family, she's willing to do whatever it takes to mend her fractured relationship with her abusive boyfriend. In a last ditch effort, she hopes the sun and sand of a much-needed Florida vacation will bring them and her son closer together.
Patrick Braun is a demoralized kid. Quiet and sullen, he only wants his mother to see her boyfriend's torment as it cripples everything he loves. After years of silence, he refuses to stand by and let the abuse continue to tear them apart.
Hoyt Rainey is a vile man. Unable to keep his hands to himself, he finally takes his anger one step too far. Only this time he finds himself on the receiving end of his own punishment. Down and down he goes, plunging deeper into the dark blue abyss of the sea.
Melissa and Patrick finally believe they are safe, the trouble now behind them for good. They are wrong.
Gods never really stay dead―they only lie in wait. And when a beast as old as time discovers Hoyt…he, too, won't stay gone for long.
The nights grow darker, the water flows colder, and the cruelty of summer lives on.
Note: I have an ARC of this one, so stay tuned for my review!
---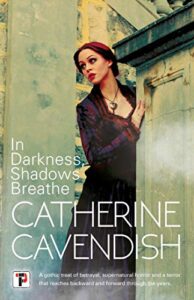 In Darkness, Shadows Breathe by Catherine Cavendish
Expected Publication Date: January 19, 2021
Publisher: Flame Tree Press
Genre: Gothic Suspense
Synopsis: You're next…
Carol and Nessa are strangers but not for much longer.
In a luxury apartment and in the walls of a modern hospital, the evil that was done continues to thrive. They are in the hands of an entity that knows no boundaries and crosses dimensions – bending and twisting time itself – and where danger waits in every shadow. The battle is on for their bodies and souls and the line between reality and nightmare is hard to define.
Through it all, the words of Lydia Warren Carmody haunt them. But who was she? And why have Carol and Nessa been chosen?
The answer lies deep in the darkness…
Note: I have an ARC of this one, so stay tuned for my review!
---
The Burning Girls by C.J. Tudor
Expected Publication Date: January 26, 2021
Publisher: Ballantine Books
Genre: Thriller
Synopsis: Welcome to Chapel Croft. Five hundred years ago, eight protestant martyrs were burned at the stake here. Thirty years ago, two teenage girls disappeared without a trace. And two months ago, the vicar of the local parish killed himself.
Reverend Jack Brooks, a single parent with a fourteen-year-old daughter and a heavy conscience, arrives in the village hoping to make a fresh start and find some peace. Instead, Jack finds a town mired in secrecy and a strange welcome package: an old exorcism kit and a note quoting scripture. "But there is nothing covered up that will not be revealed and hidden that will not be known."
The more Jack and daughter Flo get acquainted with the town and its strange denizens, the deeper they are drawn into their rifts, mysteries, and suspicions. And when Flo is troubled by strange sightings in the old chapel, it becomes apparent that there are ghosts here that refuse to be laid to rest.
But uncovering the truth can be deadly in a village where everyone has something to protect, everyone has links with the village's bloody past, and no one trusts an outsider.
Note: I already have this one preordered! As soon as I see C.J. Tudor announce a book, I order it right away!
---
Thanks for reading!
What new releases are you looking forward to in January 2021?