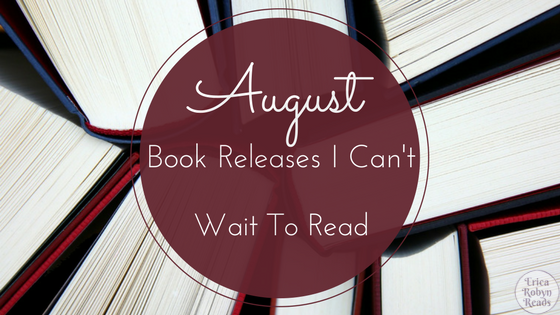 August is gearing up to be one incredible month for book releases! Phew! I have SO many books on my TBR that will be released next month.
Here are the five books that I am most looking forward to.

5 August Book Releases I Can't Wait To Read
See What I Have Done by Sarah Schmidt
Expected publication date: August 1st 2017
Goodreads Synopsis:
On the morning of August 4, 1892, Lizzie Borden calls out to her maid: Someone's killed Father. The brutal ax-murder of Andrew and Abby Borden in their home in Fall River, Massachusetts, leaves little evidence and many unanswered questions. While neighbors struggle to understand why anyone would want to harm the respected Bordens, those close to the family have a different tale to tell—of a father with an explosive temper; a spiteful stepmother; and two spinster sisters, with a bond even stronger than blood, desperate for their independence.


As the police search for clues, Emma comforts an increasingly distraught Lizzie whose memories of that morning flash in scattered fragments. Had she been in the barn or the pear arbor to escape the stifling heat of the house? When did she last speak to her stepmother? Were they really gone and would everything be better now? Shifting among the perspectives of the unreliable Lizzie, her older sister Emma, the housemaid Bridget, and the enigmatic stranger Benjamin, the events of that fateful day are slowly revealed through a high-wire feat of storytelling.
The Dark Net by Benjamin Percy
Expected publication date: August 1st 2017
Goodreads Synopsis:
Hell on earth is only one click of a mouse away…


The Dark Net is real. An anonymous and often criminal arena that exists in the secret far reaches of the Web, some use it to manage Bitcoins, pirate movies and music, or traffic in drugs and stolen goods. And now an ancient darkness is gathering there as well. This force is threatening to spread virally into the real world unless it can be stopped by members of a ragtag crew:


Twelve-year-old Hannah — who has been fitted with the Mirage, a high-tech visual prosthetic to combat her blindness– wonders why she sees shadows surrounding some people.


Lela, a technophobic journalist, has stumbled upon a story nobody wants her to uncover.


Mike Juniper, a one-time child evangelist who suffers from personal and literal demons, has an arsenal of weapons stored in the basement of the homeless shelter he runs.


And Derek, a hacker with a cause, believes himself a soldier of the Internet, part of a cyber army akin to Anonymous.


They have no idea what the Dark Net really contains.





Are You Sleeping by Kathleen Barber
Expected publication date: August 1st 2017
Goodreads Synopsis:
The only thing more dangerous than a lie…is the truth.


Josie Buhrman has spent the last ten years trying to escape her family's reputation and with good reason. After her father's murder thirteen years prior, her mother ran away to join a cult and her twin sister Lanie, once Josie's closest friend and confidant, betrayed her in an unimaginable way. Now, Josie has finally put down roots in New York, settling into domestic life with her partner Caleb, and that's where she intends to stay. The only problem is that she has lied to Caleb about every detail of her past—starting with her last name.


When investigative reporter Poppy Parnell sets off a media firestorm with a mega-hit podcast that reopens the long-closed case of Josie's father's murder, Josie's world begins to unravel. Meanwhile, the unexpected death of Josie's long-absent mother forces her to return to her Midwestern hometown where she must confront the demons from her past—and the lies on which she has staked her future.





A Killer Harvest by Paul Cleave
Expected publication date: August 1st 2017
Goodreads Synopsis:
Joshua is convinced there is a family curse. It's taken away his biological parents, robbed him of his eyesight, and is the reason his father Logan, the detective who raised him, is killed while investigating the homicide of a young woman. The suspect, Simon Bowers, is killed by Logan's partner Ben, whose intentions are murkier than expected.


After this tragedy Joshua is handed an opportunity he can't refuse: a new pair of eyes. But a mishap during the surgery leads to Joshua unknowingly getting one eye from his father, and the other from Simon. As Joshua navigates a world of sight, he gets glimpses of what his eyes might have witnessed in their previous life. Memories, truths, and lies Joshua discovers a world darker than the one he has emerged from. What else has he failed to see?


Meanwhile, Simon's accomplice Vincent is bent on revenge, going after the loved ones of those involved in Simon's death and Vincent is drawing closer and closer to Joshua.




Wonder Woman: Warbringer by Leigh Bardugo
Expected publication date: August 29th 2017
Goodreads Synopsis:
She will become one of the world's greatest heroes: WONDER WOMAN. But first she is Diana, Princess of the Amazons. And her fight is just beginning. . . .


Diana longs to prove herself to her legendary warrior sisters. But when the opportunity finally comes, she throws away her chance at glory and breaks Amazon law—risking exile—to save a mere mortal. Even worse, Alia Keralis is no ordinary girl and with this single brave act, Diana may have doomed the world.


Alia just wanted to escape her overprotective brother with a semester at sea. She doesn't know she is being hunted. When a bomb detonates aboard her ship, Alia is rescued by a mysterious girl of extraordinary strength and forced to confront a horrible truth: Alia is a Warbringer—a direct descendant of the infamous Helen of Troy, fated to bring about an age of bloodshed and misery.


Together, Diana and Alia will face an army of enemies—mortal and divine—determined to either destroy or possess the Warbringer. If they have any hope of saving both their worlds, they will have to stand side by side against the tide of war.
Thanks for reading!
What books are you looking forward to in the month of August?