November came around very quickly yet again this year! This month, there are four main books that I was looking forward to. I've already read three of them and they've all been 5 star reads so far!
Note: This post features Bookshop.org and one Amazon affiliate link. Using the bookshop links to purchase helps support local indie bookshops.
Let's dive in!
November 2022 Book Releases
Book #1 Has Been Removed
---
A Sliver of Darkness by C.J. Tudor
Expected Publication Date: November 8th, 2022
Publisher: Ballantine Books
Genre: Thriller
Synopsis:
Time slips. Doomsday scenarios. Killer butterflies. C. J. Tudor's novels are widely acclaimed for their dark, twisty suspense plots, but with A Sliver of Darkness, she pulls us even further into her dizzying imagination.
In "The Lion at the Gate," a strange piece of graffiti leads to a terrifying encounter for four school friends. In "Final Course," the world has descended into darkness, but a group of old friends make time for one last dinner party. In "Runaway Blues," thwarted love, revenge, and something very nasty stowed in a hat box converge. In "Gloria," a strange girl at a service station endears herself to a coldhearted killer, but can a leopard really change its spots? And in "I'm Not Ted," a case of mistaken identity has unforeseen fatal consequences.
Riveting, macabre, and explosively original, A Sliver of Darkness is C. J. Tudor at her most wicked and uninhibited.
---
Dragonfly Summer by J.H. Moncrieff
Expected Publication Date: November 15th, 2022
Publisher: Flame Tree Press
Genre: Mystery
Synopsis:
No small town's secrets can stay buried for long. Moncrieff digs into the treachery of memory and the power of female friendships…
Dragonfly Summer is a gripping thriller that asks: What happens when the past comes back to haunt you?
Jo Carter never thought she'd return to Clear Springs, Minnesota. But when the former journalist receives a cryptic note about the disappearance of her friend Sam twenty years before, she's compelled to find out what really happened. During her investigation, she learns another high school friend has died in a mysterious accident. Nothing is as it seems, and Jo must probe Clear Springs' darkest corners and her own painful and unreliable memories to discover the truth – and save herself from the killer who could still be on the hunt.
Deliciously twisty and suspenseful from the first minute to the last, Dragonfly Summer proves that no small town's secrets can stay buried for good.
Note: I had the opportunity to read this one early and I really enjoyed the dark, twisted tale! Click here to check out my review of Dragonfly Summer.
---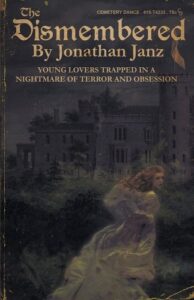 The Dismembered by Jonathan Janz
Expected Publication Date: November 18th, 2022
Publisher: Cemetery Dance Publications
Genre: Gothic Horror
Synopsis:
In the spring of 1912, American writer Arthur Pearce is reeling from the wounds inflicted by a disastrous marriage and the public humiliation that ensued. But his plans to travel abroad, write a new novel, and forget his ex-wife are interrupted by a lovely young woman he encounters on a London-bound train. Her name is Sarah Coyle, and the tale she tells him chills his blood.
According to Sarah, her younger sister Violet has been entranced by a local count, a man whose attractiveness and charisma are rivaled only by his shady reputation. Whispers of bizarre religious rites and experimental medicine surround Count Richard Dunning, though no wrongdoing has ever been proven. Sarah's family views the Count as a philanthropist and a perfect match for young Violet, but Sarah believes her sister is soon to become a subject in Count Dunning's hideous ceremonies.
Smitten by Sarah and moved to gallantry by her plight, Arthur agrees to travel to Altarbrook, Sarah's rural ancestral home, in order to prevent Violet from falling into ruin. He soon learns, however, that his meeting with Sarah on the train was no accident. And his arrival at Altarbrook represents a crucial but ghastly step in the Count's monstrous plot.
Note: I got to snag an early copy of this one! Click here to check out my review of The Dismembered.
---
Thanks for reading!
What books are you looking forward to this month?