Ah, August has some books from amazing authors coming out! I had the chance to read two of these early and I loved them! I cannot wait to see what other readers think.
Note: This post features Bookshop.org affiliate links. Using these links to purchase helps support local indie bookshops.
Let's dive in!
August 2022 Book Releases
Haunted Tales: Classic Stories of Ghosts and the Supernatural edited by Lisa Morton & Leslie S. Klinger
Expected publication date: August 2nd, 2022
Publisher: Pegasus Books
Genre: Horror
Synopsis:
In Haunted Tales, the reader will enjoy discovering masterpieces like Algernon Blackwood's terrifying "The Kit-Bag," Oscar Wilde's delightful "The Canterville Ghost," and F. Marion Crawford's horrific "The Screaming Skull," as well as lesser-known gems by some of literature's greatest voices, including Virginia Woolf's "A Haunted House," H. G. Wells's "The Story of the Inexperienced Ghost," and Rudyard Kipling's "They."
Haunted Tales also resurrects some wonders that have been woefully neglected, including Dinah Mulock's "M. Anastasius" (which Charles Dickens called "the best ghost story ever written"); E. F. Benson's "The Bus-Conductor" (the source of one of the most iconic lines in horror); and E. and H. Heron's "The Story of the Spaniards, Hammersmith" (the debut adventure of Flaxman Lowe, fiction's first psychic detective).
Whether the stories are familiar or overlooked, all are sure to surprise and astonish the reader long past the closing of this book's cover.
---
Lessons in Demoralization by Nikki R. Leigh
Expected Publication Date: August 8th, 2022
Publisher: DarkLit Press
Genre: Horror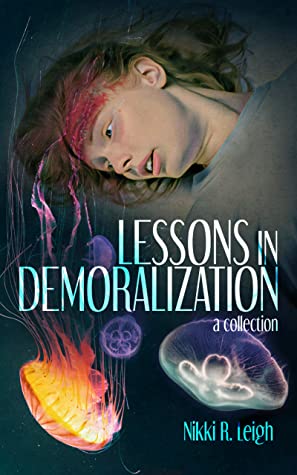 Synopsis:
To make, to break, to transform. These three lessons are at the heart of each of the stories in Nikki R. Leigh's Lessons in Demoralization. Framed loosely by the notion that we learn what to do, and especially what not to do by the stories told around us, this collection presents twenty-two horror stories that run the gamut of dark, emotional horror, and light-hearted, sometimes comedic horror.

A woman's strength is put to the test to save her wife when an evil stranger uses her in a diabolical plot. A woman processes the grief of her long-dead brother through a monstrous encounter with her childhood stuffed animal. Learn the difficulties of cultivating a long-term relationship explored through caring for a carnivorous plant. See how Dr. Jekyll runs a syndicated children's science show by day while concocting terrible experiments at night. Watch as weredogs living together in an apartment complex find their match in the neighborhood busybody. Witness twins test their bravery when faced with a void to another dimension that festers in their room.

These are just some of the lessons that will be taught in this collection. Follow the narratives of diverse characters experiencing the worst days of their lives in Lessons in Demoralization.
Note: I got to read an early version of this one and I really enjoyed it! I can't wait to read this again when it launches! Stay tuned to check out my review.
---
Clown in a Cornfield 2: Frendo Lives by Adam Cesare
Expected publication date: August 23rd, 2022
Publisher: Harperteen
Genre: Horror
Synopsis:
After barely making it out of the Kettle Springs cornfields alive, Quinn's first year away at college should be safe and easy. All she wants is to be normal again.
But instead, Quinn finds that her past won't leave her alone when she becomes the focus of online conspiracy theories that claim the Kettle Springs Massacre never happened. It's a deranged but relentless fantasy, and there's nothing Quinn can do to get people to hear the truth–not even on her own campus or in her own dorm room.
So when a murderous clown attacks Quinn at a frat party while another goes after her father in Kettle Springs at the same time, Quinn realizes that the facts alone are never going to save her. Her only option is to go back into the cornfields, back where the nightmare began, to set the record straight the only way she knows how. Because when the truth gets lost in the lies, that's when people start to die.
Note: I have this one preordered from Gibsons and I cannot wait for it to come in!
---
Cool S by Die Booth
Expected publication date: August 25th, 2022
Publisher: Self published
Genre: Horror
Synopsis:
Tracy Forrest has it all. A great boyfriend, loyal best mate, good job and new house. But something is missing. There's a wistful longing for good times gone by that Trace just can't lay to rest. When she spots a ubiquitous and mysterious teenage doodle in an old schoolbook, she becomes obsessed with finding out what it is.
You know Cool S?
Yeah, you do.
Cool S. Super S. Pointy S. THE S. That thing we all doodled on notebooks and schoolbooks and pencil cases, maybe graffitied on a park bench or a bus stop if you were frisky.
Ever wondered what it was? Where it came from? What it means?
Well, I'm here to tell you. Are you sure you want to know?
Cool S. Some things should stay lost.
Notes: I got the chance to read this one early, and MY GOODNESS. I loved it so much! I highly recommend grabbing this one! Click here to read my review of Cool S.
---
Thanks for reading!
What books are you looking forward to in August?