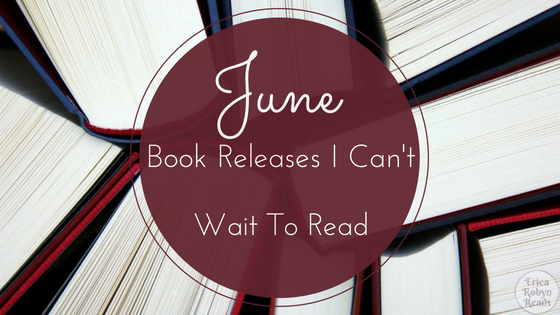 June is going to be a GREAT month for horror and mystery! I cannot wait to get my hands on these books!
3 June Book Releases I Can't Wait To Read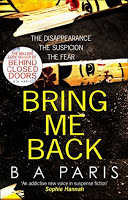 Bring Me Back by B.A. Paris
Expected publication date: June 19th 2018
Genre: Mystery
Synopsis:
A young British couple are driving through France on holiday when they stop for gas. He runs in to pay, she stays in the car. When he returns her car door has been left open, but she's not inside. No one ever sees her again.
Ten years later he's engaged to be married; he's happy, and his past is only a tiny part his life now. Until he comes home from work and finds his new wife-to-be is sitting on their sofa. She's turning something over in her fingers, holding it up to the light. Something that would have no worth to anyone else, something only he and she would know about because his wife is the sister of his missing first love.
As more and more questions are raised, their marriage becomes strained. Has his first love somehow come back to him after all this time? Or is the person who took her playing games with his mind?
The Cabin at the End of the World by Paul Tremblay
Expected publication date: June 26th 2018
Genre: Horror
Synopsis:
Seven-year-old Wen and her parents, Eric and Andrew, are vacationing at a remote cabin on a quiet New Hampshire lake. Their closest neighbors are more than two miles in either direction along a rutted dirt road.
One afternoon, as Wen catches grasshoppers in the front yard, a stranger unexpectedly appears in the driveway. Leonard is the largest man Wen has ever seen but he is young, friendly, and he wins her over almost instantly. Leonard and Wen talk and play until Leonard abruptly apologizes and tells Wen, "None of what's going to happen is your fault". Three more strangers then arrive at the cabin carrying unidentifiable, menacing objects. As Wen sprints inside to warn her parents, Leonard calls out: "Your dads won't want to let us in, Wen. But they have to. We need your help to save the world."
Thus begins an unbearably tense, gripping tale of paranoia, sacrifice, apocalypse, and survival that escalates to a shattering conclusion, one in which the fate of a loving family and quite possibly all of humanity are entwined. The Cabin at the End of the World is a masterpiece of terror and suspense from the fantastically fertile imagination of Paul Tremblay.
DEAD ENDS (How to Survive the Afterlife – Book 3)
This book is due to launch at the end of this month. I cannot wait! If you missed my review or discussion for the first two books in the series, feel free to check them out below:
Thanks for reading!
What book releases are you looking forward to this month?
SaveSave