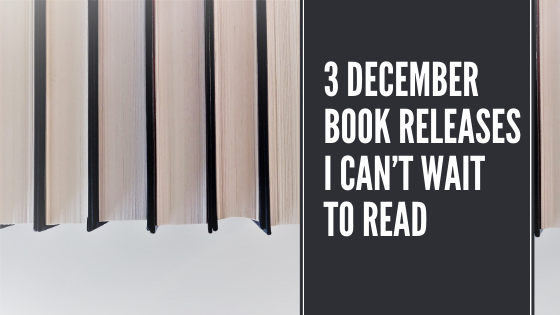 With the holidays quickly approaching, there's one book on here that I would love to see under the tree! The second pick I am lucky to have already read. And my third pick is one that I definitely have to pick up to help with my personal 2020 resolutions!
Note: This post features Amazon affiliate links. While I greatly appreciate the support if you are going to order online, please try to purchase the book(s) from your local bookstore if you are able. <3
Let's dive in!
December Book Releases
In the Dark by Loreth Anne White
Expected Publication Date: December 1st, 2019
Genre: Thriller
Synopsis: A secluded mountain lodge. The perfect getaway. So remote no one will ever find you.
The promise of a luxury vacation at a secluded wilderness spa has brought together eight lucky guests. But nothing is what they were led to believe. As a fierce storm barrels down and all contact with the outside is cut off, the guests fear that it's not a getaway. It's a trap.
Each one has a secret. Each one has something to hide. And now, as darkness closes in, they all have something to fear—including one another.
Alerted to the vanished party of strangers, homicide cop Mason Deniaud and search and rescue expert Callie Sutton must brave the brutal elements of the mountains to find them. But even Mason and Callie have no idea how precious time is. Because the clock is ticking, and one by one, the guests of Forest Shadow Lodge are being hunted. For them, surviving becomes part of a diabolical game.
---
Dead Meat: Day 3 by Nick Clausen
Expected Publication Date: December 8th, 2019
Genre: YA Horror
Note: I've already read this one and OH MY GOSH. This is my favorite book in this series so far! Stay tuned for my full review that will go live on the 8th.
---
F*ck No!: How to Stop Saying Yes When You Can't, You Shouldn't, or You Just Don't Want To by Sarah Knight
Expected Publication Date: December 31st, 2019
Genre: Self Help
Synopsis: How to say no without being an a*hole, from the New York Times bestselling author of The Life-Changing Magic of Not Giving a Fck
Are you burnt out from taking on more than you can handle or accepting less than you deserve? Tired of giving in instead of sticking up for yourself? Sick of saying yes all the time? You're gonna love F*CK NO!
No is an acceptable answer, and it's time to start using it. Whether you're a People-Pleaser, Overachiever, Pushover, or have serious FOMO, bestselling "anti-guru" Sarah Knight helps you say what you really mean without being really mean–or burning out for fear of missing out.
Life is so much better when you say no with confidence–and without guilt, fear, or regret. F*ck No! delivers practical strategies that give you the power to decline, and concrete examples that put the words right into your mouth.
---
Thanks for reading!
What books are you looking forward to reading this December?