On November 24th, while visiting my dad and his girlfriend, Alex and I had the opportunity to check out The Festival of Trees in Bangor, Maine. We had never heard of an event like this so we were blown away when we got there!
There were so many trees! Each had their own theme; prom, home improvement, truck equipment, books, video games, toys, jewelry, scratch tickets, workout gear, baby stuff, ice fishing, kayaking, pet, and SO many more!
This was one of my favorites:
But of course… I was drawn immediately to the bookish trees!

3 Bookish Trees at The Festival Of Trees
Baby Themed Book Tree
So simple, but so creative! I really loved this one. I used to have a shelf like that, so this display made me wish I still had it! With this tree and all the books, were a number of baby-related items that ranged from big ticket items like the crib and walker, and smaller items like the books and blankets.
Harry Potter Themed Book Tree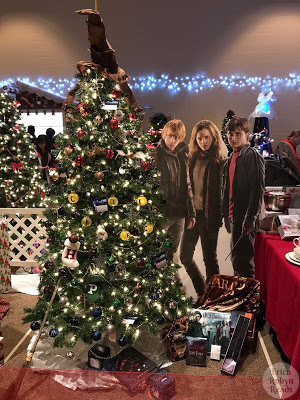 How awesome is this tree?! Alex actually spotted this one before I did, saying, "Oh, Erica! Is that the sorting hat?!" This one included one of the trunks with all the hardcover books, all three of the illustrated books, and various merch items! So neat!
Stephen King Themed Tree
Just look at all of those books! As I'm sure you can assume, this was by far my favorite tree! When I saw it, I'm pretty sure my eyes bugged out a bit! It was just so AWESOME! It got most of my tickets, a few of Alex's, and some of my dad and Nancy's as well! 🙂
Thanks for reading!
Have you ever been to an event like this?