While I'm still on my quest to read all the books I already own but haven't yet read, May is yet another month with two book releases that I absolutely cannot wait to get my hands on!
One of which, I preordered months ago. So I will likely be diving into that just as soon as it reaches my mailbox!
Let's dive in to my most anticipated releases!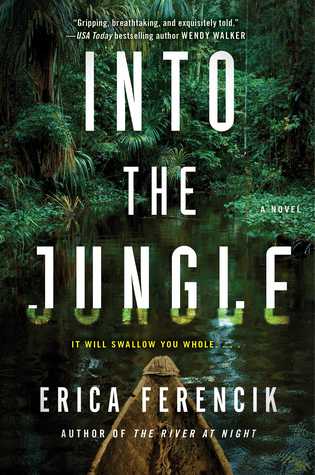 Into the Jungle by Erica Ferencik
Expected publication date: May 28th, 2019
Genre: Thriller
Synopsis: Lily Bushwold thought she'd found the antidote to endless foster care and group homes: a teaching job in Cochabamba, Bolivia. As soon as she could steal enough cash for the plane, she was on it.
When the gig falls through and Lily stays in Bolivia, she finds bonding with other broke, rudderless girls at the local hostel isn't the life she wants either. Tired of hustling and already world-weary, crazy love finds her in the form she least expected: Omar, a savvy, handsome local man who'd abandoned his life as a hunter in Ayachero—a remote jungle village—to try his hand at city life.
When Omar learns that a jaguar has killed his four-year-old nephew in Ayachero, he gives Lily a choice: Stay alone in the unforgiving city, or travel to the last in a string of ever-more-isolated river towns in the jungles of Bolivia. Thirty-foot anaconda? Puppy-sized spiders? Vengeful shamans with unspeakable powers? Love-struck Lily is oblivious. She follows Omar to this ruthless new world of lawless poachers, bullheaded missionaries, and desperate indigenous tribes driven to the brink of extinction. To survive, Lily must navigate the jungle–its wonders as well as its terrors—using only her wits and resilience.
Primal, gripping, and terrifying, Into the Jungle features Erica Ferencik's signature "visceral, white-knuckle" (Entertainment Weekly) prose that will sink its fangs into you and not let go.
---
Stay Sexy & Don't Get Murdered: The Definitive How-To Guide by Karen Kilgariff, Georgia Hardstark
Expected publication date: May 28th, 2019
Genre: Nonfiction
Synopsis: Sharing never-before-heard stories ranging from their struggles with depression, eating disorders, and addiction, Karen and Georgia irreverently recount their biggest mistakes and deepest fears, reflecting on the formative life events that shaped them into two of the most followed voices in the nation.
In Stay Sexy & Don't Get Murdered, Karen and Georgia focus on the importance of self-advocating and valuing personal safety over being 'nice' or 'helpful.' They delve into their own pasts, true crime stories, and beyond to discuss meaningful cultural and societal issues with fierce empathy and unapologetic frankness.
Note: This is the book that I've preordered. I'm SO EXCITED!!
---
Thanks for reading!
What books are you looking forward to in May?