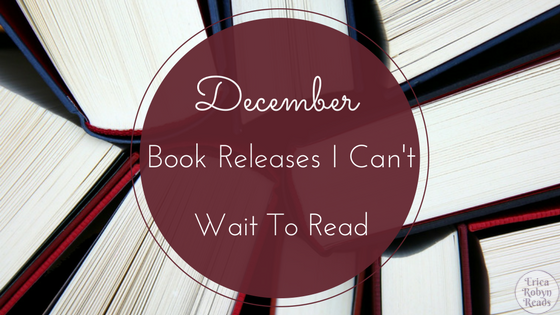 I'm SO ready for the holiday season!
This month I'm hoping to get through some honest reviews and three holiday reads. However, there are also a couple of new releases that I also can't wait to get my hands on!
Let's dive in!
2 December Book Releases I Can't Wait To Read
The Vanishing Season by Joanna Schaffhausen
Expected publication date: December 5th 2017
Synopsis:
Ellery Hathaway knows a thing or two about serial killers, but not through her police training. She's an officer in sleepy Woodbury, MA, where a bicycle theft still makes the newspapers. No one there knows she was once victim number seventeen in the grisly story of serial killer Francis Michael Coben. The only victim who lived.


When three people disappear from her town in three years, all around her birthday—the day she was kidnapped so long ago—Ellery fears someone knows her secret. Someone very dangerous. Her superiors dismiss her concerns, but Ellery knows the vanishing season is coming and anyone could be next. She contacts the one man she knows will believe her: the FBI agent who saved her from a killer's closet all those years ago.


Agent Reed Markham made his name and fame on the back of the Coben case, but his fortunes have since turned. His marriage is in shambles, his bosses think he's washed up, and worst of all, he blew a major investigation. When Ellery calls him, he can't help but wonder: sure, he rescued her, but was she ever truly saved? His greatest triumph is Ellery's waking nightmare, and now both of them are about to be sucked into the past, back to the case that made them…with a killer who can't let go.





Chilling Adventures of Sabrina, Vol. 2 by Roberto Aguirre-Sacasa, Robert Hack (Illustrations)
Expected publication date:
December 19th 2017
Synopsis:
On the eve of Sabrina's sixteenth birthday, she faces a choice that will determine her destiny as a half-witch/half-mortal, an unspeakable terror arrives in Greendale, and her name is… MADAM SATAN! At long last, the secret history of the Queen of Hell is revealed, and she sets her vengeful gaze upon the SPELLMAN family. No one, especially those close to Sabrina, is safe, and very, very soon, the quiet streets of Greendale will run red with blood…
SaveSave