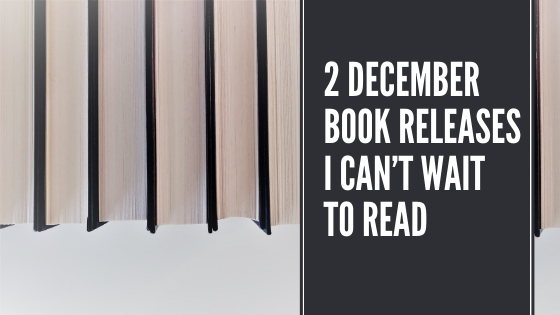 In December, I typically read as many holiday themed books as possible! This year, I'm also trying desperately to catch up on the 2020 releases that are still sitting in my TBR stack.
Of course, there are two more book coming out this month that I will be adding to that stack.
Please note: This post contains affiliate links for bookshop.org. By clicking the links and ordering the books, you can help support a local indie bookshop! By using this link, I will get a small commission.
Let's dive in!
Shed No Tears (Cat Kinsella #3) by Caz Frear
Expected publication date: December 1st, 2020
Publisher: Harper
Genre: Mystery / Thriller
Synopsis: Growing up in a London family with ties to organized crime, Detective Constable Cat Kinsella knows the criminal world better than most cops do. As a member of the city's Metropolitan Police, she's made efforts to distinguish herself from her relatives. But leading an upstanding life isn't always easy, and Cat has come close to crossing the line, a fact she keeps well hidden from her superiors.
Working their latest case, Cat and her partner Luigi Parnell discover a connection to a notorious criminal: serial killer Christopher Masters, who abducted and killed several women in 2012. Though the cops eventually apprehended him, his final victim, Holly Kemp, was never found and he never confessed to her murder, despite the solid eyewitness testimony against him. Now, six years later, the discovery of Holly's remains near Cambridge seems to be the definitive proof needed to close the case.
Still, a few key items of evidence don't quite line up. As Cat and Parnell look closer, they find discrepancies that raise troubling questions. But someone will do anything to keep past secrets hidden—and as they inch closer to the truth, they may be putting themselves in jeopardy . . .
---
The Blade Between by Sam J. Miller
Expected publication date: December 1st, 2020
Publisher: Ecco
Genre: Horror
Synopsis:
Ronan Szepessy promised himself he'd never return to Hudson. The sleepy upstate town was no place for a restless gay photographer. But his father is ill and New York City's distractions have become too much for him. He hopes that a quick visit will help him recharge.
Ronan reconnects with two friends from high school: Dom, his first love, and Dom's wife, Attalah. The three former misfits mourn what their town has become—overrun by gentrifiers and corporate interests. With friends and neighbors getting evicted en masse and a mayoral election coming up, Ronan and Attalah craft a plan to rattle the newcomers and expose their true motives. But in doing so, they unleash something far more mysterious and uncontainable.
Hudson has a rich, proud history and, it turns out, the real estate developers aren't the only forces threatening its well-being: the spirits undergirding this once-thriving industrial town are enraged. Ronan's hijinks have overlapped with a bubbling up of hate and violence among friends and neighbors, and everything is spiraling out of control. Ronan must summon the very best of himself to shed his own demons and save the city he once loathed.
---
Thanks for reading!
What are you looking forward to reading in December? I'd love to hear about it below!