ELEVEN?! Oh lord. Each of these upcoming releases are on my wishlist. I cannot wait to snag copies of each of them!
Please note: This post contains affiliate links for bookshop.org. By clicking the links and ordering the books, you can help support a local indie bookshop! By using this link, I will get a small commission.
Let's dive in!
August 2021 Book Releases
Queen of Teeth by Hailey Piper
Expected Publication Date: August 3rd, 2021
Publisher: Scribner
Genre: Horror
Synopsis:
Within forty-eight hours, Yaya Betancourt will go from discovering teeth between her thighs to being hunted by one of the most powerful corporations in America.
She assumes the vagina dentata is a side effect of a rare genetic condition caused by AlphaBeta Pharmaceutical, decades ago, when she and several thousand others were still in the womb.
But, when ABP corporate goons upend her life, she realizes her secondary teeth might be evidence of a new experiment for which she's the most advanced test tube… a situation worsened when Yaya's condition sprouts horns, tentacles, and a mind of its own.
On the run and transforming, Yaya may be either ABP's greatest success, or the deadliest failure science has ever created.
---
Expected Publication Date: August 3rd, 2021
Publisher: Scribner
Genre: Horror
Synopsis:
Billy Summers is a man in a room with a gun. He's a killer for hire and the best in the business. But he'll do the job only if the target is a truly bad guy. And now Billy wants out. But first there is one last hit.
Billy is among the best snipers in the world, a decorated Iraq war vet, a Houdini when it comes to vanishing after the job is done. So what could possibly go wrong?
How about everything.
---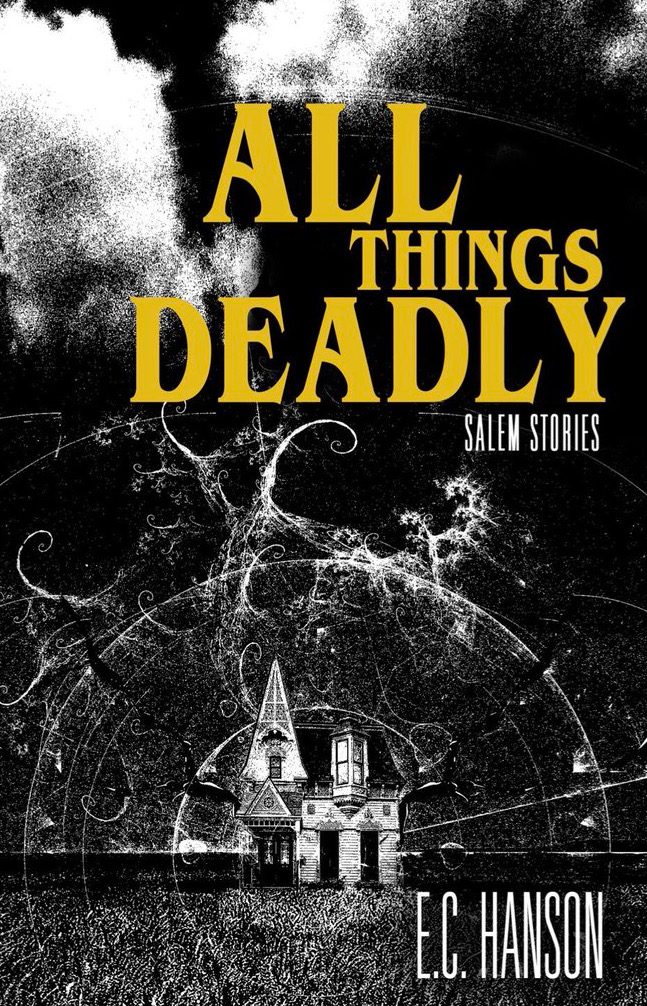 All Things Deadly by E.C. Hanson
Expected Publication Date: August 6th, 2021
Genre: Horror
Synopsis:
Salem, Massachusetts. A town with a rich history of spirits and witches. It's a place Adam Frost, a former paranormal investigator, never intended to visit again. But his teenage daughter is troubled and shows early signs of self-harm. Can the trip save their fractured relationship? Only time, and a haunted house, will tell.
ALL THINGS DEADLY (Salem Stories) is Hanson's debut horror collection. Surrounding the Frost storyline is a series of tales that utilize the coastal city to ratchet up the chills. Read if you dare.
Stay tuned! I'll be doing a review an interview with E soon!

---
Maine Book of the Dead- Graveyard Legends and Lore by Roxie J. Zwicker
Expected Publication Date: August 9th, 2021
Publisher: The History Press
Genre: Nonfiction
Synopsis:
Maine's graveyards contain the ancient memories and last words of woodsmen, lighthouse keepers, inventors, sea captains and the people who called this rugged land home. In an island cemetery rests Tall Barney, a six-foot-seven folk hero who single-handedly took down fifteen men in a Portland bar. Kittery holds the grave for the crew of the doomed ship the Hattie Eaton. Mount Hope Cemetery in Bangor is the final resting place for the famed "Sky Blue Madam" Fanny Jones and Public Enemy No. 1, gangster Al Brady. Camp Etna contains the grave of famed medium Mary Vanderbilt. Dead Man's Gulch in Wales holds many eerie tales of ghosts that refuse to leave.
Join renowned author and tour guide Roxie Zwicker as she explores Maine's historic and legendary graveyards.
---
Gone for Good (Detective Annalisa Vega #1) by Joanna Schaffhausen
Expected Publication Date: August 10th, 2021
Publisher: Minotaur Books
Genre: Mystery
Synopsis:
The Lovelorn Killer murdered seven women, ritually binding them and leaving them for dead before penning them gruesome love letters in the local papers. Then he disappeared, and after twenty years with no trace of him, many believe that he's gone for good.
Not Grace Harper. A grocery store manager by day, at night Grace uses her snooping skills as part of an amateur sleuth group. She believes the Lovelorn Killer is still living in the same neighborhoods that he hunted in, and if she can figure out how he selected his victims, she will have the key to his identity.
Detective Annalisa Vega lost someone she loved to the killer. Now she's at a murder scene with the worst kind of déjà vu: Grace Harper lies bound and dead on the floor, surrounded by clues to the biggest murder case that Chicago homicide never solved. Annalisa has the chance to make it right and to heal her family, but first, she has to figure out what Grace knew―how to see a killer who may be standing right in front of you. This means tracing his steps back to her childhood, peering into dark corners she hadn't acknowledged before, and learning that despite everything the killer took, she has still so much more to lose.
---
Expected Publication Date: August 17th 2021
Publisher: Silver Shamrock Publishing
Genre: Horror
Synopsis:
Nick has revered his grandfather his entire life. The absent hero, his namesake, buried alive in his final act of courage an ocean and thousands of miles away. Jess has outgrown her status as an all-action social media celebrity and the endless demands that come with it.
Adventure Travel TV has thrown this unlikely duo together, promising Jess the launchpad she craves and Nick the chance to tell his grandfather's story first-hand, in the newly uncovered mine that still holds his remains from the twilight days of the gold rush. Is it a dream come true or a nightmare as someone or something stirs…BELOW.
---
Expected Publication Date: August 17th 2021
Publisher: Flame Tree Press
Genre: Horror
Synopsis:
When dreams start bleeding into reality, a social worker is forced to face the mistakes of his past.
A serial killer has found a way to make his land of graveyards a sinister playground to be bent at his sadistic will.
The secrets behind August's eyes will bring two worlds together, and end in a cataclysm of pain and ruin.
---
Feral Creatures by Kira Jane Buxton
Expected Publication Date: August 24th 2021
Publisher: Grand Central Publishing
Genre: Sci-Fi Fiction
Synopsis:
Once upon an apocalypse, there lived an obscenely handsome American crow named S.T. . . .

When the world last checked-in with its favorite Cheeto addict, the planet had been overrun by flesh-hungry beasts, and nature had started re-claiming her territory from humankind. S.T., the intrepid crow, alongside his bloodhound-bestie Dennis, had set about saving pets that had become trapped in their homes after humanity went the way of the dodo.

That is, dear reader, until S.T. stumbled upon something so rare—and so precious—that he vowed to do everything in his power to safeguard what could, quite literally, be humanity's last hope for survival. But in a wild world plagued by prejudiced animals, feather-raising environments, new threats so terrifying they make zombies look like baby bunnies, and a horrendous dearth of cheesy snacks, what's a crow to do?

Why, wing it on another big-hearted, death-defying adventure, that's what! Joined by a fabulous new cast of animal characters, S.T. faces many new challenges plus his biggest one yet: parenthood.
---
Dark Waters (Small Space #3) by Katherine Arden
Expected Publication Date: August 3rd 2021
Publisher: G.P. Putnam's Sons Books for Young
Genre: Middle Grade Horror
Synopsis:
Having met and outsmarted the smiling man in Dead Voices but fearful of when he'll come again, Ollie, Brian, and Coco are anxiously searching for a way to defeat him once and for all. By staying together and avoiding remote places, they've steered clear of him so far but their constant worry and stress is taking a toll on their lives and friendship.
So when Ollie's dad and Coco's mom plan a "fun" boat trip on Lake Champlain, the three are apprehensive to say the least. They haven't had the best of luck on their recent trips and even worse their frenemy Phil is on the boat as well. But when a lake monster destroys their boat, they end up shipwrecked on a deserted island.
This isn't just any island though. It's hidden from the outside world in a fog and unless everyone works together to find a way to escape, they won't survive long.
---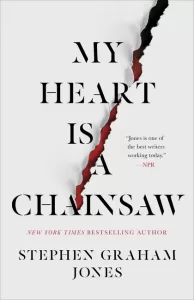 My Heart is a Chainsaw by Stephen Graham Jones
Expected Publication Date: August 31st 2021
Publisher: Gallery / Saga Press
Genre: Horror
Synopsis:
"Some girls just don't know how to die…"

Shirley Jackson meets Friday the 13th in My Heart Is a Chainsaw, written by the author of The Only Good Indians Stephen Graham Jones, called "a literary master" by National Book Award winner Tananarive Due and "one of our most talented living writers" by Tommy Orange.

Alma Katsu calls My Heart Is a Chainsaw "a homage to slasher films that also manages to defy and transcend genre." On the surface is a story of murder in small-town America. But beneath is its beating heart: a biting critique of American colonialism, Indigenous displacement, and gentrification, and a heartbreaking portrait of a broken young girl who uses horror movies to cope with the horror of her own life.

Jade Daniels is an angry, half-Indian outcast with an abusive father, an absent mother, and an entire town that wants nothing to do with her. She lives in her own world, a world in which protection comes from an unusual source: horror movies…especially the ones where a masked killer seeks revenge on a world that wronged them. And Jade narrates the quirky history of Proofrock as if it is one of those movies. But when blood actually starts to spill into the waters of Indian Lake, she pulls us into her dizzying, encyclopedic mind of blood and masked murderers, and predicts exactly how the plot will unfold.

Yet, even as Jade drags us into her dark fever dream, a surprising and intimate portrait emerges…a portrait of the scared and traumatized little girl beneath the Jason Voorhees mask: angry, yes, but also a girl who easily cries, fiercely loves, and desperately wants a home. A girl whose feelings are too big for her body. My Heart Is a Chainsaw is her story, her homage to horror and revenge and triumph.
---
The Woods Are Always Watching by Stephanie Perkins
Expected Publication Date: August 31st 2021
Publisher: Dutton Books for Young Readers
Genre: Young Adult Horror
Synopsis:
Bears aren't the only predators in these woods.

Best friends Neena and Josie spent high school as outsiders, but at least they had each other. Now, with college and a two-thousand-mile separation looming on the horizon, they have one last chance to be together—a three-day hike deep into the woods of the Pisgah National Forest.

Simmering tensions lead to a detour off the trail and straight into a waking nightmare … and then into something far worse. Something that will test them in horrifying ways.

Stephanie Perkins, the bestselling author of There's Someone Inside Your House, returns with a heart-stopping, gut-wrenching novel about friendship, survival, and navigating unmarked paths even as evil watches from the shadows.
---
Thanks for reading!
What are you looking forward to picking up this month?