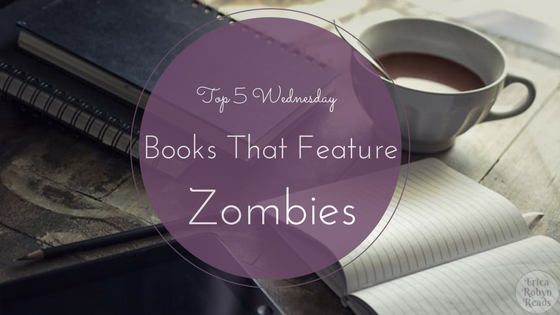 Top Five Wednesday is hosted by Thoughts on Tomes. For those of you that are interested in taking part, check out the Goodreads group here: Top 5 Wednesday.
This week's prompt:
October 18th: [paranormal creature of your choice]
–Here is the previously mentioned paranormal creature topic. This topic will revolve around one type of paranormal creature of your choice. So books featuring vampires, werewolves, shapeshifters, demons, fae, zombies, etc.


So of course I picked Zombies!
5 Books That Feature Zombies
5. Welcome to Deadland by Zachary Tyler Linville
Synopsis:
A widespread disease has ravaged humanity—symptoms include: animalistic rage, violent outbursts, and a ravenous hunger for human flesh. Among the few people left are Asher, Wendy, and Rico, thrust together to fight for their lives and find sanctuary, before the world becomes overrun by the infected. Although fear of the infected is ever present, the group finds themselves facing some very human concerns, as well as new adversaries.


Asher is Wendy's only friend, and she fears that she'll lose him if he ever discovers the dark secret she's been harboring. Reeling from heartbreak, Asher clings to Wendy as he struggles to heal. Rico is a teenaged delinquent used to ditching school and partying all night—but can he outgrow his debauched behavior in order to protect a six-year-old boy who has suddenly fallen under his care? These three will have to overcome their own demons in order to save not only themselves, but the last vestiges of humanity.


My thoughts:
I wouldn't call this a typical "zombie novel," but I would definitely recommend it! Just keep in mind that it is a bit different and that you are going to shout out loud at the ending and immediately want the second book!
4. Warm Bodies by Isaac Marion
Synopsis:
'R' is a zombie. He has no name, no memories and no pulse, but he has dreams. He is a little different from his fellow Dead.


Amongst the ruins of an abandoned city, R meets a girl. Her name is Julie and she is the opposite of everything he knows – warm and bright and very much alive, she is a blast of colour in a dreary grey landscape. For reasons he can't understand, R chooses to save Julie instead of eating her, and a tense yet strangely tender relationship begins.


This has never happened before. It breaks the rules and defies logic, but R is no longer content with life in the grave. He wants to breathe again, he wants to live, and Julie wants to help him. But their grim, rotting world won't be changed without a fight…


My thoughts:
I LOVE THIS BOOK. Unfortunately, I saw the movie before reading the book… so I knew how it was going to end. But I was still hanging off of every word! I had such a hard time putting the book down. It was an absolutely amazing read. I love R's character!!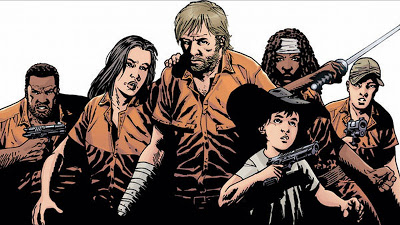 3. The Walking Dead Comics Series
Synopsis:
The Walking Dead is an ongoing black-and-white comic book series created by writer Robert Kirkman and artist Tony Moore. It focuses on Rick Grimes, a deputy who is shot in the line of duty and awakens from a coma in the zombie apocalypse that placed Georgia under quarantine. He finds his wife and son, and meets other survivors, gradually taking on the role of leader among a group and later a community as Rick and his group try to survive the zombie apocalypse.


My thoughts:
I am so in love with this series! The storyline, the artwork… it's so awesome. If you haven't checked them out yet, I highly recommend doing do!


2. The Walking Dead Novels by Robert Kirkman & Jay Bonansinga
Synopsis:
From the mind of Robert Kirkman, the legendary comic book auteur and creator of The Walking Dead, comes a new series of all-original novels steeped in the terrifying mythos of the Eisner Award winning comic. Co-written with bestselling novelist and Stoker Award finalist Jay Bonansinga, the books thrust readers right into the middle of the greatest zombie apocalypse epic ever told.
My thoughts:
This is such a cool series! I love the comics, so of course I loved the novels! They don't follow the same storylines, so I feel that by reading these you get a bigger picture of the world and whats going on. I highly recommend them!! I need to re-read them soon!


1. Undead (The Living Dead #1-2) by John Russo


Synopsis:
Night Of The Living Dead
A cemetery in rural Pennsylvania. A brother and sister putting flowers on their father's grave. A strange figure shambling toward them–eyes dead and teeth gnashing. So begins a night of endless terror that would live on in infamy. Seven strangers locked inside a small farmhouse fight off an army of walking corpses. Who will survive? And who will have their flesh devoured. . .?


Return Of The Living Dead
Not long after the first zombie outbreak, a bus crashes in a small American town. Local churchgoers rush to the scene to save the living–and destroy the dead. But they're too late. A terrifying new plague of undead has been unleashed. A new horde of victims has been infected. And this time, they are ravenous. . .


Two great, gruesome zombie thrillers in one volume!




My thoughts:
Of course this has to hit number one on my list! They're classics! This book is action packed and so intense! I highly recommend this book to any zombie fan! Both endings are absolutely amazing, so prepare yourself for them.
Thanks for reading!
What is your favorite zombie read?
SaveSave