Petrified Women by Jeremy Ray is a terrifying tale that will leave readers with a terrible pit in their stomach but also a strong feeling of hope.
Full disclosure: I was given a free copy of this book from the author in exchange for an honest review. This did not affect my rating in any way.
Heads up!
This story began with content warnings. I will add a photo of that warning below the subheader if you'd like to skip it, just scroll right past.
Let's dive in!
My Thoughts on Petrified Women by Jeremy Ray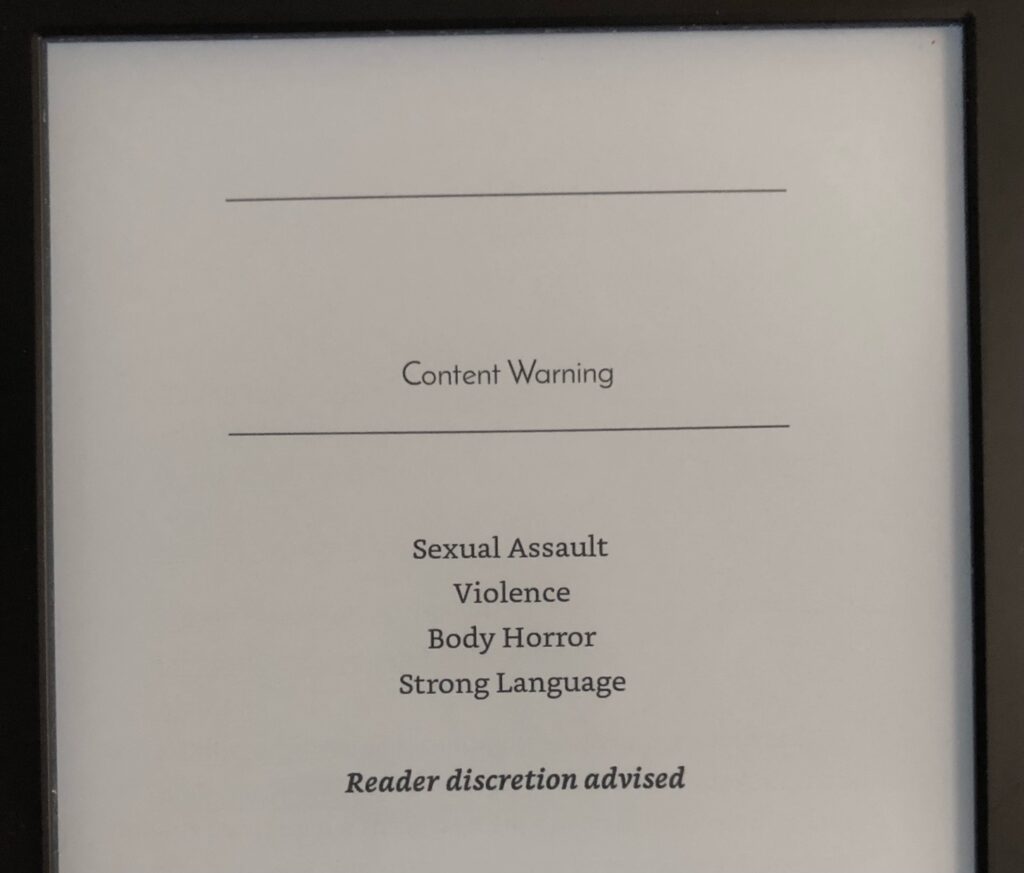 After the content warnings, there is a killer micro story that sets the tone of the rest of the novella. And boy is it a dark tone…
Next up is an absolutely beautiful dedication. If you haven't checked this novella out yet, but plan to, I can't wait for you to see the lovely note.
Then we're off and running with the novella!
In the beginning, we meet our main character, Harley, as she is technically breaking into her boyfriends apartment in order to prank him. These two have a relationship built on pranks. Some she can laugh off, but not all of them seem like they are just fun and games to Harley. Even so, she is determined to get higher up on the list of pranks the boyfriend has pinned to his refrigerator, and she thinks this prank may do it.
As she is setting up for the prank, her boyfriend arrives home and she scurries to the closet to hide, planning to jump out at him. It all seems like fun and games at first, as the prank seems to have been flipped on her. But then something happens, and Harley isn't so sure it's a prank this time…
PHEW. First of all, I would not have lasted in this relationship after the first prank this guy pulled. Learning more about these games and how Harley reacted to them made my blood boil. I wanted to scream at her through my kindle screen to get out of that relationship, that these pranks aren't funny. However, thinking back to my teen and early twenties, I can absolutely relate to Harley and feeling like she needed to just laugh it off in order to keep things fun and upbeat.
There are so many lessons included in these pages, and many things that readers will recognize as red flags. But you won't be able to turn away; you'll be hooked and can't wait to see how this plays out.
And let me tell you, I could have never seen where this one was going and I absolutely loved it.
My Favorite Passages from Petrified Women
This kind of dread before a practical joke was natural, right?
The stillness was alive — like a predator waiting for the perfect moment to spring out yelling: I know you're in there, Harley, and now you're next.
How could a liar, especially a psychopathic one, have such sincere eyes? He looked as though he cared.
My Final Thoughts on Petrified Women
This was a very difficult read for me, especially with some of the content around the relationship Harley was in. After I finished reading, I had to sit with this one for a bit to process as it brought up a lot of nastiness from my past.
Jeremey Ray has done an absolutely wonderful job with this topic and added such a fun and horrific twist. I absolutely loved it. This is a must read for horror fans that enjoy sitting with very uncomfortable horrors.
---
Snag a copy using my Amazon Affiliate link or inquire at your local indie:
Related reading: