I've wanted to subscribe to a monthly box for a long time now. I've watched many unboxings on Youtube and scrolled through many blog unboxings to see which company I think would be best for me.
One that seemed to stay at the top of my list was PageHabit.
PageHabit is a subscription that offers monthly or quarterly boxes where you pick your genre. The box features a new book release along with sticky-note written annotations from the author and some bookish goodies. Further, with every box purchased, a donation is made to support children's literacy!
When I got an email from PageHabit, informing me that a spot had opened up for me when another person who had entered the 365 Days of Books Giveaway didn't claim their prize, I just couldn't pass it up! I immediately jumped over to their website and ordered the Horror box.
Please note- my unboxing includes the extras that I won with this giveaway: ONE bonus hardcover book and ONE additional quirky bookish good.
My Horror PageHabit Unboxing
When I finally saw my box come in the mail (I'm impatient, I can't help it!), I was so excited! So, when I opened the box, this is what I saw: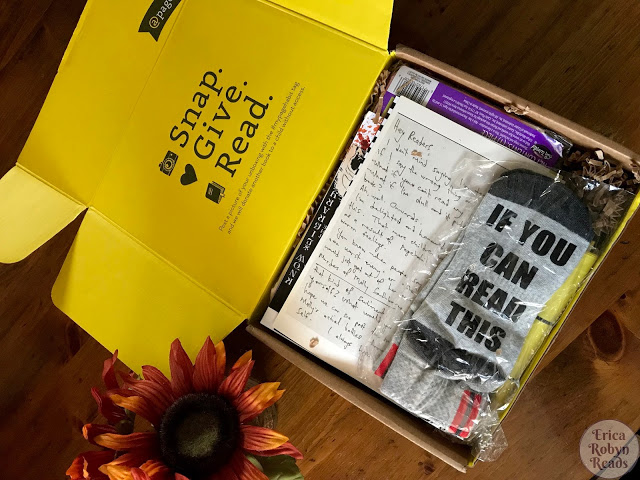 I was incredibly excited to see the "If you can read this" socks! I may have squealed a little bit out of excitement there…
Right on the top, there were three small bookish items that I'm really looking forward to reading through. One is a letter from the author of the featured book, the second item is extra content from the featured book, and one is a short story:
The featured book was The Murders of Milly Southourne by Tade Thompson, and the extra book that was included through the contest was The Beast Is an Animal by Peternelle van Arsdale.
There were also a few smaller items including a bloody handprint shower curtain, a pumpkin keychain, a bookmark, and a PageHabit Library card pillowcase. While I thought that these items are cute, they're not all things that I will be keeping. I may keep the shower curtain for the next Halloween season, but I'm not sure yet. I would have LOVED the pillowcase if I had still been in high school or early college, but I now need to have my bedding match…
Here's everything that was in the box. And yes, I know I put the socks in the wrong order, ha!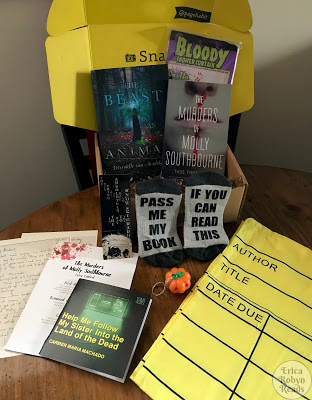 So, what did I think?
I did enjoy this unboxing. It was fun not knowing what I was going to see next. My favorite item by far was the socks! I'm also really excited to read the two books. Overall, I thought the "bookish items" were alright. However, for a horror box, I was pretty unimpressed by the additional items.
However, as a whole, I don't think I can justify paying for another month. Especially where our budget is incredibly tight for the upcoming wedding… But I'm really glad I took the chance with this subscription box!
Thanks for reading!
Have you ever gotten a monthly subscription box? If so, what did you think?