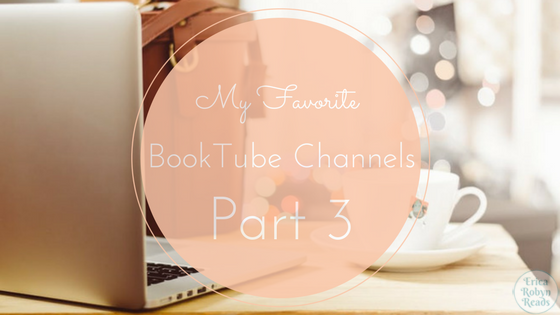 Welcome to another edition of My Favorite BookTube Channels!
If you missed the first two posts, check them out below:
My Favorite BookTube Channels
My Favorite BookTube Channels, Part 2

My Favorite BookTube Channels, Part 3
Books&Bobs
Rob's videos are so wonderful! His lighting and audio quality is great and the way he edits all of his videos for flow is so well done. I also really enjoy the use of background music in many of his videos. It really adds oomph to the videos; not that he really needs any extra oomph! His voice is very easy to listen to and I absolutely love his accent. His excitement is also very addicting! I feel like a bit of a creeper, but when I watch his videos I usually find myself grinning simply because of how lovely his personality is.
His tastes are pretty similar to mine, which is something that I am always looking for when I try a new BookTuber. So I'm always adding a ton of things to my TBR. I also really enjoy his favorites videos because he will share things like his favorite tv shows, movies, or albums!
Check out Books&Bobs.
Kelsey Lee Reads
Kelsey pretty recently created her account and I am loving her content so far! She's got a great set up and her videos are all wonderfully done. She discusses a lot of the same books that I have read or plan to read soon, so I love hearing her thoughts about them! I also really enjoy the style she uses in the fonts for the text overlays.
Kelsey is one of the BookTubers on my subscription list that I look forward to watching the most! I really look forward to seeing how her channel grows.
Check out Kelsey Lee Reads.
baldbookgeek
I believe I discovered his channel through Books Amino, but I'm not positive. I really love all of his content! He's got a great laid-back vibe going on with his channel that I really enjoy. I also really like that he always asks the viewers questions to get them engaged with his content.
He also gets the credit for sending me to the channel below! 🙂
Check out baldbookgeek.
The Rainbow Library

I love this channel so much! When I first discovered them, I immediately watched all seven videos that they had uploaded. I also read None Of The Above by I. W. Gregorio after they announced it as their book of the month and absolutely loved it. I thought it was so interesting to see each of the contributors thoughts about the book as well!
However, I am a bit worried that they stopped the project because there hasn't been much uploaded recently. I've got my fingers crossed for more content soon!
Check out The Rainbow Library.
bookmovieguy
This is one of my most recent subscriptions, but all of his content that I have watched so far has been really lovely! I normally don't really care for book hauls, but I really enjoy his! Of course it helps that he and I have very similar interests, so whenever I watch one of his hauls, I find myself adding a few things to my shopping wish list!
While I would normally hold off on including a new subscription on these lists, I wanted to go ahead and add him because he recently published a book on Amazon called
There Are Monsters Here
. I snagged myself a copy of the ebook and cannot wait to give it a read!
Thanks for reading!
As always, I am constantly on the lookout for new channels to give a try. So feel free to leave me recommendations in the comments section below!
SaveSaveSaveSaveSaveSave