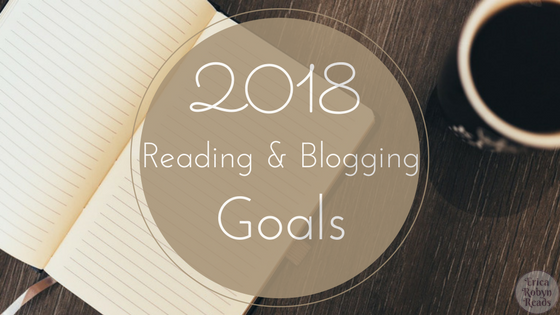 Rather than completing a reading challenge in 2017, I decided to mix things up a bit and set the following goals for myself:
Read all of the ebooks on my Kindle
Complete multiple TBR takedowns
Complete a series my boyfriend and I own
Stop being so stubborn about DNFing
I was successful in only one of these goals… but to me it was the most important; Stop being so stubborn about DNFing! To help me do this, I created a DNF Policy. Since then, I haven't looked back!
While I wasn't as successful with my goals as I had hoped, I have decided to follow a similar process this year.
My 2018 Reading & Blogging Goals
My book blogging goals:
Stay on top of updating my review archive page.
I let myself fall behind on this way too many times this year… While I don't think updating it daily will work out, I aim to update the page at least once a week.
Participate in 1 or 2 online book events.
I participated in a few events this year and met a bunch of amazing people because of it! I will definitely have my ears and eyes open for bookish events again this year.
Find a new weekly meme to replace the ones that have gotten stale.
I have had my eye on a number of these memes. To me, it's really important to be consistent with my participation, so I want to make sure I pick a real keeper, not just one I'll participate in once or twice and then bail.
Continue adding to my testimonial page.
I have had a number of authors and publishers provide me with some very kind words. In 2018, I'd love to continue adding to this page!
My reading goals:
Complete all honest review requests on time.
I have a massive spreadsheet that I use to track my Honest Review Requests. As I have changed up my policy, I am actually booked straight through 2018 already! However, reading slumps and general life events can certainly still get in the way of my schedule, so it is my top priority to get the requests fulfilled on time.
Read all of the books on my shelves that I own but haven't read yet.
Ha. This one is a bit of a stretch, but I promised my fiancé that I would get our shelves under control. Keep your fingers crossed for me! 🙂
Re-read the books I have been meaning to re-read.
This is a very loose goal. I have a whole list of books that I want to re-read, but we'll see if I can make it happen. I was only able to re-read five books in 2017.
Complete the 2018 Library Love Challenge
I have set my goal at "Library Card on Fire: Read 60+ books." Click here to learn more about the challenge!


Thanks for reading!
I'd love to hear what your reading goals are for 2018! Feel free to link to your blog post or youtube resolution video in the comments below, or comment with a few of your goals.


Happy 2018!
SaveSave