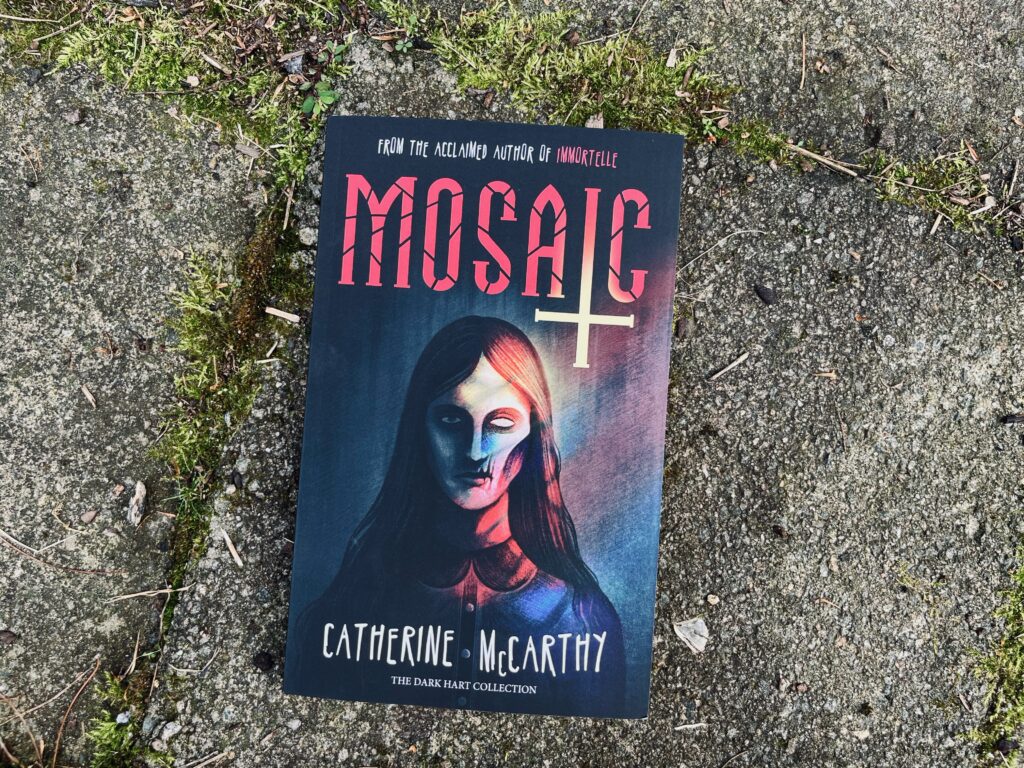 Mosaic by Catherine McCarthy is a gothic horror tale that slowly burns like the candles set up at an altar, complete with shadows that jump, making the viewers ask if it was just a shadow, or perhaps something more sinister.
Let's dive in!
My Thoughts on Mosaic by Catherine McCarthy –
When Robin receives a letter in the mail asking for her to accept a job restoring a stained glass window at an old abandoned church that they are working to fix up, she's intrigued. The work sounds like her dream job, but she can't put a finger on what's making her cautious.
Going out to the area for the first time, she almost lets her inner thoughts turn her around to leave, but soon enough she arrives at the property and is mesmerized by the building.
Treating the first few days as her research and preparation, she also gets to do a bit of a scavenger hunt. Then the "real work" starts.
Boy, did I love the quick scavenger hunt focus! I would have been just like this character, obsessed with the hunt to try to find all the original pieces of glass. Though knowing myself, I would have been a bit more extreme with it; I would have been absolutely determined to search high and low until I was sure I didn't overlook any. So I was pleased to see the character note that if she didn't stop, she would keep going and going and going. That level of awareness was refreshing! Now, if only I could do that in my own life!
I am obsessed with the pacing of this story. There's such a quiet burn going on. It works its way down to the bottom where you finally get to see what has been lurking just beneath the surface.
The author does an amazing job getting you settled right in the mindsets that the main character has, whether that's with the project itself, how she feels about various people, her determination to find answers, or, most unsettlingly, her terror of going to the crypt. I'm pretty certain I didn't breathe the entire time Robin was in the crypt. Her anxiety was so palpable.
And that ending… MY GOSH.
My Favorite Passages from Mosaic –
Ahead stands the church, an ancient Cotswold-stone building complete with narthex and bell tower, but it is the graveyard itself that steals my breath. Scattered headstones peep from behind knee-high grass, some of the stones leaning towards each other as if conspiring. The wind whispers through the trees, giving them a voice: visitors, visitors!
As far as I can see, no skeletons or coffins are hidden in this space. It's just an empty shell, devoid of any horror except the worst kind: that which one's own mind produces.
The dream is as sharp as a knife. The final image so keen it threatens to slit my throat and watch me bleed. But I have done so already by shedding my family ties. I will not allow it to kill me twice.
My Final Thoughts on Mosaic –
Gothic horror fans, go snag this one today and dive into the mystery. You're going to have so much fun with this read! I know I did! I already can't wait to read it again to see if I can pick up on any hints along the way that I may have missed in my first read-through.
---
Purchase your copy of Mosaic
Thanks for reading!