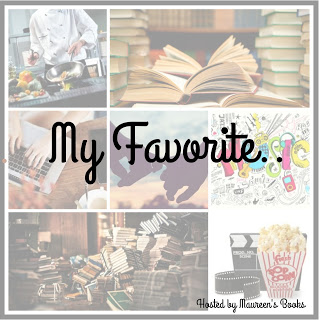 My Favorite… is a weekly meme hosted by Maureen's Books. The goal is simple, every week participants will share something that they love with each other based on a prompt.
This week's prompt is:
My Favorite Summer Time Memory
Let's dive in!


My answer:
When I read this prompt, one memory came to mind immediately, so I'm sticking with it without over thinking!
I grew up on an island off the coast of Maine, so we spent the vast majority of our summer days on the beach. One beach was our favorite; Big Tree Beach. The beach itself wasn't that large, it was just a small cove that you could get through by walking through a short path through the woods. We loved this beach because of all the neat things it had like the giant boulder we loved climbing on, the "waterfall" that came from the woods (it was really just a trickle of water, but it was always running), the rocky beach, the lack of sand, the availability of shade when necessary, and how quickly the ground sloped away into deeper water.
Occasionally, giant logs would wash up on the beach. These were always SO fun to play with! Forget floats and rafts! We loved seeing how many people we could get to sit on a log before they sank too far down.
Here's an example I was able to track down!
From left to right; me, my childhood best friend, my brother, and two of my best "summer" friends that spent their summers on the island, but their winters elsewhere.
Thanks for reading!
What is one summer memory that comes to mind for you? I'd love to hear about it!