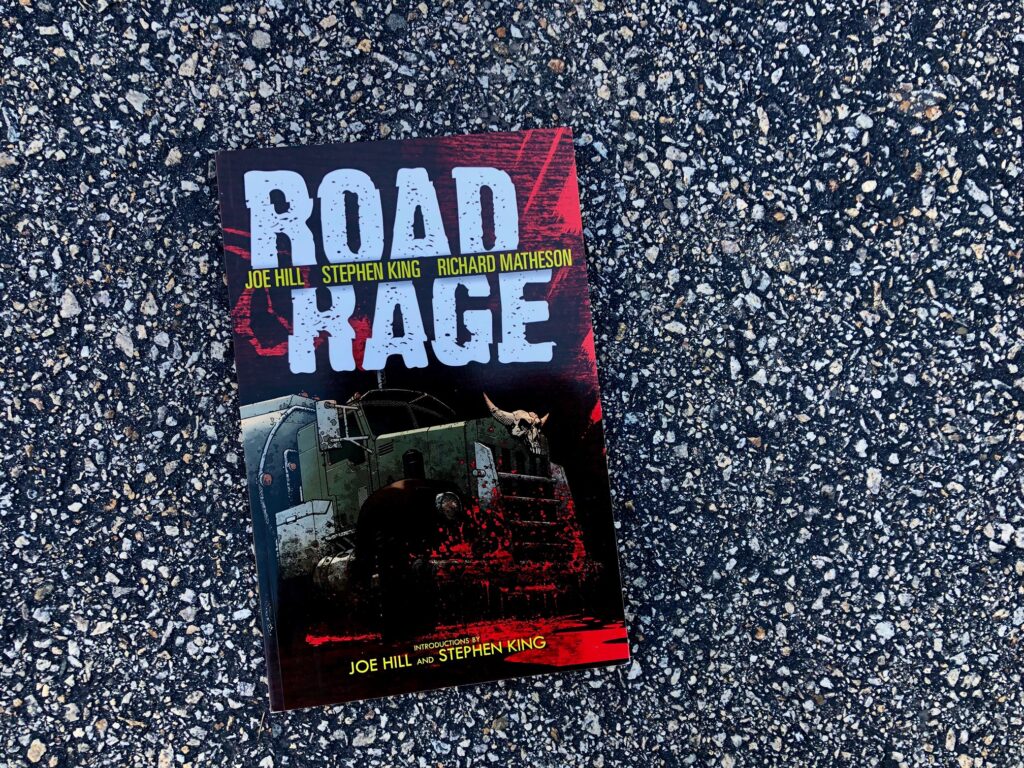 Road Rage by Joe Hill, Stephen King & Richard Matheson is a graphic novel that holds two insane tales about revenge on the road that will make you want to hang up your drivers license to avoid something like this ever happening to you.
Let's dive in!
My Thoughts on Road Rage by Joe Hill, Stephen King & Richard Matheson, adapted by Chris Ryall with art by Nelson Daniel and Rafa Garres
The first story in this graphic novel was Throttle. In this tale, a very abrasive and headstrong young man that has recently lost a lot of money in a deal refuses to listen to others when given advice. After a heated conversation at a gas station, they're left wondering if a trucker overheard… he sure did and they're about to find out who he is and what he's capable of.
This is a short story that I had previously read within Full Throttle by Joe Hill, and I absolutely loved seeing it in this format with all the visuals! The story itself is super brutal and fast paced. I loved the muted tones that were used in the coloring and the use of elements that spread out across panels was wonderful. An example of that is below with the coffee steam.
The next story was titled The Truck. This one was an intense tale as well! In this story, a man passes a truck to get ahead of him on the road. But then the truck passes him and a game of leapfrog begins, getting more violent and distressing with each pass.
This one had me hooked, even though it was very quick. While the story seemed a bit familiar, I'm wasn't sure where I've seen the film it was based on before. I didn't super love the artwork in this one personally, but I did enjoy how gritty it was.
At the end of the collection, there were a few pages of artwork. I LOVED this spread:
My Final Thoughts on Road Rage
This was such a fun read! I highly recommend it. It's a very quick read, but if you take your time and really enjoy the artwork, you can make it last a bit longer. There is a lot of gore, so heads up there if that's not your thing! The artists don't shy away here. A couple of the panels made me physically cringe.
---
Snag a copy through Bookshop to help support local indie bookshops:
Thanks for reading!