The Silver Scream: Inked In Blood Vol 1 is a graphic novel filled with terror, violence, and gore! Follow Ice Nine Kills super-fan on her quest to clear the band's name before it's too late.
I'm a huge Ice Nine Kills fan, so when I first heard about this, I bought a copy immediately. This was just as amazingly dark as I was hoping it would be!
Let's dive in!
My Thoughts on The Silver Scream: Inked In Blood Vol 1
There were a ton of people that worked on this! The concept is by Spencer Charnas, written by Steve Foxe, art by Andres Esparza and Philip Sevy, colors by Aladdin Collar, Vladimir Popov, and Chris Northrup.
And to begin, please note that this one has a fun little rating on it: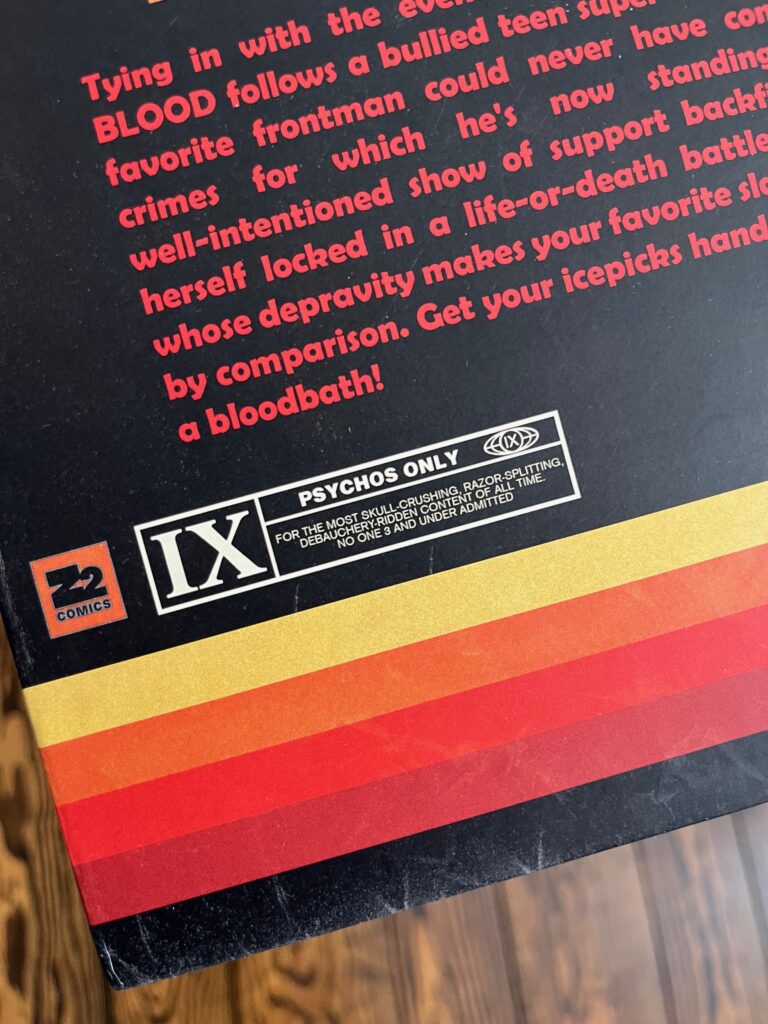 When the story begins, Heather Thompson is showing off her concert tickets to an upcoming Ice Nine Kills show in a video recording. But when her mom comes home and tells her to stop recording, that there isn't going to be a concert, Heather is devastated to learn that the band's lead singer, Spencer Charnas, was involved in a crime. Of course, Heather assumes he was a victim, but soon learns that he is the suspect! As her mom is working the case, she was looped in early, before she started to see the news online.
The blood is in the water, and the sharks that make up the media are already going wild! Determined to prove Spencer's innocence, Heather decides to make a stand. But will she be successful, or is she only adding to the bloody mix?
My goodness this was a WILD ride! I loved that the graphic novel actually has chapters. It reads wonderfully like a film, complete with transitions that jump between characters to further add to the tension.
The main character was wonderful. Of course, as a teenage girl, she falls victim to a few stereotypical things; not listening to her mother, posting private information online, accepting an invitation from someone she didn't know, and so on. But she has a great heart and wasn't afraid to speak up for what she believed in!
As there were two main artists, you will see the style differences. I loved each style so much! All of the facial expressions were perfect. I thought that that element added a whole new level of terror to the collection as you got to not only see what was happening, but you also get to see how they all react to everything! Both artists were extremely talented and didn't shy away from showing the gore!
This panel specifically was like a jump scare for me! I won't share what happens next, but with the blood and the noise, I'm sure you can hazard a guess at what's happening…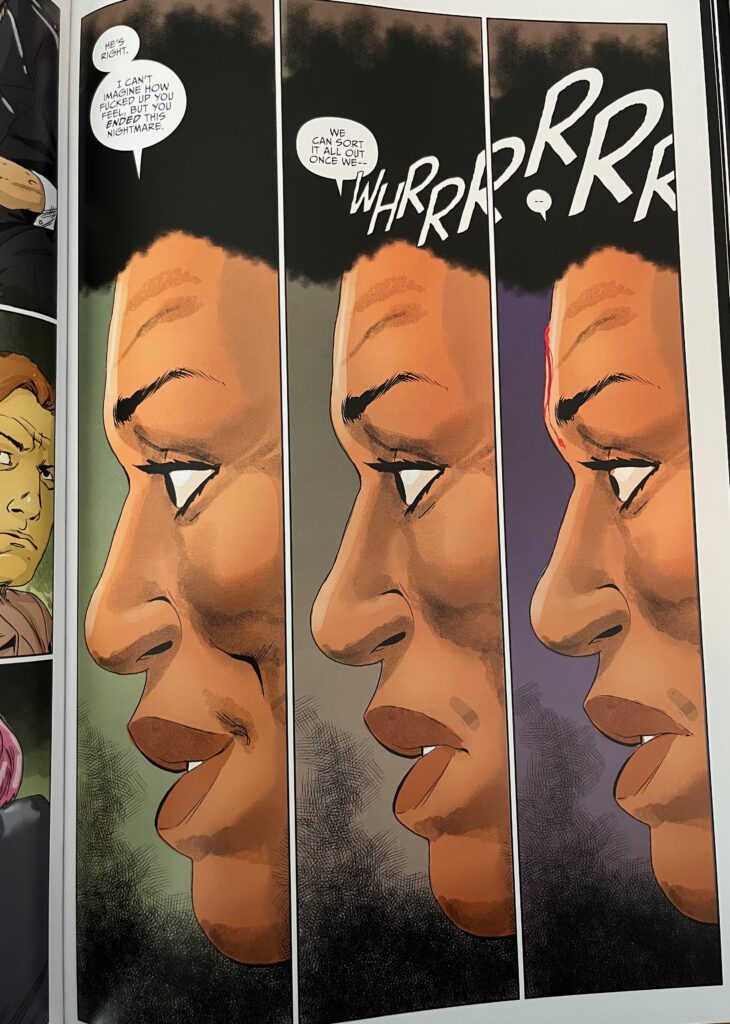 While the murder itself is pretty brutal and deep, I couldn't help but chuckle at the story coverage portrayed here. Not only in the beginning when the mom warned that the press would have a field day just knowing the band, but then all the little elements here and there like the headline news titled "LEGIT NEWS." And then there's the wild comments from randoms on the internet. It was all so spot on for typical news stories that blow up. The focus on the whole, "innocent until proven guilty" struggle shines in full force here.
For fans of the band, you are going to absolutely love all the lyrics that are dropped into the storyline! Sometimes the song quotes are obvious, sometimes they are just mixed into the speech bubbles like regular conversation. Toward the end of the book, there's a KILLER scene that I would rave about here, but I don't want to give anything away. You'll know what I mean if you've read this graphic novel!
The ending of this is the perfect ending to make fans crave the next issue!
My Favorite Passage from The Silver Scream: Inked In Blood Vol 1
The only thing America loves more than violence is being angry about violence.
My Final Thoughts on The Silver Scream: Inked In Blood Vol 1
Whether you're a fan of the band or not, this is a truly awesome read. It's brutal and brings readers through a nightmarish situation that will have you on the edge of your seat, waiting to see what happens next!
This was such a perfect read for me. Ten out of ten for sure. An amazing lead character, terrifying storyline, gruesome gore, quick pacing, and nods here and there to the bands lyrics! This was such a blast that I devoured it in one sitting.
---
Snag your copy from the INK's online shop today!
There are various versions available with limited inventory, so make sure you buy before stock runs out!
I got the Special Oversized Hardcover Graphic Novel, and that package included three 'Inked In Blood'-inspired art prints and the limited edition "VHS" slipcase for the graphic novel.
I cannot wait to get the print on the far right framed for my library!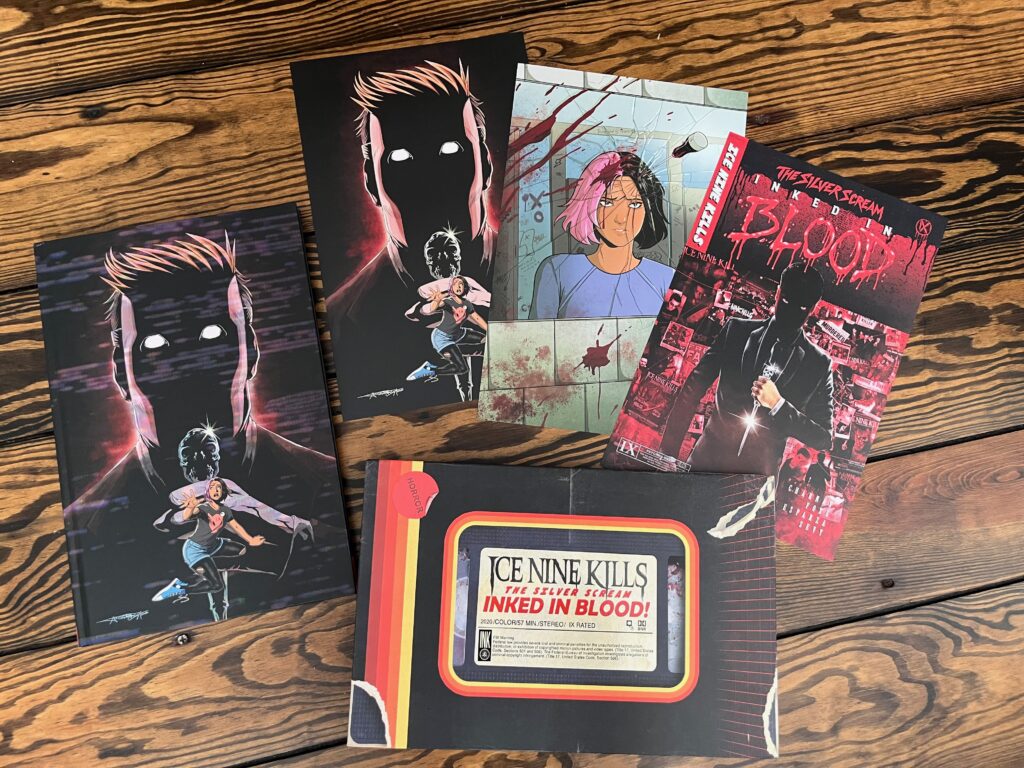 Thanks for reading!