If you're like me, you absolutely love bookish items! And of course it's always a bonus when those items are actually useful.
When I was approached by Taylor C., Marketing Manager at USB Memory Direct, and was shown these flash drives… I was ecstatic. I mean, come on. How cute are these?!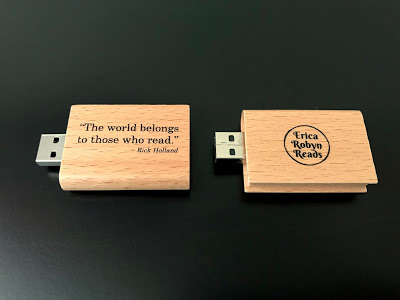 And yes… they are indeed shaped like a book!
The whole process was incredibly easy! Taylor and I emailed back and forth briefly to get the custom design nailed down. Taylor was so quick to respond and very patient with me whenever I asked various questions or wanted to tweak the design at bit. Once we had the design finalized, I eagerly awaited their arrival.
When the box showed up at my doorstep, I immediately opened it and gave a little shout. These flash drives are even more adorable in person than images can portray!
So on that note, let's get to the giveaway!
The Giveaway
USB Memory Direct sent me a bunch of these drives and I cannot wait to get the into your hands! Unfortunately, because of my current budget, I can only offer to ship a few out at a time. But please stay tuned to my social media accounts! As soon as my budget allows, I will give more away!
To be entered to win one of five flash drives that I am giving away, simply enter the Rafflecopter contest below. Make sure to enter before January 24th!


US only. So sorry you guys! 🙁 If you're outside of the US and really want a drive, please email me!


Thanks for reading!
Thank you again to USB Memory Direct for allowing me to partner with them in order to host this giveaway!
To learn more about the promotional products that this company offers, visit their website by clicking here.
Also be sure to follow the company on social to keep an eye out for great promotions and updates!