When a small envelope arrived in the mail, I was super intrigued. I didn't recognize the sender, so I didn't think I had ordered something… but you never know!
I was so excited to discover it was gift that had been sent to me from my best friend's wife, Lindsey, who I am also lucky to call a friend! She's such an amazing and thoughtful person! She finds the BEST gifts. A few years ago, she bought me this amazing bookish tea. It was a black tea in the teabags, and each one had a book quote!
And now, she's outdone herself again with her wonderful gift ideas!
Let's dive in!
My Gift from the britishbookart Etsy Shop
This time, Lindsey had snagged me a bookmark from britishbookart on Etsy. I let out a yelp when opening it!
I mean, how cute is the bookmark in the first place?! I love that its set up like a bookshelf, complete with little elements like a plant, lights, and a cup of tea added to the shelves. That is SO on brand for me! The little sleeping cat is adorable as well!
But the wicked cool part? You can use the blank book spines to write the books you've read on it!
Here's a photo of the gift and the wonderful note from Lindsey: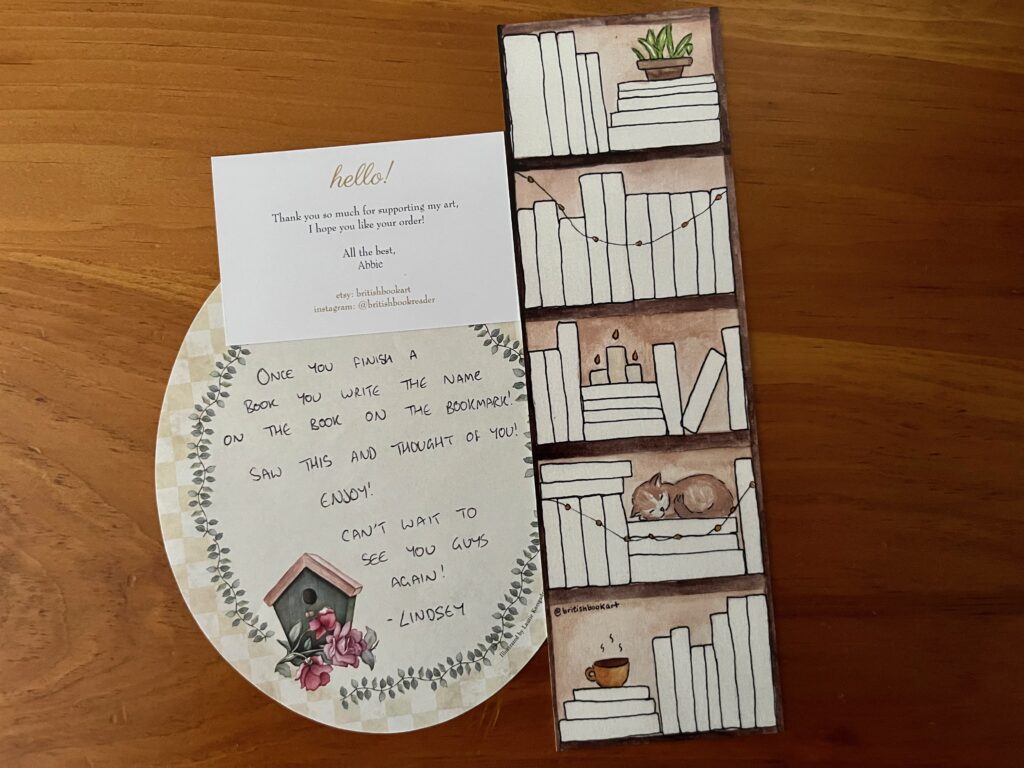 Of course, I immediately went to check out the Etsy shop!
The shop owner, Abbie, has such cute designs on there! The bookmark that I was gifted was there of course, and I was super intrigued by the bookmark that allows you to track your reading habits. There are also a bunch of awesome prints of illustrations over book pages for lots of occasions.
I'm OBSESSED with the bullet journal templates. If I finally get around to starting one of those, I'll be back for these!
Go check out the rest of the awesome britishbookart Etsy shop by clicking here!
Thanks for reading!