In The Haunted House is such a fun and spooky story with absolutely wonderful illustrations!
Rereading this one transported me right back to my childhood! This was one of my all time favorite Halloween reads as a kid.
While on my kick of reading children's books this season, I just had to request this one from my local library. I know I have a copy of mine still kicking around here somewhere though…
My Thoughts on In The Haunted House written by Eve Bunting, Illustrated by Susan Meddaugh
Seeing the cover of this book itself already had me feeling all of the warm, fuzzy feelings of reading spooky stories when I was a kid. When I cracked open the book and saw the first page for the first time in years, I was immediately sucked right into the story, just like I had been each time I read it as a kid!
I just love the artwork in this book! I remember thinking it was so unique when I was a kid. It was… more intricate, but rougher than the other books I had been reading. I still really love the texture of the illustrations. You can certainly tell that Susan Meddaugh put a lot of time and work into these pages!
And then of course there is the story! It flows so well. I love that we are following two kids as they walk through the house, never knowing what… or who… they are going to come across next!
One thing that I JUST picked up on during this latest reread was the Spider and how the arrow marker gets turned depending on whether the two characters are going into the house, or out!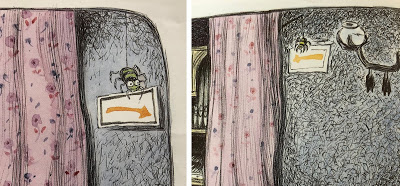 This is a book that I wish everyone could have in their collection. It's just such a fun one to read every Halloween season!
---
Snag a copy through Bookshop to help support local indie bookshops: