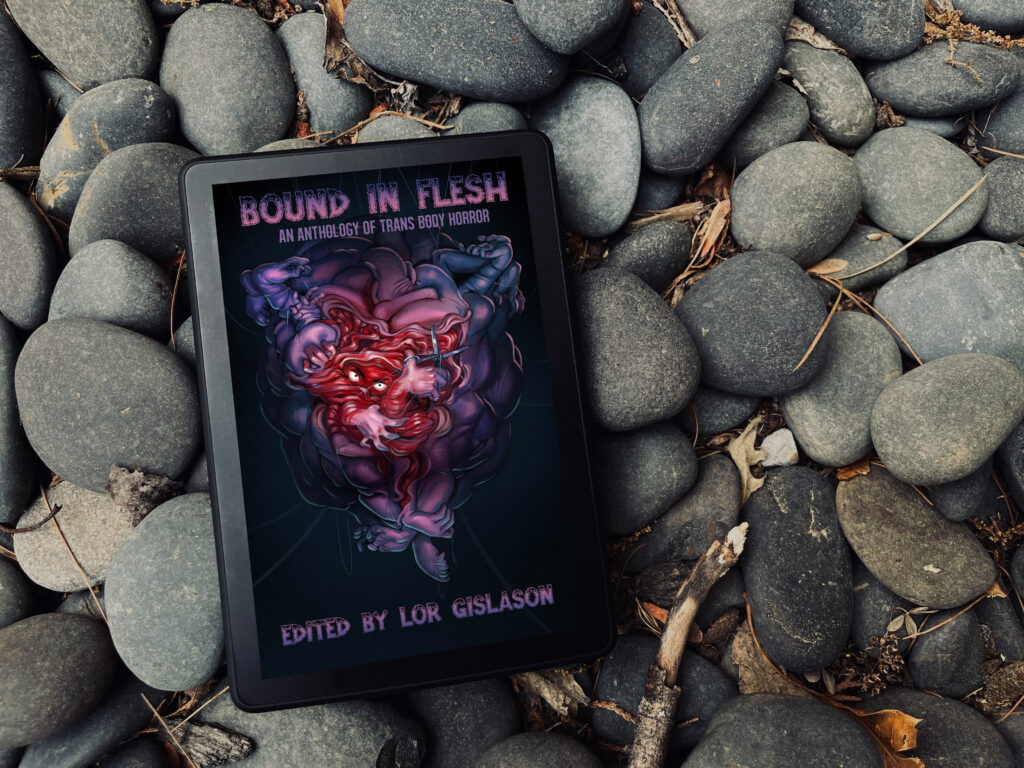 Bound in Flesh: An Anthology of Trans Body Horror edited by Lor Gislason is a collection of dark tales filled with violence, sex, and terror.
Let's dive in!
My Thoughts on Bound in Flesh: An Anthology of Trans Body Horror edited by Lor Gislason
Extreme horror fans, you're in for such a treat here! There is such a perfect blend of tales here that range from blood-boiling to full-blown terror.
My favorite shorts included:
The Haunting of Aiden Finch by Theo Hendrie
Mama is a Butcher by Winter Holmes
Long Fingers by Layne Van Rensburg
Man of The House by Lillian Boyd
Per usual, here are my thoughts on each tale!
Foreword by Lor Gislason – 
Such an awesome foreword! I love that Lor shares how this anthology came about. This is everything I love about the horror community!
---
Wormspace by L.C. von Hessen – 
Determined to get a meeting with The Physician, this young man has a desperate need to become something he is not.
The slew of things The Physician rattled off when she was first approached had me squeamish! Her blunt honesty was intense. Paired with imagining the poor guy on the chair waiting to hopefully get his wish had me feeling so uncomfortable right along with him! Seeing what came next was so much fun! 
---
The Haunting of Aiden Finch by Theo Hendrie – 
Coming across a dead body, this hiker picks up the phone of the deceased and finds a video log among some screenshots on their camera reel. Watching the videos, the hiker learns what happened to this boy.
This story is terrifying! The hiker is in the woods, lost, in the dark. That's scary enough! But then they find the dead body AND learn about a terrifying creature. This is pure nightmare fuel.
---
Coming Out by Derek Des Agnes – 
After a vicious attack in prison, this man ends up with a colostomy bag and a private cell. Unsure how to even process the events, he sees mushrooms growing in the cell and becomes fixated on them. 
Such a vicious and brutal beginning that moves into an unsettling and bizarre tale!
---
Mama is a Butcher by Winter Holmes – 
Never straying too far from home, this kid has been told their whole life that they're a monster. Their mother stitches skin over them to make them "human." But one day, they make a friend, and they start to think of things that their mother had tried so hard to avoid.
This tale is heartbreaking! The level of horridness in what the mother was doing is unbelievable. Such a terrible, beautiful, and tragic tale all in one!
---
Fall Apart by gaast – 
An old man has spent his life helping others with a very unique talent. He can bring the souls of the departed back. But this time, he's working on a project for himself.
The tension that builds here is amazing! I couldn't wait to see what was coming!
---
Lady Davelina's Last Pet by Charles-Elizabeth Boyle – 
Suddenly finding themselves in an odd situation where a woman is constantly changing them into whatever her latest whim is, they realize that they're losing themselves and need to get away.
The lack of control for the main character was terrifying. But forcing this poor soul to go through various transformations when they just wanted to be the self they've worked so hard to become was heartbreaking.
---
In The Garden of Horn, The Naked Magic Thrives by Hailey Piper – 
They know that you shouldn't buy magic items at yard sales, and yet, this character just can't help themselves. Using the item they picked up, they wish for one thing and get something unexpected. 
What a wild ride this one takes readers on! I was so nervous to see what magic this thing held, and while there was a very happy bright spot, there was also terror and hate that spilled out.
---
A Scream Lights Up The Sky by Joe Koch – 
Looking at a horde of breeders, one character wants to run while the other won't let them leave. Soon, chaos breaks out.
What a gory, brutal, and sickening tale! An extremely difficult one to read while pregnant! Tread carefully here if you're in that boat.
---
Long Fingers by Layne Van Rensburg – 
Seeing a finger in her coffee, this woman initially screams but then lets her scientific inklings take charge.
This is one of those stories where you want to root for the main character, but can't help but wonder if she is making the right choice. What if everyone trying to contain her were the ones that were right? Such a great tale of the unknown and how people react to it! 
---
A Brief History of The Santa Carcossa Archipelago by Bitter Karella – 
Determined to learn where these magical black eggs come from, this main character lets themselves get swept up by the one with the answers.
---
Show Me by Amanda M. Blake – 
In a marriage where the husband dictates exactly how to do every single thing, the wife begins to ask him to show her exactly what to do. later, when he finally pushes things too far, she again wants to know exactly what to do.
My goodness, the things this man says will have your blood boiling! 
---
Man of The House by Lillian Boyd – 
Buying a house that is haunted by a ghost, this man believes he can get rid of the ghost. But this ghost has other plans.
Rooting for the ghost, I couldn't wait to see what was going to happen. That ending was brutal and perfect!
---
Looking for the Big Death by Taliesin Neith – 
Determined to die, this character has a more difficult time than expected.
My Favorite Passages from Bound in Flesh
But instead of the pockets of black between the trunks that he was used to, his eyes snagged on something up ahead. In the distance, just within the reach of the light, a sheet ghost stood still and watched him, its black balloon held aloft.
— The Haunting of Aiden Finch by Theo Hendrie
"Hey, I'm just saying we're all special in some kind of way. So you're just more unique than most other people! That doesn't make you bad." Samantha lay back in the grass with her hands under her head. "It's scary to see yourself for what you really are. That's true for anyone. But you said it yourself, what's the point of knowing anyone if they don't know the real you? Shouldn't that count for yourself the most?"
— Mama is a Butcher by Winter Holmes
There is a finger in my morning coffee. The digit, a repetition of middle and proximal phalanges, originates behind the bread bin and seems quite pleased to be scalding its pale flesh in my expresso. At first, I think it is a snake, a worm, or a wire. Something that makes sense.
— Long Fingers by Layne Van Rensburg
Ronnie cries out as the pages drive themselves in, a stream shooting into Darryl's mouth and down his gullet, crumpling fast and wet as they work their way down him, through him, one after the other. Hot blood bubbles from his mouth before being shoved back in, spitting up out of his nose and running down his cheeks. The thundering ripple of paper downs the last sound he ever makes.
— Man of The House by Lillian Boyd
I felt for so long that death was a lover I hadn't met yet.
— Looking for the Big Death by Taliesin Neith
My Final Thoughts on Bound in Flesh
What a collection! Horror fans, if you haven't yet picked this one up, go snag a copy today! This is some extreme horror at its finest!
---
Purchase your copy of Bound in Flesh
Thanks for reading!