Did you get to attend the wonderful event held by Flame Tree Press, Flame Tree Live & Spooky, this year? I moved my work calendar around specifically to make sure I could attend as many as possible on my lunch breaks. Per usual, I had a blast!
If you didn't get to attend, but wanted to check it out, you're in luck! All of the sessions are available to watch on youtube.
Let's dive in!
The Flame Tree Live & Spooky Sessions
Below is a quick breakdown of each session. All session titles also link to the youtube video if you'd like to watch! I've embedded my favorite sessions right here as well.
Day One: The Hellish Helter Skeleter Session
John Everson hosts with panelists Dan Coxon, Gwendolyn Kiste, Lucy A. Snyder, and Maria Haskins.
If you enjoy short stories, you need to give this one a watch! The crew lists off authors to check out that made my TBR list explode.
Day Two: The Ghastly Ghost Train
Glenn Rolfe, Jonathan Janz and Gregory Bastianelli
I LOVE this crew! While I got to watch this one live, I also rewatched it again after the week's events were over. This one is so much fun and I really enjoyed their discussion that was all about creatures and creature creation!
Day Three: The Wicked White-Knuckle Ride
Tim Waggoner, J.H. Moncrieff, Catherine Cavendish, Steven Hopstaken & Melissa Prusi
Anytime Catherine Cavendish is part of something, you know I'll be there! Her work is incredible and I was so pumped to see her discuss with the rest of this crew. The conversation centered around drawing inspiration from real-life stories in their works.
Day Four: The Hideous Hall of Mirrors
Brian Pinkerton, Daniel Bensen, Anne Tibbetts and J.D. Moyer
Do you love sci-fi horror? This is a panel discussion for you! This crew talks about aliens, other worlds, the apocalypse, horror in space, and much more!
Day Five: The Spine-Chilling Carousel
Anne Tibbets, Catherine Cavendish, V. Castro, and Nadia Afifi.
A killer discussion about Female Leads & Final Girl Tropes! This one is an absolute blast to watch!
Day Six: The Fearsome Ferris Wheel
Ramsey Campbell & S.T. Joshi
Chatted about Stoker and how influential he was before then discussing Lovecraft. If you're a fan of those authors, you'll love this session!
Final Event: The Terrifying Tunnel of Love
Sadie 'Mother Horror' Hartmann & Jonathan Janz
What an awesome session to close things out! I'm SO bummed I missed this one live, but I got to watch it the next day, on Halloween!
Flame Tree Press Giveaway Unboxing
I couldn't believe it when I was notified via Twitter that I had won a giveaway they hosted on day two!
Check out the goodies that they sent over!
First up were the books:
The Haunting of Henderson Close by Catherine Cavendish
Those Who Came Before by J.H. Moncrieff
Stoker's Wilde West by Steven Hopstaken & Melissa Prusi
They Kill by Tim Waggoner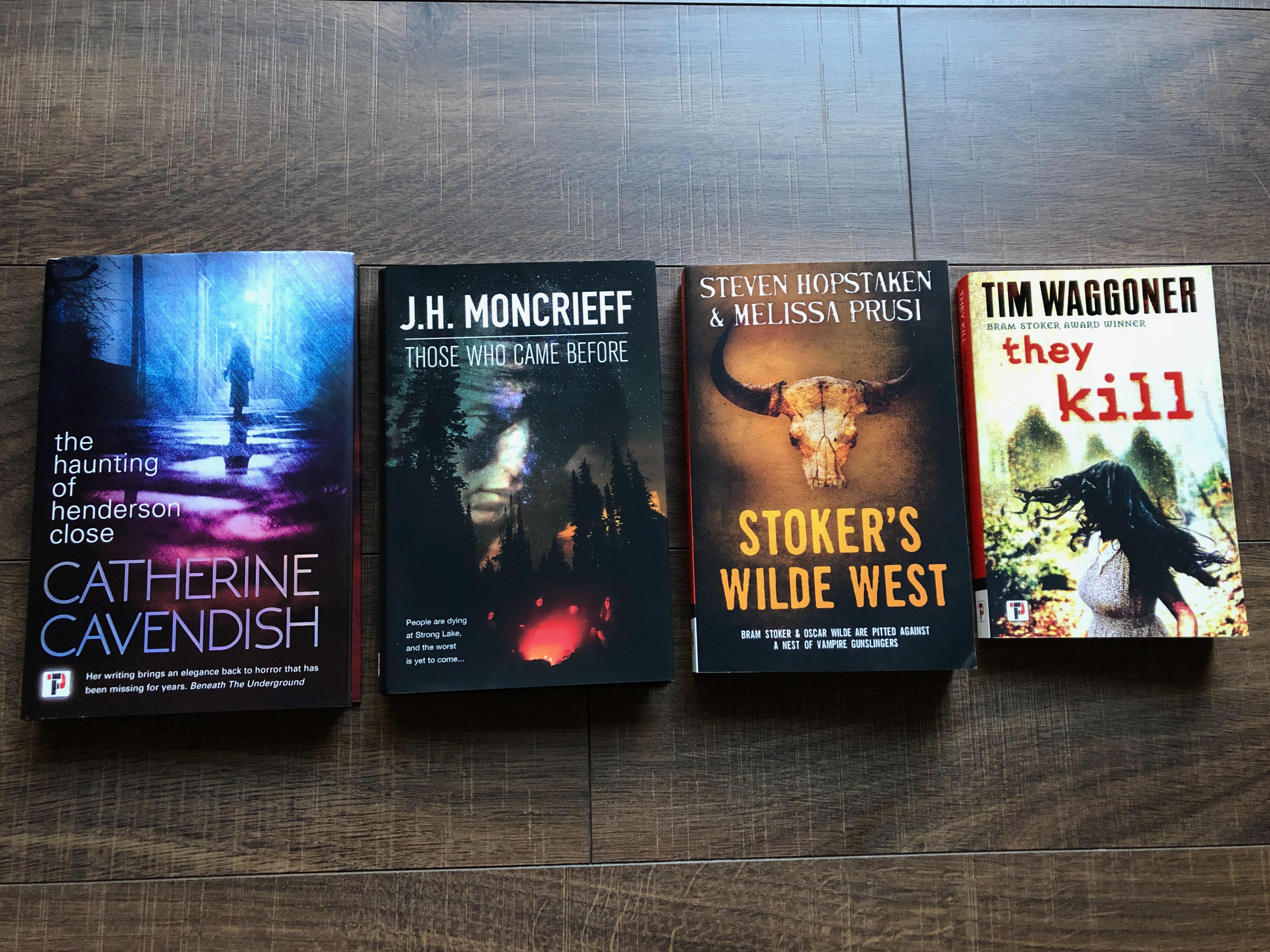 They had also sent over two fun bookmarks that were designed around the event.
To top it all off, they sent over a t-shirt! The shirt rules. I'm so pumped to add this to my increasing collection of bookish tees.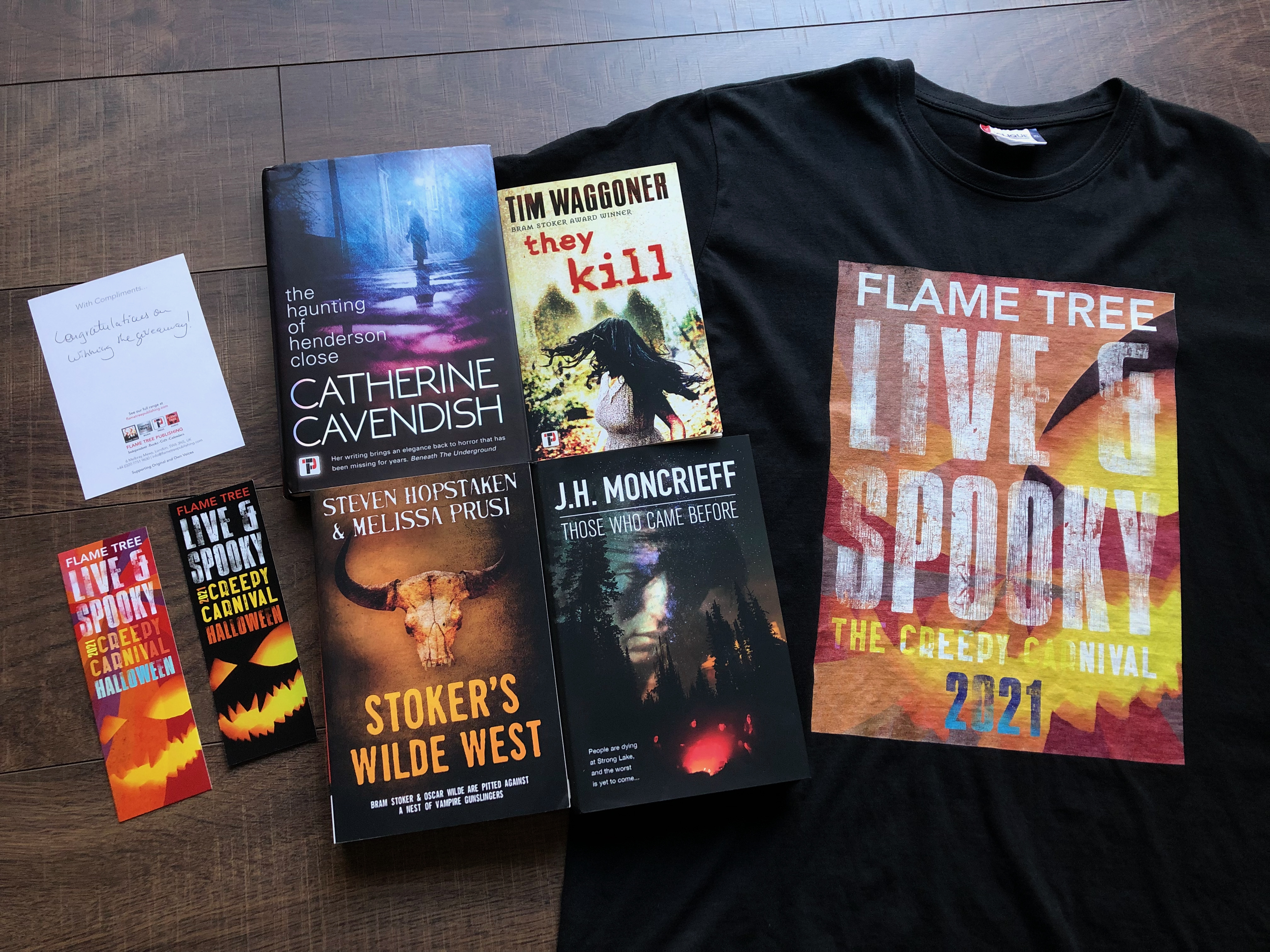 Thanks for reading!