AH! My favorite virtual event happened this weekend! I look forward to this all year. If you haven't heard about it yet, it's an event that celebrates upcoming releases from various publishers and authors. Hosted by Mary SanGiovanni, Matt Wildasin, and Somer Canon, it's an event you don't want to miss!
If you didn't catch the live event, no worries! The recordings are live on YouTube as well.
Let's dive in!
My Thoughts on Buzz Book Expo 2023 –
Day One | Saturday 9/9/2023:
Opening Thoughts with Mary SanGiovanni –
Per usual, Mary crushed this opening segment, introducing the event and what's to come along with some light housekeeping.
I accidentally threw us all on a tangent and this happened:
---
Uncomfortably Dark with Candace Nola –
The lovely Candace Nola jumped on to discuss her Uncomfortably Dark brand, ranging from her books, her publishing house, the amazing indie horror website, the Facebook group, and more!
For publishers and authors, make sure to check out this session to learn more about how to get listed on the Uncomfortably Dark website!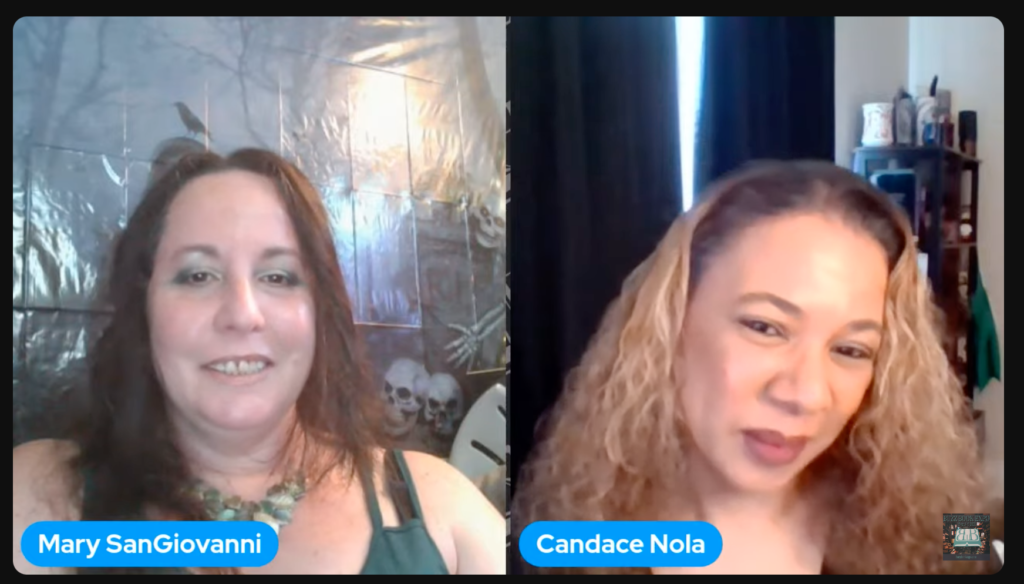 ---
Self-Publishing Panel featuring Scott Cole, Kenzie Jennings, and Kayleigh Dobbs (from Happy Goat Horror) –
What an amazing panel! To kick things off, the panel went over things to keep in mind when self-publishing and how important first impressions are with your works. The team then goes into the benefits of self-publishing and being able to publish exactly what you want!
I'm always here for discussions about self-publishing. I love that in the horror scene, this is something that I was quickly drawn to and have read so many amazing books. Not only that, I've made so many author friends through reading and promoting their work! I'll just never understand the negativity around self-publishing… The amount of WORK that goes into doing all this as one single person… Phew.
Also, Kayleigh is one of my favorite humans! I'm so pumped she was able to take part in the event again this year!
---
French Press with Stephen Kozeniewski and Kayleigh Dobbs (Happy Goat Horror) –
I absolutely LOVE these two humans. French Press puts out the most wonderful books. If you haven't yet, you gotta check them out and buy at least a few! Kicking off the session, they showed off Brennan LaFaro's Illusions of Isolation and later discussed their next upcoming release of The Perfectly Fine Neighborhood.
During this panel, I added my first book from the event to my cart. I cannot believe I missed the release of Stephen's The Thing Under Your Bed! I can't wait to dive into that as soon as it arrives.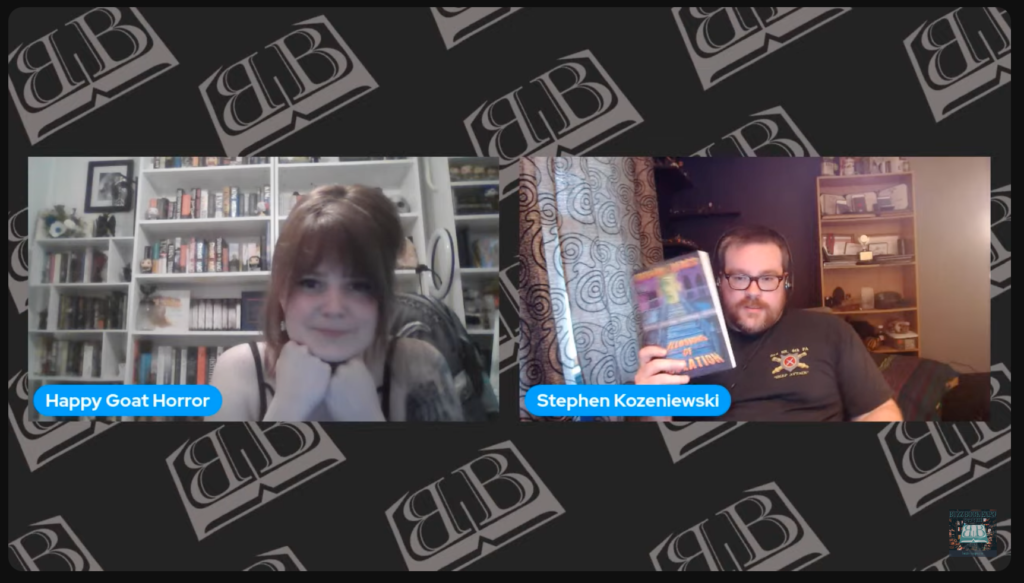 ---
Apex Books featuring Jason Sizemore –
Kicking things off with fun news, Apex books will now be in major bookstores like Barnes & Noble! Publishing over 100 books since they began, this is a publisher to keep an eye on if you enjoy dark fantasy!
Focusing on the books that are coming out next, I added a couple to my list of books to look into once they are released!
---
Brigids Gate Press featuring Heather & Steve and authors Kev Harrison, Red Lagoe, Zachary Rosenberg, and Rae Knowles –
I LOVE that this press brings in their authors to do readings during Buzz Books! I always want each book that the authors read from.
Sure enough, after these readings, I had a list of books to look for as soon as they launch!
---
Day Two | Sunday 9/10/2023:
Eerie River Publishing featuring Michelle River –
Per usual, Michelle gives a fabulous intro to the publishing house and what they do before diving into some exciting things they have coming up, including a potential 600-page book!
If you're looking for a book box for the US and Canada, they have options that focus on horror, dark fantasy, and dark romance! You gotta check these out! There are fun holiday-themed advent boxes as well! I would kill for one of those!
---
Thunderstorm Books featuring Paul Goblirsch –
My goodness, the books that Paul puts out are just incredible. I'm very lucky to have a couple! Jumping on the session, he started with a few things coming out this year, and then dove into what he has coming out in 2024.
Paul also goes over some wonderful tips for publishers and how to take a step back, take a look at the path your press is going in, and to get organized and focus on what you have coming up to make sure that aligns with your goals.
---
Dark Moon Books featuring Eric Guignard, Lisa Morton, and Jo Kaplan –
Discussing the goals of Dark Moon Books and the history of the publishing house, Eric gives a wonderful intro to the viewers before passing the mic to Jo to chat about their writing process and working with the press. I was obsessed with the comment Jo made about re-reading short stories and getting more and more from them with each read! I LOVE experiencing that as a reader. Later, Lisa jumps in to chat about how broad the history of horror is and how this publisher is making many things more accessible.
This session is key to watch if you want to learn more about all of the collections Dark Moon Books has put out!
Eric is one of the nicest people in the horror community! He and I crossed paths a while back and I get so pumped to see what he's publishing or releasing himself next!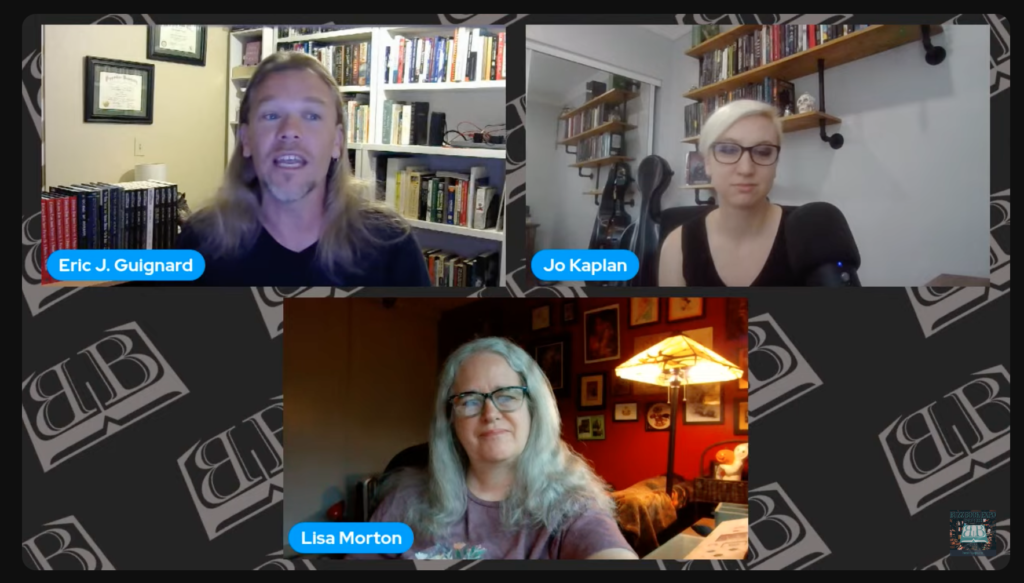 ---
Spooky House Press featuring Robert P. Ottone –
Robert dives in by showing the books that they have published over time, if you haven't checked out these books, you're going to want to! Next, Robert jumps into what's coming next as well as some cover reveals. I loved the discussion about how to get reviews and that Spooky House loves publishing lesser-known authors.
I cannot wait to learn more about the anthology that they're working on for 2025!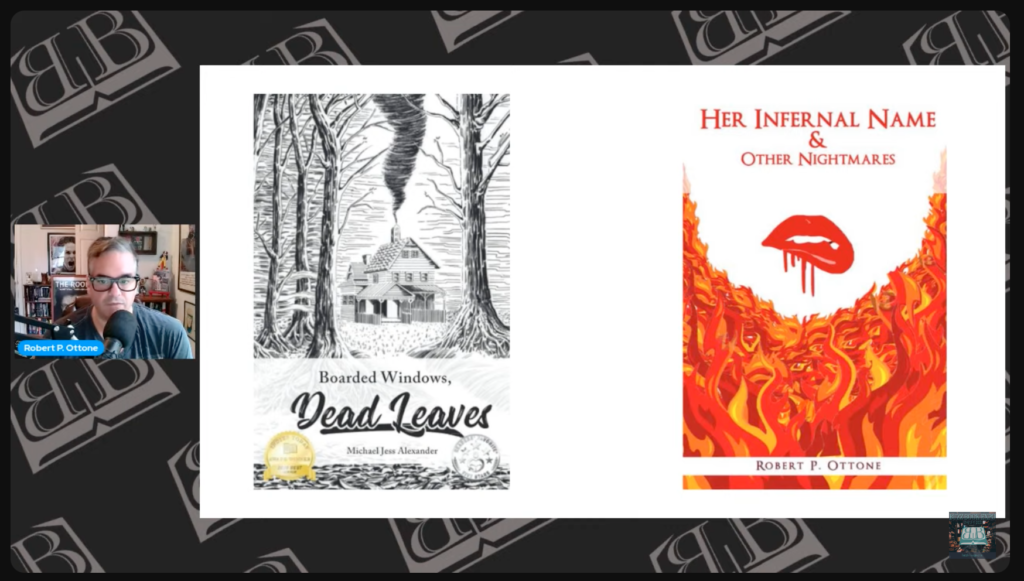 ---
St. Rooster Books featuring Tim –
Kicking off with what the publishing house does, Tim then reviews the books they have coming out next! This session features some killer questions from the audience and Mary!
If you're a crime horror writer looking to submit to this press, don't miss watching this session to learn more about what they're looking for now!
---
Books of Horror Facebook Group featuring RJ & Mike –
You've likely heard of this Facebook group, but have you heard of their anthologies? Check out this session to learn more whether you're a reader or a writer looking to join in!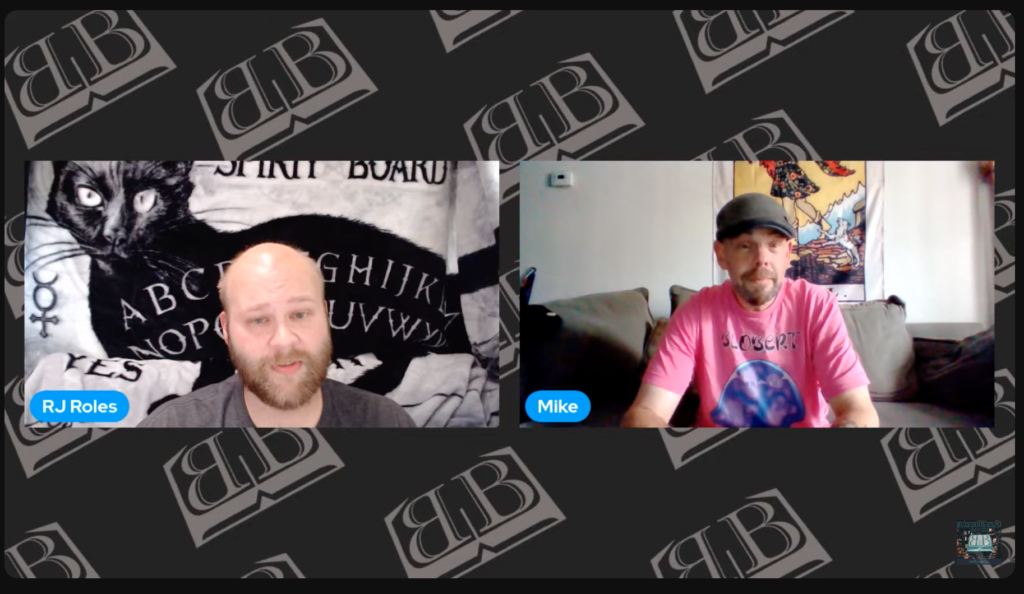 ---
Closing Remarks with Mary SanGiovanni and Matt Wildasin –
Such a great closing sequence for an amazing weekend! Don't miss this session to learn more about what to look forward to from Buzz Books next!
Thank you, thank you to Mary, Matt, and Somer for organizing this amazing event again this year!
---
If you haven't yet, please go check out these links to learn more about the three organizers of Buzz Book Expo:
---
Thanks for reading!
This was SO much fun to tune into over the weekend, especially in a similar situation as last year when I was pretty under the weather, this time I was watching along while 35 weeks pregnant… So posting up on the couch all weekend was just what I needed.
Per usual from this event, I have added a ton of books to my TBR list and purchased a few as well.
Thank you so much to everyone who was involved in running, planning, promoting, and participating in this! I can't wait for Buzz Book Expo 2024!
To watch the event on demand, check out the Buzz Book Expo YouTube channel by clicking here!