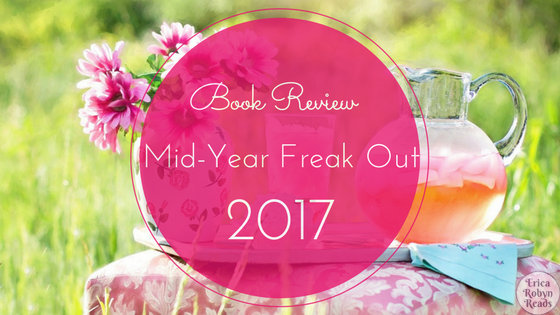 Phew, I cannot believe how quickly this year has flown by! I've been meaning to do this tag for awhile now, and finally had the time to sit down and write it up.
I haven't been able to track down the original creator, so if anyone knows who it is, please let me know in the comments section below.

Mid-Year Freak Out 2017
While reading my responses to each question, feel free to click the link of the book titles to read my reviews for each.
1. What is your favorite book you've read so far?
I've read so many incredible books so far this year! For my favorite that was published in 2017, I'd have to go with A List of Cages by Robin Roe, which was published on January 10th.
2. What is your favorite sequel you've read in 2017?
Locke & Key, Vol. 2: Head Games by Joe Hill, Gabriel Rodríguez (Illustrator). It was abslutely incredible!
3. What book has come out that you haven't had a chance to read yet?
Midnight At The Bright Ideas Bookstore by Matthew Sullivan. I purchased it recently with a gift card from friends, and I cannot wait to dive in!
4. Most anticipated release for the end of the year?
See What I Have Done by Sarah Schmidt! The expected publication date is August 1st, 2017, so I don't have much longer to wait!
5. Biggest disappointment?
Flame in the Mist by Renee Ahdieh. I had been looking forward to giving this a read for a long time, but when I finally got my hands on it, I was so upset. I got well over halfway through and realized that I had absolutely no interest in pushing through to the end. I really liked idea of the plot. I like the characters alright. But I just could not deal with the writing style. The choppiness of the writing was incredibly distracting to me.
6. Biggest surprise?
The Limpet Syndrome by Tony Moyle. The book synopsis just made me feel like this book would be way out of my wheelhouse. But I ended up LOVING this book! I will definitely be rereading soon!
7. Your favorite new author?
Corina Bishop. I read her book Undying for an honest review and absolutely loved it. I cannot wait to see where this author goes!
8. Your newest fictional crush?
I don't crush on fictional characters.
9. New favorite character from 2017?
Desmin, the Devils Spawn Minion from Even Halos Can Be Crooked by L.M. Schukraft. He was hysterical; by far my favorite character in the book! He was so inappropriate, but so freaking funny! I loved that when he overate, he had trouble standing up and moving around. Example: "Desmin struggled to gain his feet, cursing his full belly and repeating whoa over and over again."
10. Book that made you cry?
Love Is Love by various contributors. Overall I was only able to give this collection three stars, but man, some panels really kicked me right in the feels. I was crying a lot while reading this.
11. Book that made you happy?
Voltron: Legendary Defender, Volume 1 by Tim Hedrick, Mitch Iverson, Digital Art Chefs. Oh my gosh, if only you could all see how I reacted when I spotted this in the store. Instant tears and uncontrollable excitement.
12. Favorite book adaptation?
There are SO many book to movie adaptations coming up that I cannot wait to see! Two of my favorite book to TV show adaptations so far are A Series of Unfortunate Events and Big Little Lies.
13. Favorite review you've written this year?
Dragon Teeth by Michael Crichton. I loved that I was able to pull in some photos from the real characters that were included in this book. This was also the quickest review I have written because I loved the book so much, I just couldn't wait to gush about it!
14. The most beautiful book you've purchased/read this year?
Nightlights by Lorena Alvarez Gomez. The artwork was so stunning!
15. What do you need to read by the end of the year?
Our Dark Duet by Victoria Schwab! This was published back on June 13th. My book buddy and I are planning to reread This Savage Song and then jump into this second book…but we've been so busy!
Thanks for reading!
Have you read any 2017 releases? Which ones have been your favorites so far?