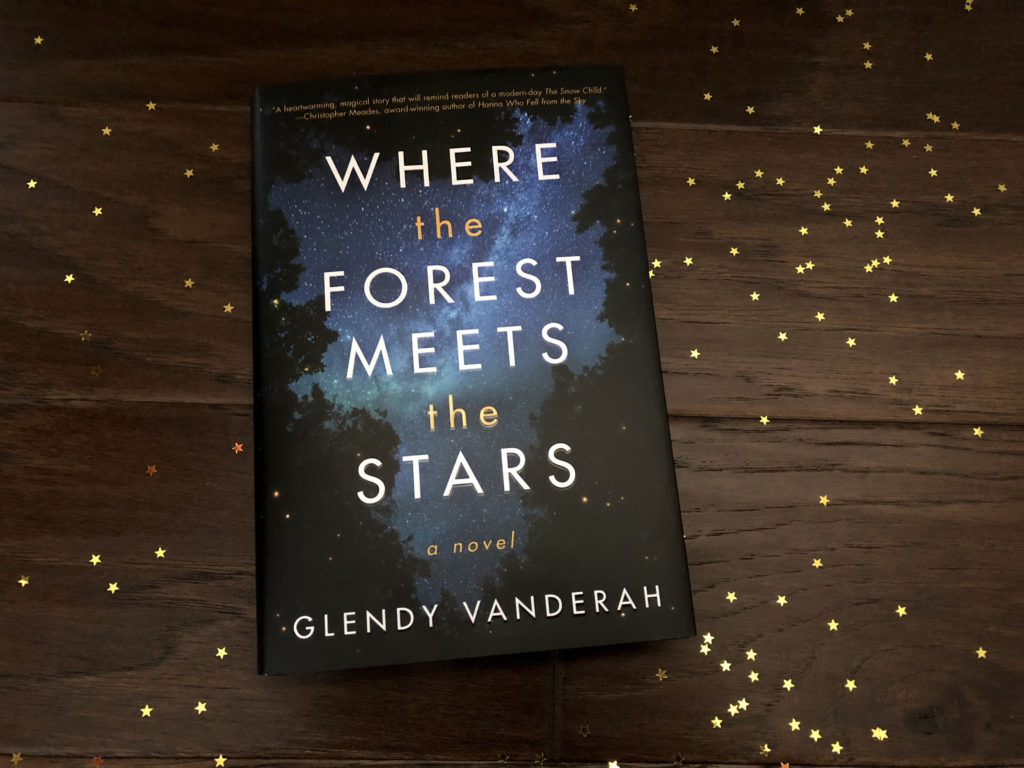 Where the Forest Meets the Stars by Glendy Vanderah is a wonderfully heartwarming tale about the challenges that life throws our way, but how the power of love can heal all.
However, this book wasn't all star-shine and baby kittens. This book was also thrilling, terrifying, and frustrating, and it tackled a number of really difficult elements.
I loved every second of it! This book immediately found it's place on my top ten favorite books. Hence, the long review below!
I'm so very thankful to TLC Book Tours for giving me the chance to read this novel! It was one of my most anticipated reads for March, and I was just ecstatic to see it pop up as an option for a book tour!
My Thoughts on Where the Forest Meets the Stars by Glendy Vanderah
In this novel, we center around Jo, a young cancer survivor who has rented a cottage in the country in order to complete a research project about birds to complete her PhD. When she arrives home after a long day in the field, she spots a young girl. Jo is very weary of the girls presence, but takes pity on her and gives her something to eat. Jo soon learns that the girls name is Ursa.
Over the next few days, the Ursa keeps returning. No matter how hard Jo presses the girl to tell her why she won't return home, all the girl says is that she is here from the stars and that she needs to witness five miracles before she returns.
Soon, Jo and her neighbor, a man named Gabe that struggles with agoraphobia and depression, become tangled up in the situation. They both know that is it wrong to let Ursa stay with them, but they both feel very protective of her as well. They try to bring the authorities in, but Ursa runs away and the cop makes Jo question if forcing her to return would be safe.
Over time, Jo and Gabe learn how exceptionally smart Ursa is and they take her under their wings. While they constantly check to see if she has been reported missing, they are a bit relieved that they don't see her face on the list of the missing. However, they both still fear that something is wrong.
My Thoughts on Where the Forest Meets the Stars
As I had mentioned above, I was so excited to jump into this book! I'm so thrilled to say that it actually surpassed the hype I had for it.
Right from page one, I was hooked!
First of all, this book was wonderfully written. The descriptions of people, places, and things were perfect. The plot and pacing were great. And I loved how the story was so easy going, but it didn't shy away from difficulties and moments of intensity. The characters were incredible and the relationships between the three main characters and the handful of support characters was so realistic and wonderful!
The three main characters were Jo, Gabe, and Ursa. I adored each of them as individuals, but I also adored their relationships with one another. But more on that in a bit!
I wanted to make sure I highlighted a few of the darker elements of the book. These elements included accidents, infidelity, prostitution, child abuse, drugs, cancer, depression, and murder. Many of these things happened only briefly in the narrative.
However, the two that were focused on the most out of that list were cancer and depression.
Regarding the cancer, it was written in a way that was clearly well researched. When the topic is brought up, it is when our main character,Jo, has been in remission for a bit. When they caught the cancer, it was very early, and she was able to have surgery. The scars have healed, her hair is growing back, and while she still struggles from time to time, she is also very strong and accepting of how her body looks now. She was such a powerful character, and I admired her so much!
The way the author handled Gabe's mental illness was also very well written. It was realistic, the author didn't hold back any of the punches (especially where others that didn't understand came in), and they really focused in on the help and support rather than dwelling on the negatives of the situation. I will admit that I was a bit nervous for how quickly Jo was pushing Gabe, but it was also obvious that Jo was only pushing him because she could sense that he needed a little shove. I related to Gabe and his struggles quite a bit. The following passage really hit home for me:
"But sometimes I'm afraid to trust how good it is. What if it all starts again."
"The people who love you will help you."
Now, onto more lighter elements!
The characters were absolutely amazing! I adored Gabe and Jo and their relationship that built up over time. I really enjoyed how they were both cautious at first but dove in with their whole selves and didn't hold back once they were both ready to fall. How quickly they apologized to one another when things got heated was incredibly refreshing! They were both so sweet to one another. The scene with the two of them in the bedroom made me tear up with how considerate Gabe was about her scars, asking if they're sensitive and if he shouldn't touch them because he didn't want to hurt her. Ugh, my heart!
The relationship between Jo and Tabby is one of my favorite female friendship relationships I've ever seen in a book. While Tabby had a rather small role compared to the three main characters, I loved each scene she was in! I really enjoyed how upbeat and wonderfully supportive Tabby was as Jo's best friend. Far too often, I read books where the boyfriend is introduced and it's a tension filled situation. Here, there was a very brief couple of seconds where it was just slightly tense, but then the friend was her usual funny and supportive self.
And of course, the relationships that Ursa had with Jo, Gabe, and Tabby were wonderful as well. Each of the adults was so kind to Ursa and I loved that when they learned how smart she was, they immediately treated her in a way that was appropriate for her mentality; it was both paternal and a bit cautions, but also more like teachers where they allowed her to explore anything she wanted to explore, whether that was reading Shakespeare and learning more out Ornithology, or simply hanging out and having her nails painted purple and eating marshmallows.
There is so much more that I would love to write about, but I want to leave the magic up to you if you pick up this book!
Where the Forest Meets the Stars is Glendy Vanderah's debut novel. I will certainly be keeping an eye out for another book! I cannot wait to see what she writes next!
My Favorite Passages from Where the Forest Meets the Stars
"You don't have to say anything."
He sat back in his chair. "I won't. As always, words fail when you want to say the right thing."
"People think they have to say something, and it never makes me feel better."
"I know. I've decided language is not as advanced as we think it is. We're still apes trying to express our thoughts with grunts while most of what we want to communicate stays locked in our brains."
"I'm sick. I can't just 'recover and move on.'"
"If you believe that, you won't."
"Like most people who've never experienced it, your view of depression is optimistically misguided."
He brought leftover cauliflower in cheese sauce for dinner.
"Not yuckyflower!" Ursa said. "Jo made me eat it last night!"
"This has gooey cheese on it," he said, "and gooey cheese makes anything, even dirt, taste delicious."
"Can I eat dirt instead?"
"Are you going to finish you lunch?" the nurse asked Ulsa.
"I don't like it."
"You asked for macaroni and cheese."
"You have to make it from the blue box," Ursa said, "and the shapes make it taste better."
"Try Star Wars shapes next time," Jo told the nurse.
My Final Thoughts on Where the Forest Meets the Stars
I cannot recommend this book highly enough!
It had absolutely everything I love in a novel; amazing characters, wonderful relationships, great description, perfect settings, an interesting plot, moments of suspense and action, and it was all so wonderfully written. This book made me laugh, it made me tear up, and it made me clutch the edges of the book in during the nerve-wracking scenes.
This is a book that you won't want to miss!
---
Snag a copy through Bookshop to help support local indie bookshops:
Learn More About The Author:
Glendy Vanderah worked as an endangered bird specialist in Illinois before she became a writer. Originally from Chicago, she now lives in rural Florida with as many birds, butterflies, and wildflowers as she can lure to her land. Where the Forest Meets the Stars is her debut novel.
Connect with Glendy
Website | Instagram
Enter To Win!
So sorry International friends, this giveaway is only open to the US and Canada.
a Rafflecopter giveaway
---
Check out the other stops on the tour: