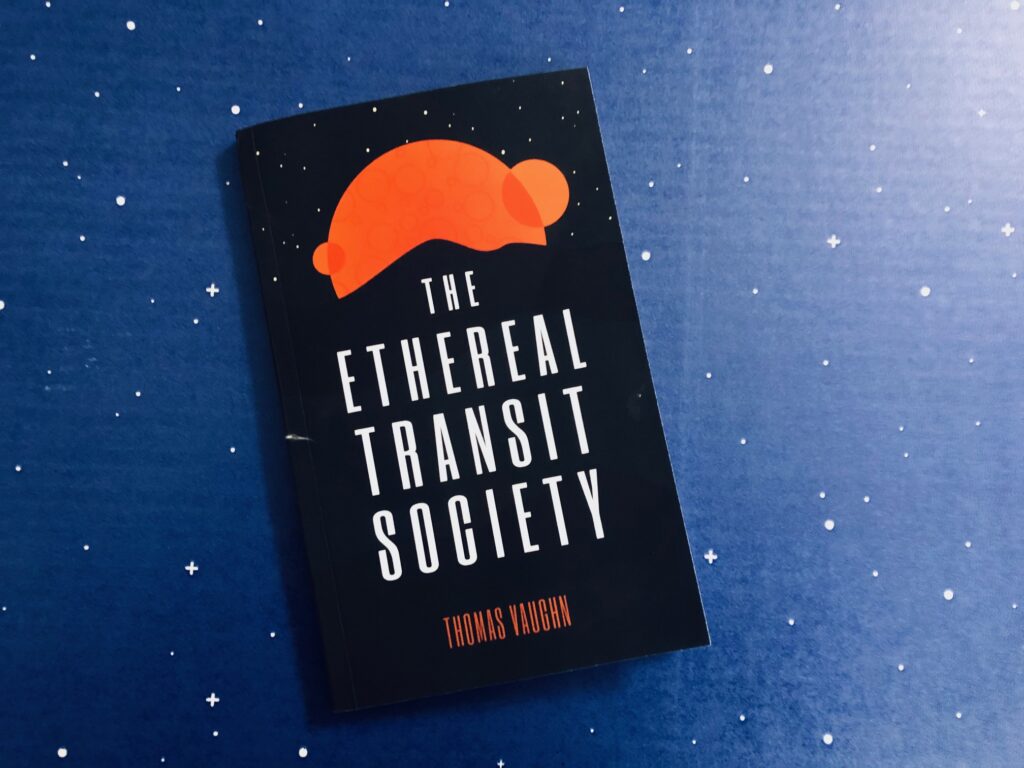 The Ethereal Transit Society by Thomas Vaughn is a suspenseful cosmic horror tale that drops the readers right into a stressful situation and doesn't let up until the final page!
Full disclosure: I was given a free copy of this book from the publisher in exchange for an honest review. This did not affect my rating in any way.
Let's dive in!
My Thoughts on The Ethereal Transit Society by Thomas Vaughn
I love stories that you're just dropped in to and then you slowly figure out what's going on. That was exactly the case here. We knew the crew of characters were on a mission, but we didn't yet know why.
As the story goes on, we see our main characters coping with a stressful trip through a small town out in the middle of nowhere. In this town, it's clear that they're not exactly welcome… and something has everyone on edge.
When they come across one townie who is curious about their story and wants to help, we begin to learn a lot more about who they are and what their mission is.
From there, the tale becomes even more stressful as they enter a cemetery and are visited by other town folk. But will they complete their mission in time?
My goodness this was a fun and interesting read! I loved each of the characters and couldn't put the book down as I needed to make sure it all turned out alright.
My Favorite Passages from The Ethereal Transit Society
If the end of the world happened, I'm not sure anyone around here would notice much of a difference.
Everything in this place is either dead or dying. It's a hungry land. Even the vines seem determined to strangle the life from the spindly trees.
It's interesting how we can spend our lives blowing our own problems out of proportion when nature is out there, waiting. It doesn't care how you're feeling today. It's full of creatures that want to drink your blood or feast on your dead flesh.
My Final Thoughts on The Ethereal Transit Society
If you enjoy cosmic horror and doomsday cults, you should definitely check this one out! I'm still pretty new to cosmic horror, and I think this was an awesome book to help me branch out into that genre more. This is definitely a story that I can see myself returning to again down the road.
---
Snag a copy through Bookshop to help support local indie bookshops:
Thanks for reading!
And thank you again to Brett Reistroffer, Owner and Editor of Bad Dream Entertainment, for sending a copy my way!