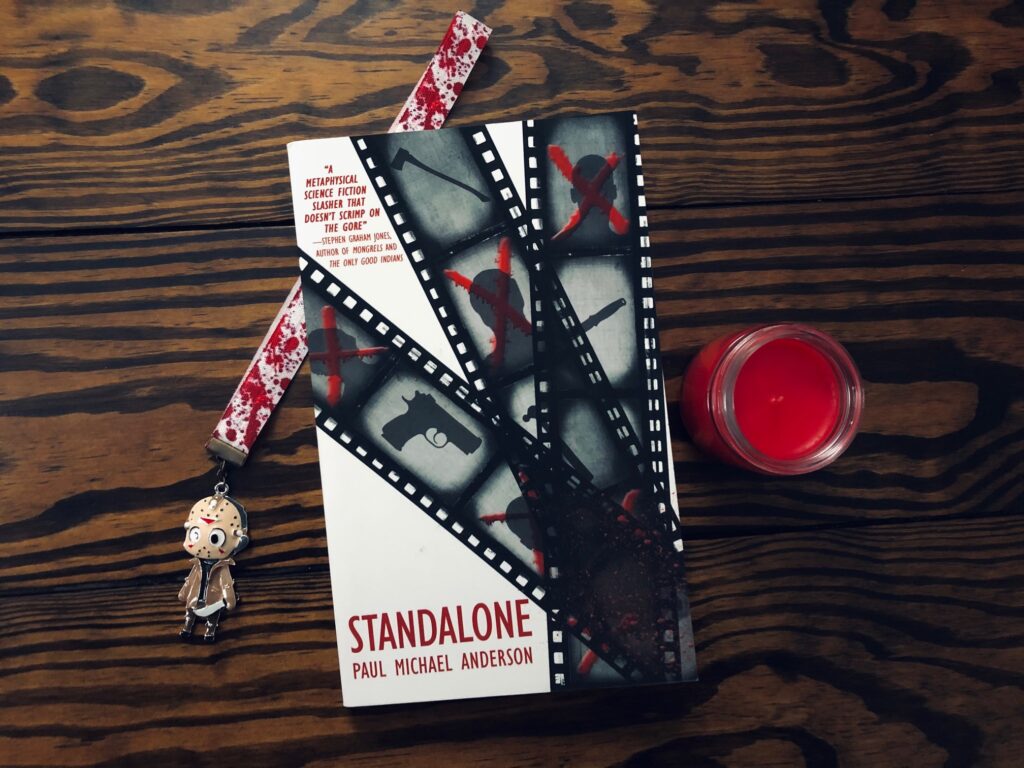 Standalone by Paul Michael Anderson is a slasher read with a nod to other slashers, that will leave you feeling haunted.
In this sci-fi horror novel, our main character kills people in order to keep a balance in the multiverse. But of course, that balance is fickle, and it's about to be tested.
Let's dive in!
My Thoughts on Standalone by Paul Michael Anderson
I received a copy of this book in the September 2020 Night Worms package. I love that it came with a signed bookplate!
Right on page one, the first kill occurs. From there, it's an all out massacre. While reading, I thought that this situation seems pretty familiar… And then we meet the last kill, and I became very curious to see where things would go from there.
As a reader, we soon learn that our main character, who has just slaughtered a group of teenagers at a summer camp, does this a lot. But it's not just him. There's a group of four men that are each sent out on assignments where they kill people based on very specific assignments they are given.
They were told that they need to do this in order to keep the balance and protect their homes. But why do things have to be done this way? Well, that is something that one character is about to learn when everything doesn't go quite as planned…
I really enjoyed that we were totally thrown into the predicament on the first page, but then take a step back to learn more about what was going on. I also really enjoyed the slasher element of this novel paired with our characters that were clearly struggling, but were just trying to do their jobs.
I didn't read the book description before diving in, so the sci-fi elements threw me a bit. Some scenes also seemed to drag a bit for me and I found myself losing interest, and I just wanted to jump back into the action. (I think this could very well be due to the state of the world right now. I will be returning to this book again at a later date to see if I still feel that way.)
All in all, I thought that the premise of this book was really interesting and quite spooky when you let yourself think about this really happening! Paul Michael Anderson is definitely an author that I will be keeping an eye on. I'd love to read more of his work soon!
Now the short story included at the end of this book was much more my style! My gosh. Given the opportunity to feel all the pain you child would feel over their life so they didn't have to, would you? This story was heartbreakingly horrible, but so powerful. – 5/5!
My Final Thoughts on Standalone
If you enjoy slashers paired with a heavy dose of science-fiction, then you've gotta check this one out!
This is a read that I would like to return to again down the road. While I enjoyed it very much, I think some of the sci-fi elements just threw me for a loop and left me wanting more of the slasher side of things.
---
Snag a copy through Bookshop to help support local indie bookshops: