Severed by Joshua Marsella is a brutal and terrifying tale of bravery in the face of darkness.
This is the prequel to his debut novella, Scratches. If you haven't read that one yet, I highly recommend doing so before diving into this one.
TW: child in danger, sexual assault.
(The assault was handed "off screen" if you will, and I thought it was handled very well, but it still made my blood boil as it was very clear what happened. So just a heads up there!)
Let's dive in!
My Thoughts on Severed by Joshua Marsella
In this tale, we follow a platoon of Marines in Vietnam. They are making their way through the forest, trying to get to a village that is said to be troop friendly. When they arrive, they are welcomed by a village elder and their translator jumps in to help facilitate the conversation.
The platoon is thrilled to learn that the rumors were true as the village treats them to a meal of fresh fish and rice and then gives them space to set up for the night.
Unfortunately, that night, disaster strikes. In the morning, the troops head out on an unplanned mission to do what they believe is right. But little do they know, their strength, bravery, and bullets are no match for what hides in the darkness…
My goodness, there are so many scenes in here that I would love to comment on because they were so vivid and terrifying! These scenes are certainly going to stick in my head. There's one in particular that occurs at a clearing that I won't be able to forget any time soon. But I don't want to spoil the terror, so I will leave the discovery of all of these up to you.
Paired with the terror, there was also a lot of brotherly love amongst the Marines, complete with all of the heckling and banter. I really enjoyed seeing them engage with one another. Selfishly, I wish it had been a little more heartfelt knowing what was in store for them later on.
Severed is such a page-turner! I stupidly kept picking it up with only small chunks of time to read, and I never wanted to put it back down.
When you pick up this novel… prepare yourself before diving in. There are so many elements here that will chill you to the bone or make you want to jump through the pages of the book to fight. Joshua is a master at scattering seriously creepy jump scares and stomach-dropping scenes of terror into his work.
My Favorite Passages from Severed
I had so many more passages noted… but they were major spoilers, so I'll leave you all with just this one:
They were rapidly losing daylight. The late spring sky was a tapestry of amber and gold. They didn't have a moment to waste before darkness would envelop the jungle. This was the last place any of them wanted to be at night.
My Final Thoughts on Severed
This story was absolutely terrifying and brutal! Of course, I loved it! I picked Severed up before bed one night, and the nightmares that I had were insane! Well done, Joshua!
I cannot wait to jump back into Scratches now that I have more background information.
Bring on book three!
Thanks for reading!
Shout out to Joshua Marsella for putting out a call to see who would be interested in buying a signed copy! I'm so pumped I was able to snag one!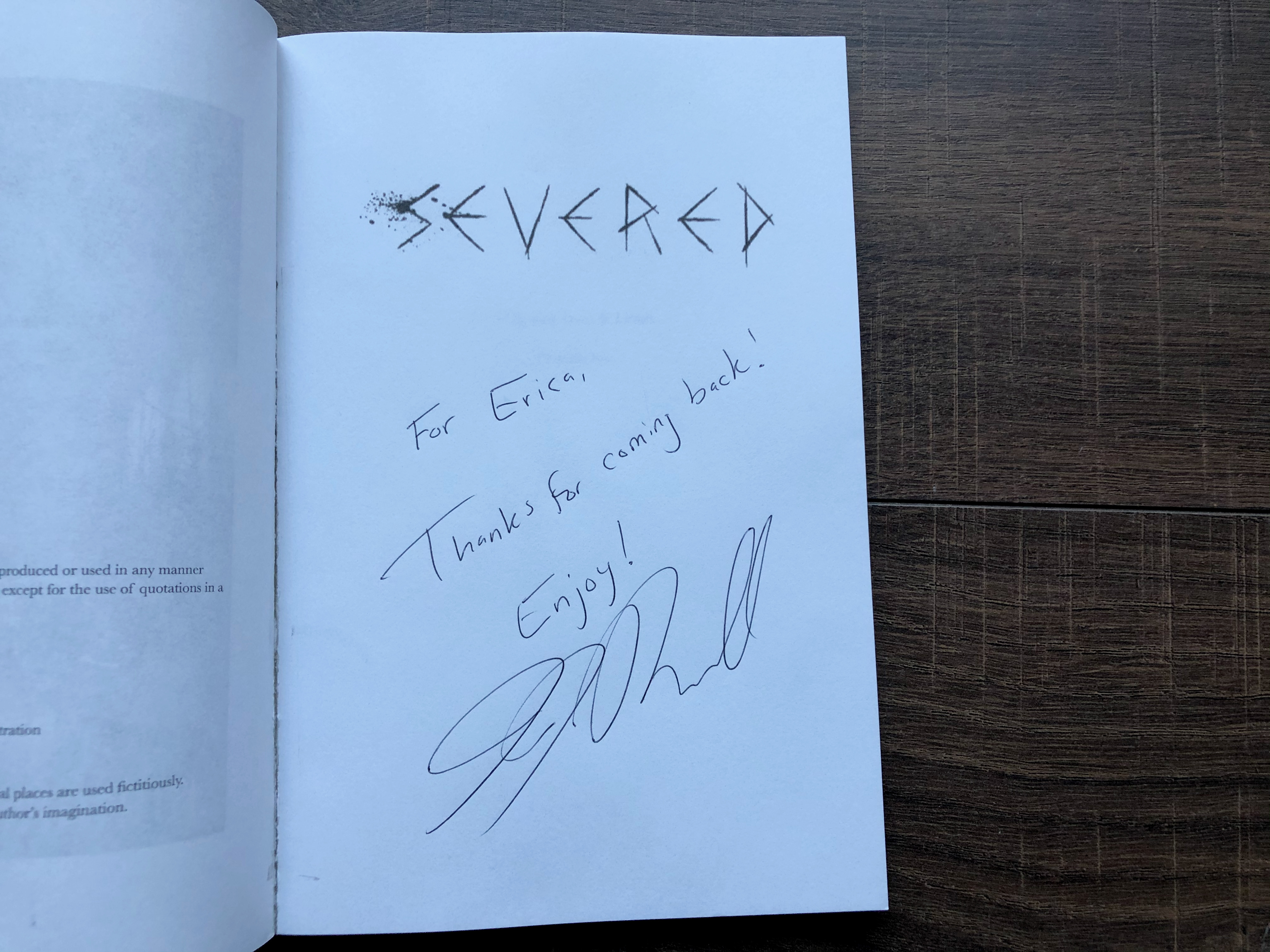 Snag a copy through Bookshop to help support local indie bookshops:
---
Related Reading: