Season's Creepings: Tales of Holiday Horror by Ronald Kelly is a collection of dark and spooky tales that take place during the winter months.
There's one tale in here that resurfaced a childhood fear and gave me nightmares! I can't wait for readers to experience The Skating Pond…
Let's dive in!
My Thoughts on Season's Creepings: Tales of Holiday Horror by Ronal Kelly
First things first, a major shout-out to Ronald Kelly for sending me a signed copy with this awesome artwork inside! I'm obsessed!
I was also pumped to have purchased an ornament as created by Ronald's wife! I had it hanging up in my library throughout the month of December. I'm still debating if this should be a year-round display item, or if I should pack it carefully away and bring it out again next December.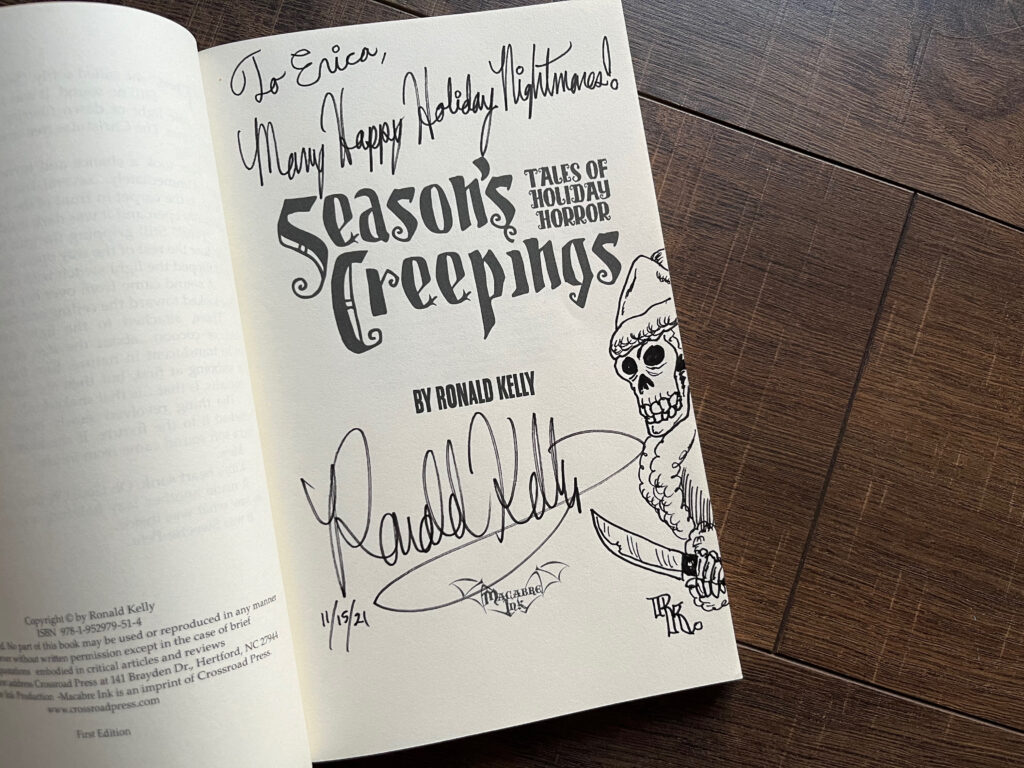 I saved this read for Christmas Eve and Christmas Day, and I'm so glad that I did. While we were unable to go to Maine to see my family again this year, I needed a little pick me up. This collection gave me just that.
These tales was SO much fun to read and many of the stories were absolutely chilling!
Per usual, here are my notes on each:
Introduction
Per usual, Ronald Kelly gives readers a wonderful intro that features scenes from his childhood before taking the turn toward the spooky! I'm already nervous about the elf on a shelf idea coming to play later…
Jingle Bones
Brennan McDonough has a rough life thanks to his abusive stepdad. When he discovers a cardboard skeleton at a second hand shop one day, he buys it to get a little joy in his life. But soon, he learns that this skeleton can provide much more than that.
I loved this one, but my goodness it's a difficult read. It will make your blood boil as you'll want to reach through the pages of the book to grab at these horrible men.
The Skating Pond
When skating on a pond one day, a loud crack echoes across the property, leaving this boy fearing the worst. But what actually happened is much more terrifying than his original fear.
This tale is truly one out of my nightmares! My brother and I spent so much time on the pond in my childhood front yard. That noise that echoes out when ice cracks is unlike any other sound…
Depravity Road
While on a dreadful road trip, this family stops in to a house that looks pretty abandoned to ask for directions. Trespassing, there are things seen here that are incredibly unsettling.
Holy! The list of things these boys list off that they had seen in the house… I was so ready for this man to turn around and drop his wife off.
Heirlooms
When a woman travels back home, she finds her mothers box of Christmas ornaments. After she accidentally breaks one, she knows what else she needs to do.
This one had so much packed into it! Content warning for sexual assault.
The Winds Within
A chilling murder mystery where a man is driven into darkness by the cold winds.
I loved how this one played out! But at the end I actually shouted "OH NO!"
Then Came a Woodsman
A wonderful tale about the woodsman who had lost his family to the big bad wolf, and is determined to hunt it down.
I loved this one so much! It certainly hits on the darkness of this familiar tale.
As for Me, My Little Brain
When a trip to see the mall Santa goes sideways, the events of what happens next is sure to leave readers reeling.
Ugh, the thought of losing a child in a crowd certainly gets my anxiety spiking!
Beneath the Branches
Determined to bring home the perfect tree, this family ends up going across town lines. They find a great tree to bring home and decorate. But immediately, there's something not quite right about the tree…
This one was so unsettling! The scratching at the bedroom door… no thank you!
Papa's Exile
A short tale that packs a punch of dread!
The Peddler's Journey
When a grandfather tells his grandsons the same tale he tells them every Christmas, these two boys are totally captivated. Little do they know, this story had a lot more truth to it than they originally thought.
What a wonderful tale to end on! So spooky at first but then so heartwarming!
My Favorite Passages from Season's Creepings
For a long moment, complete darkness occupied the cottage. Then the cloudbank moved onward and moonlight shown through the windowpanes, revealing the horror that stood before him.
She held Tina's tiny hand just a little too tightly… as though afraid the child might break free and drift off amid the waves of winter coats and shopping bags, like a rowboat lost at sea.
"He sure was a weird one!" said Danny from the back, rolling his eyes.
"It isn't nice talking about strangers like that," his mother scolded. "Remember, you're not supposed to judge a book by its cover." A chill ran down the back of her neck, whether it was from the December cold or something else, she couldn't tell. She looked over and saw that Jordan was just as spooked as she was. "But I will say one thing. If that man back there was a book…he'd probably be written by Stephen King."
My Final Thoughts on Season's Creepings
This collection is a must read for fans of holiday horror! So many of these stories settled right into my brain and I know they won't be leaving anytime soon…
---
Snag a copy through Bookshop to help support local indie bookshops:
Thanks for reading!