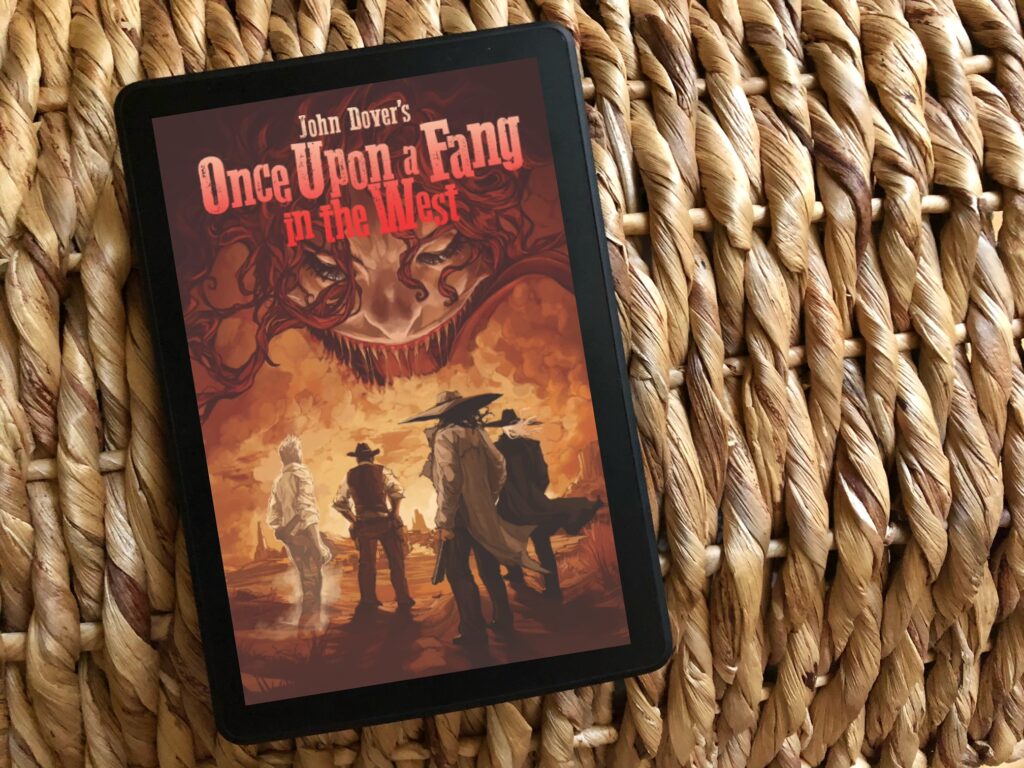 Once Upon a Fang in the West by John Dover is a brilliant splatter western with vampires!
Need I say more?!
Full disclosure: I was given a free copy of this book from the author in exchange for an honest review. This did not affect my rating in any way.
Let's dive in!
My Thoughts on Once Upon a Fang in the West by John Dover
In a small town in the west sits The Braided Pony saloon. This saloon has seen its fair share of violence to the point where after an intense fight breaks out one night between three travelers, leaving just one man walking away and two others dead, the customers aren't even phased and just go right back to their drinks.
But these three weren't just any regular travelers passing through…
When the survivor heads upstairs with one of the women from the bar, he thinks he's in for a relaxing night in the company of this woman. But like him, this woman was hiding her own little sharp-toothed secret.
After a few turn of events – some intentional, some accidental – our band of unusual characters are off to try to recover someone that was taken from them. But of course, it's not just an easy in and out job, and it's about to get much more bloody than it already has.
Right from the prologue, I was super intrigued to see where this story would go! As I read through, there were so many instances that I did not see coming.
The action was intense, wonderfully descriptive, and scattered throughout the tale. Just when one violent scene ended, I expected a little bit of a lull, but nope! The author wastes no time with fluff. He dove right into the meat of the tale and didn't let up. But even so, the author was still able to jump back in time to give readers a little backstory for some of the characters so we knew how we ended up where we were. But even those scenes had their share of action!
And speaking of the characters, what a crew we had! I loved each of them so much, even the blood-thirsty ones. Watching them interact with one another was such a treat.
And one last note before I dive into my favorite passages, I have to say that love that blood in this story is referred to as "life." That made each violent scene a bit poetic!
My Favorite Passages from Once Upon a Fang in the West
Finn grabbed him by the back of the head and slammed him down onto the up-ended table. Its jagged leg exploded through his chest and he went limp.
Then she punched through his guts, closed her hand around his spinal column and pulled upward, tearing the man in half.
The navy sky lightened as the sun chased the moon away with the approaching dawn.
You need to accept your own actions and consequences. That is what being a part of this world is about.
His yelp was cut short as Ruby slashed a curved talon across his throat. His life spilled onto the roof where he stood. He pawed at his sticky wet throat and collapsed, ushered into deathly sleep by his own gurgled lullaby.
My Final Thoughts on Once Upon a Fang in the West
I had a blast reading this action and gore filled tale! This had everything that I look for in splatter westerns and I already cannot wait to re-read this story.
If this isn't on your radar yet, and you love splatter westerns and vampires with amazing characters, this is one you need to go grab a copy of right away!
---
Snag a copy through Bookshop to help support local indie bookshops:
Thanks for reading!
Oh my gosh, when checking out John's Goodreads page, I saw that he also has a collection featuring various authors called Tales from the Braided Pony. I'm going to need to dive into that ASAP!