Lessons In Demoralization by Nikki R. Leigh is a phenomenal collection of little terrors that will send goosebumps down your spine and along your arms, not just while reading, but long afterwards when a story pops back into your mind.
I had the opportunity to give this one an early read when it was with another publisher, so I was very excited to dive in now that the book has gone live and I was able to purchase a copy!
Content Warnings: At the front of this book is a wonderful note that detailed content warnings can be found at the back of the book. I love to see this!
Let's dive in!
My Thoughts on Lessons In Demoralization by Nikki R. Leigh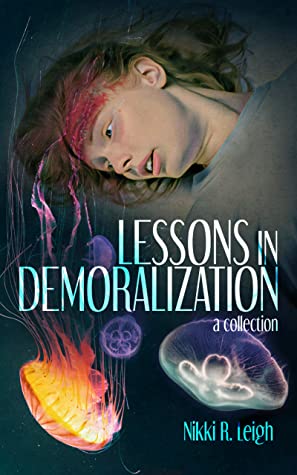 In a factory that makes people, each person is given a set of stories in which to learn from. Whether they remember the stories and understand the point, or shrug them off is another thing… this collection shares those tales, many of which are cautionary.
Here are my notes on each:
Part One: To Make –
Recipe for a Disaster –
When a man forces a woman to help him, the recipe calls for a sacrifice from the woman. Willing to do anything to get back to her wife, she completes the task. There's just one thing the man didn't think of…
Oofh, this one made me feel feeble. This will make readers question what they would do in this woman's shoes. And what an ending!
That Time I Swallowed a Genie –
As the title states, this thief decides to swallow a tiny urn to shoplift it. Little did she know, there was a genie inside!
Oh man, readers are going to want to scream at the pages of this tale! The image that is burned into my brain from that final scene… I would love to see it illustrated.
Give Or Take –
After a break in, a witch makes a plan to make the boys regret crossing her.
My goodness I loved this one! It's short and sweet, flows wonderfully, and it has such wicked violence.
To Pluck a Seed of Sorrow –
A woman with a job title of Mortician for the Soul works by gathering seeds of sorrow in order to plant them into something else at the Crying Fields. A creative but heartbreaking look at grief.
The Last Stop Sandwich Shop –
Dreading her summer job, this teen actually begins to enjoy the work and her friendship with another employee. But then odd things begin to occur and the owner blames it on the "bread boy."
My goodness, there were so many red flags at the start of this one! But seeing what actually plays out was terrifying!
Green Thumbs Still Bleed Red –
After meeting in a chance encounter, these two women start a whirlwind relationship centered around what brought them together in the first place, plants. But when the relationship starts to wither, one of them is determined not to let something die…
A wonderful tale of love, determination, and stubbornness.
Mr. Giggles –
On a trip to the dentist, this little girl can't wait to see her friend…
Yikes! Once you learn who the friend is… This was a powerful tale of getting what you wish for.
Part Two: To Break –
Replenish –
When approached by an old contact, this woman thinks she knows what this is. But she still buys a tube of face cream that the contact promises will make her look young again. At least, until it doesn't…
What an intense twist on the good old pyramid scheme! I loved this one. It's absolutely brutal.
Next Day Delivery –
When a man concocts a terrible plan of shipping himself to his ex wife to get revenge, he can't imagine it not going exactly as planned. But five days later, the box is finally opened.
This one starts off so evil and gory, then we jump to such a fun twist! I loved this one!
Win Big or Get Dead –
Receiving an invitation for a game, the prize money is too much to overlook. Of course, this game is much more than the contestants signed up for.
I loved tales like this so much! Semi-SAW-like, and absolutely brutal!
Wolfpig, Show Me Your Teeth –
A very powerful story about the guilt of not taking action and speaking up.
The Pits –
When a woman feels a lump in her armpit, she immediately fears that it is cancer. But then, it moves.
This one was so unsettling! As someone with a slew of health issues and anxiety, I can relate to the main character! I loved the focus on negative emotion and how they can quite literally grow.
Pins and Needles-
Death just doesn't stick with this character. At least not yet.
I loved this one! It's a tale where readers won't really know whats going on until the end! A great tale about curiosity and pushing the limits.
Doubling Down –
When two murderers meet up for their weekly drink to discuss their latest project, they soon split up to take action.
The thought of people actually doing this is so terrifying. This one is suspenseful and brutal!
Part Three: To Transform –
Live! From Jekyll's Hideout –
This tale starts out as the taping of a kids show, featuring puppets teaching about biomes.
Such a fun Jekyll and Hyde tale with a twist!
On the Same Wavelength –
When a couple that just wants a date night finally gets a night out, they head to a drive in theater for a horror movie night. But there's something off about the audio of the film…
Of all the horror tales you've seen about drive ins, I bet you've never seen anything like this!
The Slow Siege of Zenohtown –
Drawn to a town in the middle of nowhere, this woman is about to pick up some hitchhikers she wasn't aware of.
This one was so eerie! It will make your skin crawl for sure!
Tiny Dog, Big Bite –
Antsy for the big hunt that night, this crew walks around the neighborhood, preparing…
This was so fun! I loved the storyline idea. And the action was intense!
The Prop –
A boy discovers an unusual power one day by accident, but thinking him a freak, he gets shipped off to the circus by his father where he becomes more of a prop than a member of the show…
Starting out with some intense and tragic body horror, the tale takes a sharp turn before winding down with a heartwarming ending. I loved this one!
I Ink, Therefore I Am –
An overworked crew is forced to do even more overtime to prepare for the end of the fiscal period. Looming above them is a dark stain that has many rumors attached to it. Little do the employees know, it's much worse than they think.
Oofh, this one is so unsettling! I so wanted to know more about these people and their jobs. What brought them all there? Did anyone ever leave by choice?
Dugout –
When a new girl in town is invited to play a game of baseball, she's a bit alarmed by the other team. But as the game goes on, she winds up having to make a choice that will change her life forever.
This one immediately had me nervous to find out what would happen. The author puts wonderful little teasers in to guide readers along.
The Creepus –
When two twin boys are asked to slowly move their beds apart, they are determined to be brave for their mom. But when a hand pops out of nowhere from between the beds, the unsuspecting boys will be changed forever.
This one is so spooky! It brings the monster under the bed to a whole new level!
My Favorite Passages from Lessons In Demoralization
Stuffed animals are the keepers of childhood, protecting people from the barrage of reality, waxing nostalgic about that security years later.
He wished to pull himself together, but scattered, he remained.
My Final Thoughts on Lessons In Demoralization
This is such an awesome collection! When I first read this, I was blown away by the variety of tales that were included. Nikki is so talented!
During my second read through, I realized just how many of these stories burrowed themselves into my mind. Not only that, but I also realized that come up as passing thoughts quite frequently.
Horror fans, you don't want to miss this one. There is so much here to discover!
---
Snag a copy through Bookshop to help support local indie bookshops: