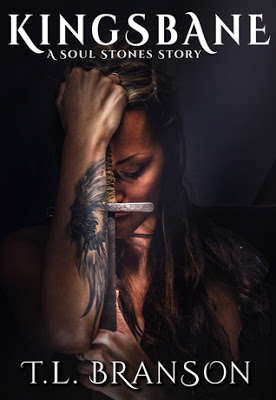 Kingsbane by T.L. Branson is another amazing short story that is inspired by the world and characters of the upcoming release of the first book in the Soul Stones series, Soul Render.
I had previously read Ash and Steel and Midnight Blade, two other short stories in this world, and I absolutely loved them. When I saw a roll call for Beta Readers for Kingsbane, I immediately wanted to jump in!
Full disclosure: I was given a free copy of this book by the author in exchange for an honest review. This did not affect my rating in any way. 
My Thoughts on Kingsbane by T.L. Branson
Yet again, I have to start with the cover… How neat is this one?! I couldn't wait to learn who this character was. I also really love this updated cover:
Per usual, I adored the writing. The story started with an intense situation and then continues at a fast pace. This one was longer than the other two, and I still wanted more! These stories totally suck you in and don't let you go until the last sentence. 
I was happy to see a few familiar characters, but really loved meeting a few new ones this time. I really hope to see Ocken and Khate again.
My Favorite Passages from Kingsbane
Ocken stared out into the darkness. As if facing the thing he hated most made it less frightening to him. 
It was pointless to dwell on the darkness of yesterday, no matter how painful it may be, but instead, strive to make a brighter tomorrow.
My Final Thoughts on Kingsbane
If you haven't checked this series out yet, I highly recommend doing so! They are so much fun and they really help create anticipation for the first book in the Soul Stones series.
---
Snag a copy using my Amazon Affiliate link or inquire at your local indie: